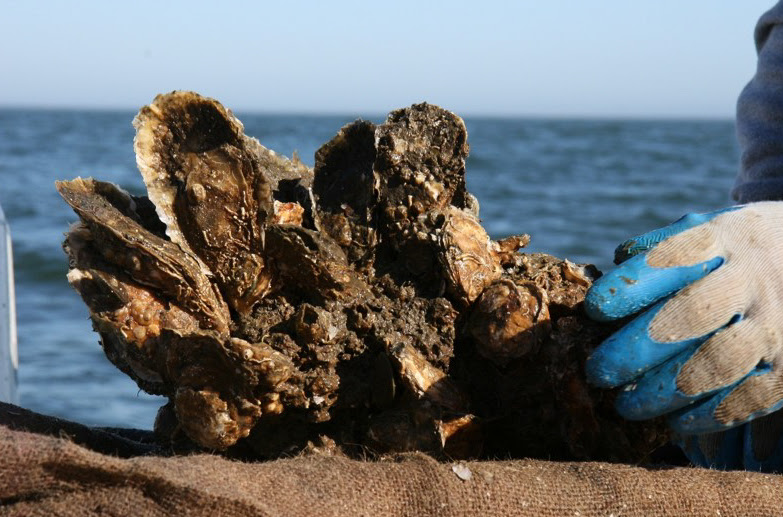 The North Carolina Coastal Federation and partners nearly tripled their goal to restore 50 million oysters in coastal waters.
Through its 50 Million Oyster Initiative to build acres of new oyster reef and support at least 50 million oysters, there are now 140 million oysters on 43 acres of newly created oyster reefs in coastal North Carolina.
Oyster sanctuaries are areas dedicated to oyster repopulation that are open to fishing but not harvest. The adult oysters in the sanctuary will produce spat, or oyster larvae, that drift and attach to other oyster reefs.
The initiative launched in Pamlico Sound in 2017, where the federation, state Division of Marine Fisheries and partners created the 40-acre Swan Island Oyster Sanctuary.
The Division of Marine Fisheries monitored the sanctuary that was completed in 2019. They found that oyster densities are as high as 2,000 oysters per 10.76 square feet, or about 136 million oysters. Each adult oyster can filter 50 gallons of water per day, which means the 140 million oysters will filter about 7 billion gallons of water a day.
"We are very pleased with this sanctuary's ability to grow oysters year after year, and will continue to monitor its performance as a reference for future sanctuary design and construction," said Cameron Luck, oyster sanctuary biologist with the state Division of Marine Fisheries, in a statement.
In addition to Swan Island Oyster Sanctuary, 3.5 acres of oyster reef were built as living shorelines and patch reefs along private property and in harvestable waters. Monitoring results from these patch reefs indicate they also support high densities of oysters, with each acre supporting more than 1 million oysters, according to the federation.
"It's a token of good news to close out 2020. We are so pleased with the success of this project and can't wait to build on this work in 2021," said Erin Fleckenstein, coastal scientist and regional manager for the federation's Wanchese office. "A new grant from NOAA and matching state funds will allow us to build another 5 acres of sanctuary in 2021 near Cedar Island and to continue our living shoreline projects as well."
The 50 Million Oyster Initiative provided jobs for contractors, fishermen, construction workers, truck drivers and many others during the construction of the reefs. The reefs also provide fish habitat and improve water quality, benefiting commercial and recreational fishing industry, the tourism and the environment, according to the federation.
"Oysters are the bedrock of our estuaries. When oysters are healthy, they support a healthy coastal environment and economy," said Fleckenstein.
Though sanctuaries are not open to harvest, as the oyster populations in the sanctuaries increase, the overall amount of oysters in Pamlico Sound will, as well. Cultch planting sites nearby will work hand-in-glove with the sanctuary location. The cultch sites are areas where the Division of Marine Fisheries plants oyster shell, marl or other material to provide a base for oyster larvae to land. After the oysters have a chance to grow to legal size of three inches, in two to three years, these areas are open to harvest.
Siting of the sanctuaries and cultch areas is guided by the division's field based data collection and modeling efforts from North Carolina State University's Center for Marine Sciences and the University of North Carolina Wilmington.
Total funding for the Swan Island Oyster Sanctuary included nearly $3.1 million dollars in state appropriations and $3.3 million in grants from the National Oceanic and Atmospheric Administration's Community-based Restoration fund. Grady White Boats and private donations from federation supporters provided additional funding.
More information on oyster restoration work is available at nccoast.org/oysters, or contact Fleckenstein erinf@nccoast.org or 252-473-1607. To support the federation's oyster restoration efforts, consider making a charitable donation by "adopting an oyster."