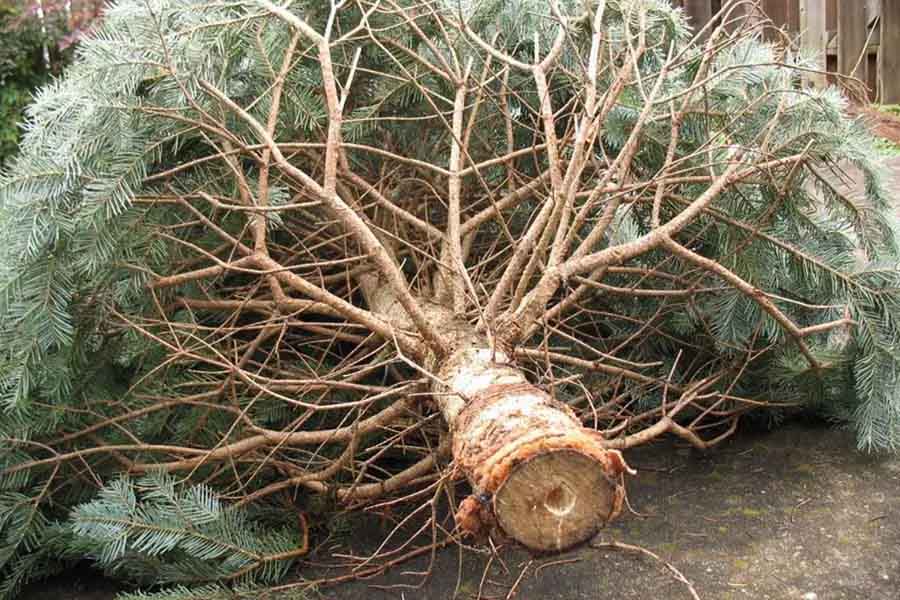 Reprinted from Outer Banks Voice
When the holidays come to an end, residents of Dare County and its six municipalities are reminded that there are differing polices regarding the disposal of Christmas trees.
All ornaments, lights, ribbons and decorations must be removed from the tree before it can be discarded. 
Dare County
In unincorporated Dare County, public works will not pick up Christmas trees left on the curbside. They can be dropped off at the Dare County Public Works Recycling Center at 1018 Driftwood Drive, Manteo, or at the Buxton Transfer Facility, 47027 Buxton Back Road.  Visit the website for hours of operation. Remove all ornaments, lights, ribbons, tinsel and other decorations before dropping them off at the recycling centers. Drop-off locations to donate trees for dune restoration listed below.
Duck
Jan. 11 is the final day the town will collect undecorated and tinsel-free trees from curbside.
The Boy Scouts will install Christmas trees in a portion of the nourished beach that has experienced some erosion in Duck. Residents and owners that wish to donate their trees to the cause are asked to drop the trees off Friday in the designated spaces in the parking lot behind the town playground. Contact Sandy Cross at scross@townofduck.com or call 252-255-1234 for more information.
Kill Devil Hills
The town will begin collecting natural Christmas trees Jan. 13. Remove all ornaments, tinsel, lights and other nonorganic items. Place the tree in the right of way adjacent to your property and ensure that it is away from all other objects. No artificial trees or other bulk trash items will be collected. Trees must be placed in the right of way no later than Jan. 12. Contact the Public Services office at 252-480-4080 for additional information.
Kitty Hawk
The town will collect trees in the right of way. Better Beaches OBX will use them on the beach in either Kitty Hawk or Nags Head. Trees can also be dropped off at the Kitty Hawk bathhouse.
Manteo
Those within the town limits can place Christmas trees without decorations next to their roll carts during the regular Monday and Thursday sanitation run. Public Works will remove these trees.
Nags Head
Nags Head will begin on Wednesday to collect Christmas trees without the trimmings. Place the tree next to the road. Do not set the tree on top of or near any other bulk or brush items that need to be collected. After Jan. 15, call 252-441-1122 to arrange a tree collection.
Southern Shores
Christmas trees may be dropped off at the Southern Shores Civic Association Hillcrest parking lot, where they will be collected for sand fencing and erosion control. Christmas trees also may be placed in limb and branch piles for collection. Wreaths are excluded and will not be collected.
All metal and decorations must be removed or the contractor will reject collection. Guidelines for limb and branch collection apply.
The Islander Motel
The parking lot at The Islander Motel will serve as as a drop off this year. "Boy Scout Troop 117 are not collecting Christmas trees this year (Dec 2020/Jan 2021) as part of our beach nourishment service project," according to the website.
This story is provided courtesy of the Outer Banks Voice, a digital newspaper covering the Outer Banks. Coastal Review Online is partnering with the Voice to provide readers with more environmental and lifestyle stories of interest about our coast.