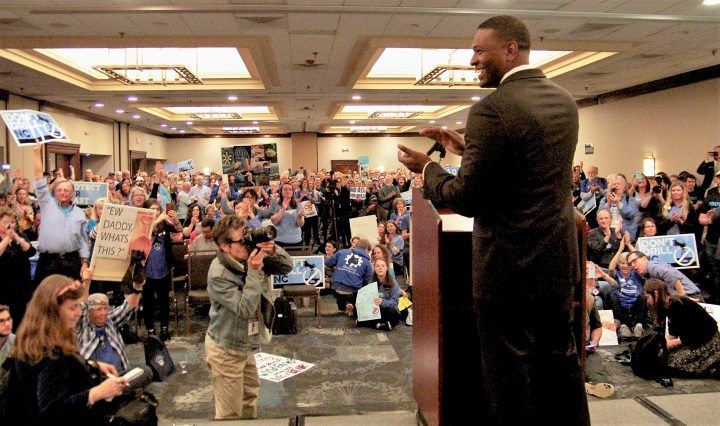 President-elect Joe Biden has nominated North Carolina Department of Environmental Quality Secretary Michael Regan to lead the Environmental Protection Agency.
Citing the toll exacted by the "undeniable, accelerating, punishing reality of climate change," Biden announced Regan late Thursday amid a slate of key nominations and appointments making up his climate team. Also announced were Congresswoman Deb Haaland as Secretary of the Interior; former Michigan Gov. Jennifer Granholm, Secretary of Energy; Brenda Mallory, Chair of the Council on Environmental Quality; Gina McCarthy, National Climate Advisor; and Ali Zaidi, Deputy National Climate Advisor.
The nominations of Haaland, Regan, Granholm and Mallory require Senate confirmation.
"This brilliant, tested, trailblazing team will be ready on day one to confront the existential threat of climate change with a unified national response rooted in science and equity," said President-elect Joe Biden. They share my belief that we have no time to waste to confront the climate crisis, protect our air and drinking water, and deliver justice to communities that have long shouldered the burdens of environmental harms. Together, on behalf of all Americans, they will meet this moment with the urgency it demands — and seize the opportunity to build back better with good-paying union jobs, climate-resilient infrastructure, and a clean energy future that benefits every single community."
"From the wildfires across California and the west to the storms battering our coasts, our climate crisis is a grave and growing threat to the American people and the planet we all share," said Vice President-elect Kamala Harris said. "On the campaign, President-elect Biden and I proposed one of the most ambitious climate plans in history. The team we are announcing today will help make that plan a reality. They are seasoned public servants and climate experts who reflect the very best of our country. They have the knowledge and experience to confront this global challenge head-on with our allies and partners around the world. And they are the team the American people need and deserve to help protect our communities — and our planet — for generations."
Gov. Roy Cooper issued a statement praising Biden's nomination of Regan.
"I am proud that President-elect Biden has recognized the talent we have here to select Michael Regan, North Carolina born and educated, to be EPA Administrator," Cooper said. "Michael has served as DEQ secretary with distinction, helping advance my climate change executive order and promoting creative solutions to some of our toughest challenges. He has important work ahead of him helping battle climate change on a national level, and I wish him and his family the best on this next step."
The announcement noted the need for immediate, science-based response to climate change.
"The team will turn the climate crisis into an unprecedented opportunity to create millions of good paying union jobs in communities across the country; powering our economy with clean energy and positioning the United States as an exporter of 21st century products; and making our economy stronger and more resilient. They will work closely with communities who bear the outsized burden of environmental injustice, including Tribal Nations and communities of color, and young Americans who will live with the long-term consequences of climate change," according to the announcement.
News of the appointment Thursday afternoon started a cascade of responses from North Carolina policy makers and environmental groups.
Here's a selection of the comments so far:
First District Congressman G.K. Butterfield — "I applaud President-Elect Joe Biden's selection of Secretary Michael S. Regan to lead the U.S. Environmental Protection Agency. Secretary Regan is an EPA veteran with immense passion and experience with environmental policy. Secretary Regan understands the urgency of protecting our environment from air and water pollution. As North Carolina's chief environmental official, Secretary Regan has demonstrated he understands that climate change is a threat to human existence. Secretary Regan will work with President-Elect Biden to seek effective ways of protecting our communities. As a native of my congressional district, Secretary Regan is well prepared to meet the environmental challenges of our day and execute the policies of President Joe Biden. I look forward to a fair and expedited confirmation process in the United States Senate."
Dan Crawford, Director of Governmental Relations, NC League of Conservation Voters — "With Michael Regan, President-elect Biden continues adding to his historically qualified and diverse Cabinet, replacing a fossil fuel industry puppet with an experienced EPA air quality scientist, just as Gov. Cooper did when he put Regan in charge of our DEQ four years ago. Regan has gone to bat for North Carolinians against polluters, and now the rest of the country will get to benefit from his leadership. North Carolina's loss will be America's gain."
Fourth District Congressman David Price — "Through the years, he has proven himself as a determined and effective advocate for scientifically-sound environmental policies that protect the climate, improve public health, and advance environmental justice … Mr. Regan's experience as North Carolina's DEQ Secretary demonstrates that he is ready to lead the nation toward an environmentally sustainable future that leaves no community behind. I am confident that as EPA Administrator, he will help execute President-elect Biden's ambitious plans to curb climate change; accelerate renewable energy development; address contamination of our waterways, lands, and air; rectify environmental injustices; and lead America toward a carbon-neutral future."
Amy Adams, Program Manager, Appalachian Voices North Carolina — "More than ever, the country needs an EPA administrator who prioritizes and acts on climate change and environmental justice — two of the most pressing issues facing America today. Michael Regan could be that administrator. He has many of the qualifications and qualities of a strong leader. In North Carolina, he inherited a fractured, demoralized agency that had lost the public's trust and rebuilt it to be a more responsive, pro-environment protection entity that serves the public's interests over corporate interests. While we're not crazy about the idea of him leaving North Carolina, we believe he'll do a great job at EPA."
Todd Miller, Executive Director, North Carolina Coastal Federation — "His selection is a great choice for the nation. We will miss his wonderful and uplifting leadership here in N.C."
Andrew Hutson, Executive Director, Audubon North Carolina — "Secretary Regan understands the monumental challenges we face from our changing climate and knows how to work across communities and across the aisle to get things done. He spearheaded North Carolina's Clean Energy Plan, laying the groundwork for a cleaner and more resilient future in our state, and is a tireless champion for clean air and water. He's an outstanding leader, dedicated public servant and more than qualified to lead our country's top environmental agency. We're sad to see him leave North Carolina, but our loss is the nation's gain."
Hawley Truax, Southeast Regional Director, Environmental Defense Fund — "Secretary Regan has led a complex state agency with a positive spirit and a steady hand for the past four years. He's been a collaborative, energizing force, putting into action his core belief that when you make decisions with input from a diverse group of stakeholders your outcomes are better and more durable because of it.
"During Secretary Regan's tenure at North Carolina's Department of Environmental Quality, the state launched its most ambitious clean energy and climate resilience plans. Thanks to Michael's leadership and his belief that science drives sound decision-making, we are positioned to make meaningful progress on reducing carbon emissions and securing a healthier, safer and more equitable future for our state.
"As an environmental advocate working in North Carolina, I am sorry to lose Michael Regan as the Secretary of our Department of Environmental Quality, but he is an outstanding leader who will be an asset to the Biden administration. I wish him the best."