President-elect Joe Biden's team made the following climate team announcements Thursday: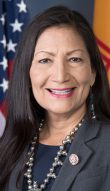 Rep. Deb Haaland, D-N.M., Secretary of the Interior — As the Representative for New Mexico's 1st District, Haaland is one of the first two Native American women elected to Congress. She holds leadership positions including the 116th Congress Freshman Class Representative to the House Democratic Steering and Policy Committee, House Democratic Region VI Whip, and Deputy Whip for the Congressional Progressive Caucus. She is also the vice chair of the House Committee on Natural Resources and Vice Chair of the Democratic Women's Caucus.
Prior to her election to the U.S. House, Haaland was an entrepreneur and advocated for environmentally sustainable business practices. She also served as chair of the New Mexico Democratic Party — the first Native American elected to lead a state party. Haaland, whose mother served in the Navy and whose father was a Marine, also serves as an Honorary Commander of Kirtland Air Force Base. She earned a B.A. from the University of New Mexico and a J.D. from the University of New Mexico School of Law.

Gov. Jennifer Granholm, Secretary of Energy — Jennifer Granholm served as Michigan's 47th governor for two terms, and was the first woman to lead the state. Her nomination came with praise for her handling of the state's response to the Great Recession and work with the Obama-Biden administration to rescue the U.S. auto industry.
"Granholm's chief focus as governor was on retooling and electrifying the auto industry to prepare it for durable global leadership and in-state job growth; her efforts to diversify the Michigan economy by sparking a new clean energy sector have served as a state and national model for future economic and job growth," according to the announcement.
Granholm previously served as the state's first female attorney general. She founded the American Jobs Project, a multi-state, multi-university initiative promoting technological advancements and clean energy policies to spur U.S. job creation, and has helped drive clean energy policy nationwide as an advisor to the Pew Charitable Trusts' Clean Energy Program and as a professor at the University of California's Goldman School of Public Policy. Granholm is affiliated with the California Institute for Energy and Environment and the Berkeley Center for Information Technology Research in the Interests of Society (CITRIS), where she is a Senior Research Fellow. An immigrant from Canada who has been a U.S. citizen for more than 40 years, Granholm received her bachelor of arts degree from University of California, Berkeley, and her J.D. from Harvard Law School.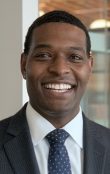 Michael Regan, EPA Administrator — Michael Regan currently serves as secretary of the North Carolina Department of Environmental Quality.
"Bringing a deep understanding of the interconnectedness of the environment, economy, and public health, Secretary Regan conceptualized and operationalized North Carolina's Executive Order 80 — a landmark effort to address climate change's impact and transition the state's energy economy," according to the announcement of his nomination.
Regan was also noted for his work to address pollutants in the Cape Fear River and handling of the largest coal ash cleanup in the United States. Regan created North Carolina's first Environmental Justice and Equity Advisory Board to address societal disparities exacerbated by environmental issues.
"Secretary Regan's subject matter expertise in the realm of environmental, energy, economic, and equity issues is apparent in his lifelong record of public service," according to the announcement.
He previously served at the EPA under both Democratic and Republican presidents — leading initiatives at the agency to improve energy efficiency and air quality and mitigate pollution — and was an associate vice president of the Environmental Defense Fund focused on climate issues.
Regan earned his bachelor's degree from North Carolina Agricultural and Technical State University and his master's degree from The George Washington University.

Brenda Mallory, Chair of the Council on Environmental Quality — Brenda Mallory currently serves as director of regulatory policy at the Southern Environmental Law Center. She was touted as an environmental leader at the intersection of law and policy in the public, private and nonprofit sectors for more than 30 years.
Mallory previously served as executive director and senior counsel at the Conservation Litigation Project, where she led efforts to protect public lands and promote scholarship around emerging natural resources issues. Mallory has served in both Democratic and Republican administrations, including as general counsel on the White House Council on Environmental Quality and as the principal deputy general counsel at the Environmental Protection Agency during the Obama-Biden Administration. She also served as chair of the Natural Resources Practice Group during her time at the environmental law firm Beveridge & Diamond. With roots in Connecticut, Mallory is a graduate of Yale College and Columbia University School of Law.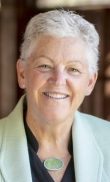 Gina McCarthy, National Climate Advisor — Gina McCarthy served as the 13th administrator of the Environmental Protection Agency, and is currently the president and CEO of the Natural Resources Defense Council.
In her time leading the EPA, McCarthy oversaw successful efforts to reduce greenhouse gases, mitigate air pollution, conserve critical water sources, and safeguard vulnerable communities from chemical hazards. She spearheaded the Obama-Biden Administration's Clean Power Plan, which set America's first-ever national standards for lowering carbon emissions from power plants, and helped pave the way for the Paris Climate Agreement. Prior to her current role with the NRDC, McCarthy was a professor at the Harvard T.H. Chan School of Public Health and currently serves as chair of the board of directors of the Harvard Center for Climate, Health, and the Global Environment.
Throughout her career, McCarthy has advised five administrations of both Democratic and Republican Massachusetts governors on environmental matters, and she served as Commissioner of the Connecticut Department of Environmental Protection prior to being appointed by President Obama to head up the EPA's Air Office. As EPA administrator, she pursued innovative global collaborations with the United Nations and the World Health Organization, and on global efforts to address pollution. Born and raised in Boston, McCarthy graduated from the University of Massachusetts Boston and earned a master of science at Tufts University.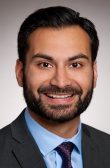 Ali Zaidi, Deputy National Climate Advisor — Ali Zaidi currently serves New York's deputy secretary to the governor for energy and environment and chairman of climate policy and finance, and leads the state's efforts on climate change. An adjunct professor at Stanford University — where he has taught graduate courses on technology policy and studied the fiscal and financial impacts of climate change — Zaidi co-founded Lawyers for a Sustainable Economy, a Stanford-coordinated initiative that equips sustainability-focused startups with pro bono legal services.
A longtime adviser to President-elect Biden on climate matters, Zaidi served during the Obama-Biden Administration as associate director for natural resources, energy, and science for the Office of Management and Budget and as deputy director of energy policy for the Domestic Policy Council. Zaidi has advised nonprofits, including as a Trustee of the Natural Resources Defense Council, and counseled the private sector, as an attorney who helped launch a sustainable investment practice.
Zaidi immigrated from Pakistan and grew up outside Erie, Pennsylvania. He received an A.B. from Harvard University and J.D. from Georgetown University.