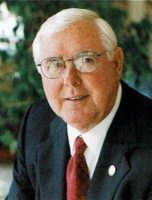 Reprinted from the Carteret County News-Times
Former state Rep. Ronnie Smith of Morehead City, who died Wednesday at Carteret Health Care at age 80, was described this week by friends as an overwhelmingly nice man who cared deeply about improving infrastructure and looking after the elderly.
Smith, a Morehead City native who also spent many years living in Salter Path, served in the North Carolina General Assembly's House of Representatives serving District 3, now District 13, from 1992-2002.
He is survived by his wife, Betty Smith of the home, three daughters, a son, a brother and extended family.
A lifelong ardent Democrat, he ran for the state Senate, but lost to the late Republican Jean Preston of Emerald Isle.
One of Smith's close friends, John Creech of Morehead City, owns a video production company and shot many of Smith's television advertisements for his campaigns. He remembers one time he was at home shooting an ad for Smith when Ms. Preston pulled into the driveway, also for a possible ad shoot.
"I thought, 'Oh, no,' Creech said, "but they were very cordial to each other."
In fact, Creech said, while they were in the state House of Representatives, Smith and Ms. Preston sat beside each other in the chamber. Smith was the veteran, Ms. Preston the newbie, Creech said, and Smith told him "she'd ask me questions."
It was, Creech said, a different time, when elected officials in the legislature weren't so partisan, and the representatives of coastal areas consistently tried to work together to get things done for a region often forgotten by the rest of the state.
"Ronnie was like that," Creech said. "He was a very partisan Democrat, but he'd work with anyone on the other side to help our county and the coast."
Other than that, Creech said, "Ronnie was just a nice guy. He'd give you the shirt off his back. He had a great family and he loved them. I can't really say much more. I'll miss him. He was always fun, always happy, and treated everyone nicely."
Smith was a 1958 graduate of Morehead City High School, according to his obituary, and served in the U.S. National Guard from 1963-69. He coached youth baseball, and sports were a passion for him, it continues.
State Rep. Pat McElraft, a Republican from Emerald Isle who currently represents District 13, also remembered Smith fondly.
"Ronnie was a very kind man who worked hard for his constituents," she said in an email Friday. "He did a great job for all of us here in Carteret County, regardless of party affiliation. I want to thank him and his family for his service to our state. He will be missed."
Holly Lawrence, another ardent Democrat, worked as a county magistrate, but was one of Smith's neighbors in Morehead City. He could always be counted on, she said, to help with problems in the neighborhood, and she, too, recalled his desire and willingness to work with his Republican counterparts in the General Assembly to get things done.
"I will miss him, and I miss the way things were then," she said. "He was just a good man. He did everything he could for Carteret County."
Creech was a member of the Morehead City Planning Board, and also remembered Smith as a developer. He called him ethical, and said he was interested in developments that would benefit the community and not destroy the environment.
George Parrott, a close friend who lives in Morehead City, also recalls Smith as gregarious and attentive to constituents.
Even in the last months of his life, Parrott said, Smith would walk up and down the halls in the hospital and look at the name tags on the doors. If one seemed familiar, Parrott said, he'd knock, walk in and say, "Are you related to so-and-so?
"He just loved people and wanted to help them," Parrott said. "If I have to sum Ronnie up, I'd just say he loved people. He was just a great man."