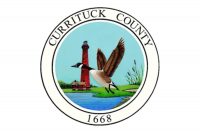 Reprinted from Outer Banks Voice
An application for a use permit that would allow the HOM Development Co. to operate a sand mine on a 65-acre property in Powells Point has stirred up concerns among some nearby Currituck County residents.
The excavation of sand and topsoil would encompass an 8.28-acre, roughly 35-foot-deep pit on the parcel owned by Jo Ann Gallop of Harbinger.
HOM Development, a Manteo company, is seeking the use permit from the county for a 10-year period, but expects to complete the excavation within five years, according to a statement made by its representative, Ken Elliot, at an Oct. 15 community meeting.
In its application to the Currituck County Planning and Community Development Department, HOM Development states that the closest residence to the proposed use area is 335 feet from the proposed mine operation and 956 feet from the proposed location of the dewatering pump that would pump water from the sand pit to an above-ground sediment pond on site.
"Sand is a required component of many types of residential and commercial construction, and the location of the proposed use will benefit the local community with reduced costs of this commodity due to lower transportation costs," HOM Development's application states.
The proposed location, situated between two residential neighborhoods on N. Spot Road and Pinewood Acres, has residents concerned about the effect such a project could have on noise, safety, traffic, water quality, and other environmental impacts.
Facebook group called Pinewood Acres/Spot Road Preservation Coalition was formed last week to oppose the project.
"We are used to hearing birds out here…we literally hear crickets," said Leslie Livingston, a Pinewood Acres resident who estimates her home to be about 1,000 feet from the proposed mine. She added that trucks hauling sand along N. Spot Road pose safety concerns for residents out walking or riding bikes.
"We are concerned about maintaining the quality of life back here," she said. "This is not a benefit to Currituck County as a whole."
It's anticipated that the review process for the use permit will take several months, according to Currituck County Planning Director Laurie LoCicero. December would be the earliest it would go before the Currituck County Board of Commissioners.
LoCicero said that once the use permit is deemed complete by planning staff, it will then be reviewed in November by the Technical Review Committee, made up of county staff and representatives from other agencies including the Albemarle Regional Health Department, the North Carolina Department of Transportation and the North Carolina Department of Environmental Quality, or NCDEQ).  The use permit will then go to the county commissioners for approval or denial.
Aside from county approval, HOM Development will have to secure a mining permit from NCDEQ to begin excavation. After excavation is complete, HOM Development said the pit would become an 8.28-acre pond and used as an environmental habitat and for recreational use. According to the company's application, excavated sand will be stockpiled inside the permit area until it's sold, and there will be an average maximum of 12 trucks per day leaving the mine site. Voice efforts to reach a HOM Development representative for comment were unsuccessful.
In addition, the mine will be gated with "no trespassing" signs and accessed via a private road that connects to N. Spot Road and then Caratoke Highway. The mining operations, according to the application, will be screened by distance to residential properties as well already existing foliage.
Pinewood Acres resident Sandy George echoed Leslie Livingston's concerns. "Just the sound of heavy mining machinery…and the dust, that's a concern," she noted, adding that her house is an estimated 800 feet away from the proposed site.
With the Pinewood Acres residents on private wells, George said that one major concern for nearby residents is the impact it could have on water quality. The operator "is going to have to continuously pump water out of what could be an aquafer that we are tapped in to, so the potential of losing water…is of utmost concern to all of us." she said.
"We are also afraid it is going to injure our property value," George continued. "When I bought my house, it was next to agricultural land. And now they are putting a commercial mining operation on it."
This story is provided courtesy of the Outer Banks Voice, a digital newspaper covering the Outer Banks. Coastal Review Online is partnering with the Voice to provide readers with more environmental and lifestyle stories of interest about our coast.