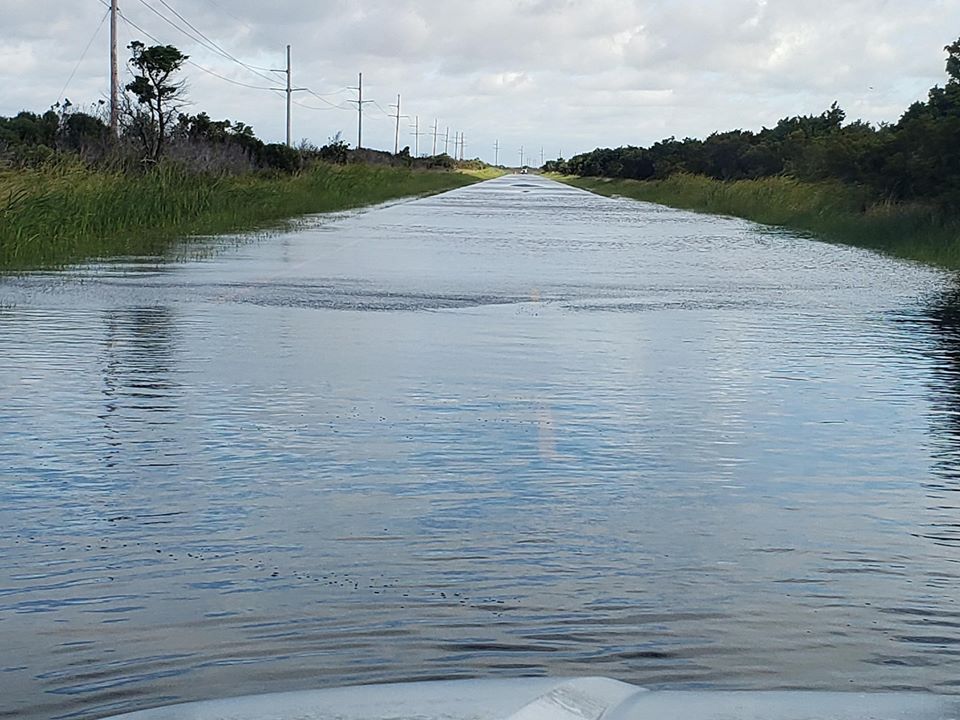 This story has been updated.
There has been at least one fatality related to Hurricane Isaias, soundside flooding and thousands are without power after the storm made landfall in southeastern North Carolina overnight and moved up the coast.
Two deaths have been blamed on a tornado that touched down in a mobile home park early Tuesday morning.
Bertie County Emergency Management Director Mitch Cooper said in a statement that two bodies were found in debris, a male and a female, Tuesday morning after a tornado from Isaias hit in the Cedar Land community of Bertie County. All children presumed to be missing have been found.
The storm made landfall at 11:10 p.m. Monday near Ocean Isle Beach with maximum sustained winds of 85 mph, according to the National Hurricane Center. Isaias was moving across eastern Maryland as of the 11 a.m. Tuesday update.
Regarding power Outages, there are 65,609 electric cooperative members without power, with 5,404 of those in Beaufort County, 2,477 in Bertie County, 21,379 in Brunswick, 185 in Camden, 2,184 in Carteret, 903 in Chowan, 2,027 in Craven, four in Currituck, 106 in Dare, 1,848 in Gates, 572 in Hertford, 490 in Hyde, 11,051 in Onslow, 1,510 in Pamlico, 13 in Pasquotank,  6,457 in Pender, 408 in Perquimans, 70 in Washington.
Dominion Energy reported 40,644 outages across eastern North Carolina Tuesday morning, with 6,302 of those in Currituck and 3,156 in Dare County, mainly on north Roanoke Island, according to OBX Today.
Duke Energy Progress is reporting as of 12:30 p.m. Tuesday, 9,896 customers in Brunswick without power, 65,790 in New Hanover, 12,613 in Pender, 15,167 in Onslow, and 740 in Carteret.
North Carolina Department of Transportation officials said Tuesday morning that soundside flooding and blown sand affected travel on N.C. 12 south of the Etheridge Bridge. Crews were working to clear the sand, but strong winds must die down for the water to move, according to officials. The road was open and passable Tuesday, but motorists were advised to use caution in the affected areas.
Tuesday midday @OBXToday.com post-#Isaias update: pic.twitter.com/uuHp5Fneyu

— Sam Walker OBX Today🎙📻📰 (@SamWalkerOBX) August 4, 2020
Dare County officials announced Tuesday that damage there was minimal.
Unrestricted access to Hatteras Islandfor residents and visitors was to begin at 2 p.m. Tuesday. Sand and water remained on some Hatteras Island roadways in low-lying areas prone to soundside flooding. Expect delays and proceed with caution in these areas.
Scattered power outages were reported throughout the Outer Banks because of downed trees along with soundside flooding in some low-lying areas. Some soundside waters continued to rise but conditions were expected to improve throughout the day as the storm moves away, according to officials.
Just checked Manteo again…still rising ☹️ #obx #outerbanks #ncwx #isaias pic.twitter.com/eujKerXCZF

— OBX Photos (@OBXPhotos) August 4, 2020
A high surf advisory and beach hazard statement were in effect Tuesday and dangerous ocean conditions are expected through the week. Inexperienced swimmers should remain out of the water. Swimming continues to be prohibited at beaches on Hatteras Island.
In Kill Devil Hills, soundside waters may continue to rise Tuesday morning. Officials warn not to walk on or drive onto water-covered roads.
Floodwaters rose quickly in Manteo. Downtown streets, marina docks and boardwalk, and adjacent areas were flooded Tuesday morning. Affected streets include Queen Elizabeth, Fernando, Agona, Sir Walter Raleigh, Old Tom, Budleigh, Ananias Dare and Croatan.
The Island Free Press reported that as of 9 a.m. Tuesday, there was some soundside flooding affecting N.C. 12 in Salvo but no ocean overwash, and the highway remained passable throughout Hatteras Island.
State Department of Transportation Ferry Division conducted test runs of the ferry channels and the Coast Guard authorized resuming service. NCDOT reports that N.C. 12 did not suffer any significant damage and is passable.
The evacuation order for Ocracoke Island visitors will be terminated effective 6 a.m. Wednesday. Hyde County Board of Commissioners terminated the evacuation order for Ocracoke residents, property owners and vendors effective immediately.
Be aware that the Hatteras to Ocracoke ferry schedule will be limited until additional vessels have returned from mooring. The NCDOT Ferry Division's Twitter Page, https://twitter.com/NCDOT_Ferry will have the latest route schedules and updates.
Onslow County was spared, according to Onslow County Manager Sharon Russell.
"We are pleased this morning that the hurricane has left Onslow County. it was a fast storm. we are beginning damage assessments, but initial indications are that we were spared the worst and for that we're very thankful," Russell in a 7 a.m. Tuesday update.
She said that at the height of the storm, there were 50,000 power outages. At the time of the update, Onslow was at about 44,000 power outages.
Norman Bryson, director of emergency services for Onslow County, said during the update that there were no water rescues, a few vehicle extractions and calls for downed trees and power lines.
Because of power outages, Jacksonville city hall and other facilities will open at noon Tuesday. Crews were working on clearing roadways of debris. Downed trees caused widespread power outages, blocked roadways, and damaged a home during Hurricane Isaias, according to officials.
About 160,000 utility customers were without power early Tuesday morning in the Wilmington area, Port City Daily reported. Around 86,500 Duke Energy customers in New Hanover County, 52,700 customers in Brunswick County and in Pender County, 21,200 were without power.
Brunswick County government offices will be closed Tuesday and reopen Wednesday.
Ocean Isle Beach is reporting that two homes were damaged by fire, extensive damage to east end strand, flooding, overwash into streets, damage to Ferry Landing Park and lots of debris.
Bald Head Island officials announced that cellular and internet were out of service Tuesday morning at the village's emergency operations center but nonemergency assistance was available at 910-457-9700 ext. 1027. Middle Island is closed to the public. Trash service is canceled for Tuesday.
In Sunset Beach, all roadways have been cleared of debris and are open but multiple beach walkways are closed including Third, Fifth, Seventh, 10th and 11th streets. Construction debris washed up on the beach strand.
Pender County officials urged residents to use caution while cleaning up from Isaias.
"This is the time when we receive the most emergency calls," said Woody Sullivan, Pender EMS and fire chief,  in a statement. "We respond to chainsaw accidents, carbon monoxide poisonings from generators, and anaphylactic shock from bee stings and fire ants."
Carson Smith, Pender County Emergency Manager, recommended wearing protective clothing when working with a chainsaw and to wear goggles or safety glasses, hard toe shoes and leather gloves.
Sullivan said never place a running generator inside a home or garage. "This results in carbon monoxide poisoning. Always read the manual before operating a chainsaw or a generator."
Fire ants are a hazard after flooding. The ants form a mound to protect the queen, which floats on the water. Fire ants bite, causing a fierce reaction or anaphylactic shock. Bees too are stirred by storms and flooding.
"Be mindful of the equipment used in cleanup," said Smith. "And be mindful of insects. Wear insect repellent with DEET."