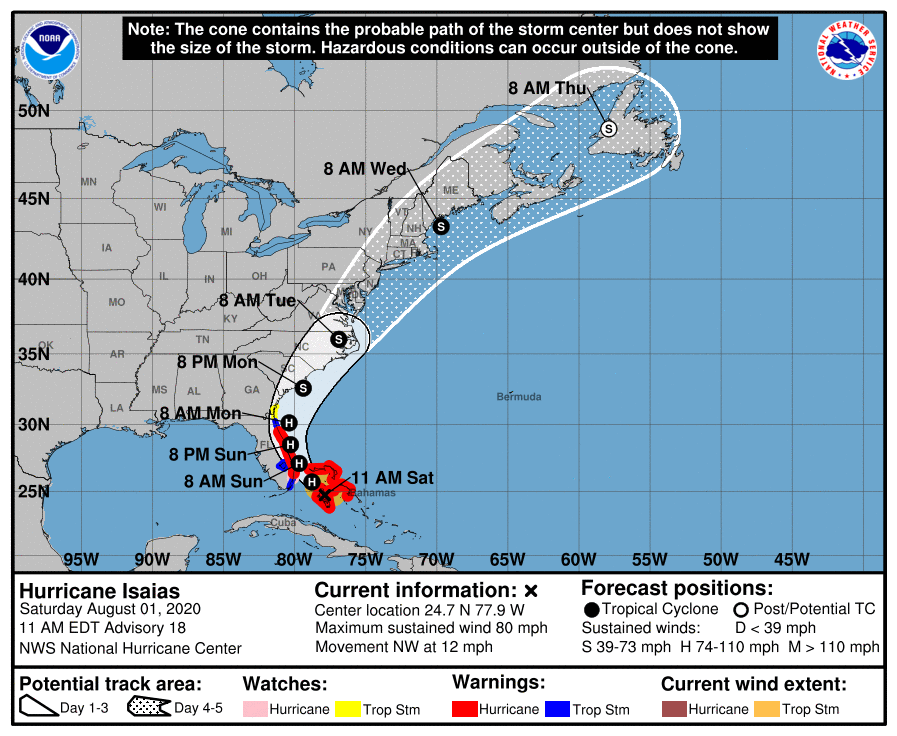 This report was updated at noon Saturday.
As Hurricane Isaias is expected impact the North Carolina coast over the weekend and into early next week, many counties, local governments and agencies are announcing steps to keep residents safe including evacuations and closing facilities.
At 11 a.m. Saturday, the center of the storm was at 24.7 degrees north, 77.9 degrees west, or about 40 miles west-southwest of Nassau, Bahamas, and moving northwest at 12 mph. Central minimum pressure was 987 millibars with maximum sustained winds of 80 mph. 
Ocean Isle Beach is under a state of emergency that went into effect at 4 p.m. Friday, the town announced. A mandatory evacuation of all renters, vacationers and guests begins at noon Saturday. All must vacate and leave rental properties or hotels before the noon deadline, including properties rented through rental agencies, VRBOs, Air B&B, and other private individuals.
Dare County declared Saturday morning a state of emergency effective Saturday and a mandatory evacuation for Hatteras Island visitors effective noon Saturday. The evacuation order is for Evacuation Zone A, which is all areas of Hatteras Island, including the villages of Rodanthe, Waves, Salvo, Avon, Buxton, Frisco and Hatteras Village. A mandatory evacuation order for Hatteras Island residents and property owners goes into effect at 6 a.m. Sunday. The state of emergency also restricts ocean swimming for Hatteras Island due to to the forecast for life-threatening rip currents.
Dare County decision makers will decide Sunday if measures are necessary for Evacuation Zone B, areas north of Oregon Inlet, including the towns of Duck, Southern Shores, Kitty Hawk, Kill Devil Hills, Nags Head, Manteo, and all unincorporated areas including Roanoke Island and the Dare mainland. More information on evacuations zones can be found online.
Officials recommend those evacuating north of Dare County to travel westbound on N.C. 64 to I-95. Evacuating through the rural areas to the west of Dare County will help avoid traffic backups and congestion that may prolong evacuation by traveling northbound through the Hampton Roads area of Virginia.
Only reentry permits for the current calendar year are valid but residents may still use a valid driver's license with a Dare County address for reentry. A current tax bill or parcel data sheet with matching current government issued ID will suffice.
Carteret County Board of Commissioners issued Saturday a state of emergency. The county Emergency Management Office encourages residents to
be prepared for high winds, tornadoes and possible flooding from this storm.
Hyde County has ordered a mandatory visitor evacuation of Ocracoke effective noon Friday. A mandatory resident and nonresident property owner evacuation of Ocracoke will be effective at 6 a.m. Saturday, the county announced Friday. An additional ferry departure from Ocracoke to Swan Quarter will be at 8 p.m. Friday to assist visitors evacuate.
Ocracoke entry is restricted to residents, homeowners, vendors and other essential personnel requested by federal, state or county officials until the evacuation orders begin. An Ocracoke reentry pass or adequate documentation on the vehicle is required to be allowed on any ferries inbound to Ocracoke. Once the evacuation orders are active, only emergency personnel will be allowed entry to the island.
Dare County officials will meet Saturday morning to determine if an evacuation is necessary. Visitors planning to travel to the Outer Banks should keep an eye on updated information from the National Weather Service Center and consider delaying arrival until after the storm has passed.
"Dare County is likely to experience impacts from the storm as early as Sunday evening, August 2," said Dare County Emergency Management Director Drew Pearson in a statement. "Now is the time to assemble or restock your disaster supply kit with essentials to sustain your family and your pets for three to five days. Have your evacuation plan ready to execute."
Dare officials recommends allowing extra time if an evacuation order becomes necessary. Because of COVID-19 and with social distancing measures in place, state sheltering options will be limited.
Over the next few days, rough seas and strong rip currents will create dangerous conditions for beachgoers that will continue through next week. Even the most experienced swimmers should exercise caution to ensure their personal safety. For local beach conditions, visit www.weather.gov/beach/mhx.
Cape Lookout National Seashore officials in preparation of possible impacts from the storm announced Friday that the seashore will close at 3 p.m. Saturday, the Harkers Island Visitor Center will close at noon Saturday, the Keepers Quarters Museum closed Friday and the Light Station Visitor Center on South Core Banks will close at 3 p.m. Saturday. Updates will be posted the park's website, Facebook and Twitter.
Croatan National Forest will temporarily close all campgrounds, recreation sites and gated roads starting at noon Saturday. After the storm has passed, sites will reopen as soon as hazards have been evaluated and mitigated.
The state Division of Marine Fisheries staff recommend that fishermen remove fishing gear from the water well before the storm's arrival, including crab pots and gill nets,which are especially prone to damage and displacement during storms. Vessel owners should check safety equipment and plan to remove their boats from the water or take them to safe harbor as the storm approaches.
Fishermen should monitor NOAA Weather radio for storm updates and channel 16 on their marine radios for the latest U.S. Coast Guard emergency broadcasts.
Onslow County declared a state of emergency at 1 p.m. Friday.