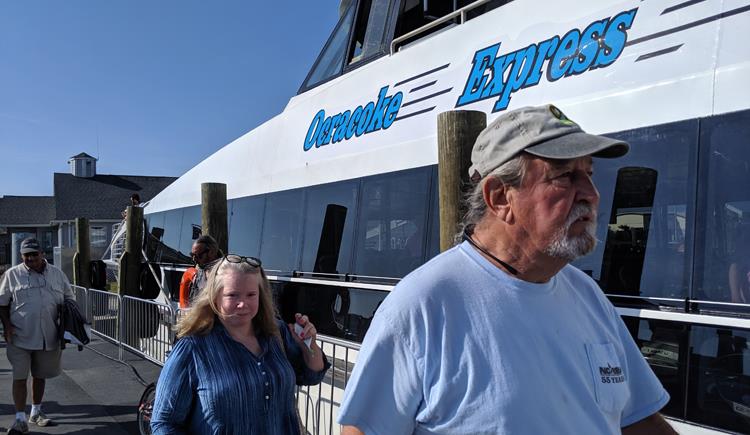 The Ocracoke Express passenger ferry resumed service Friday and will make three trips a day between Hatteras and the Silver Lake Terminal in Ocracoke Village until the second week of September.
The state Department of Transportation's Ferry Division resumed passenger ferry service Friday, after the final approval of Senate Bill 750. The bill includes up to $1.14 million to lease and operate the passenger ferry through Sept. 10.
The ferry will leave from Hatteras at 9:30 a.m., 1 p.m. and 4:30 p.m. and will leave from Ocracoke at 11 a.m., 3 p.m. and 8 p.m. A one-way trip takes about 70 minutes.
The fare is $5 one way for adults plus $1 for bicycles. Children 3 and under may ride for free. A free tram operated by Hyde County will be available to shuttle visitors around the village, with golf carts and bicycles available for rental from private vendors.
Passengers may can purchase tickets at the Hatteras or Ocracoke-Silver Lake Terminals on a first-come, first-served basis. Reservations will be available at www.ncferry.org or by calling 1-800-BY-FERRY.
The Ferry Division continues to work with state health officials to develop procedures to protect Ocracoke Express passengers and crew during the COVID-19 pandemic. The Ferry Division will limit the number of passengers to 96, which is about half of what the vessel's certificate of occupancy allows, encourage face coverings and passenger groups to remain 6 feet apart from each other, add onboard hand sanitizing stations and provide enhanced cleaning of the vessel between departures.
Due to COVID-19 concerns, no refreshments will be offered at this time, so passengers may bring bottled water and snacks with them when they board.
The Ocracoke Express carried nearly 29,000 passengers between Ocracoke and Hatteras islands last year during its first season.