BOLIVIA – Brunswick County commissioners accepted ownership and responsibility to operate Navassa's water and sewer systems, effective Wednesday.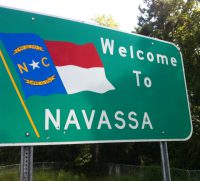 The board's unanimous decision to take over the town's systems was reached June 15 and begins an important step toward improving Navassa's utility infrastructure, officials said.
"We appreciate the effort and cooperation between the Town of Navassa and Brunswick County Public Utilities throughout this process," Chairman Frank Williams said in a statement released Thursday. "Brunswick County is committed to providing safe, quality water and sewer service to the residents of Navassa and to all of Brunswick County, and look forward to working with the Town of Navassa to make this transition as seamless as possible."
Town leaders and staff and the county's public utilities teams finalized the agreement that was presented to commissioners for final review and approval.
Navassa Director of Planning and Development Barnes Sutton said the decision would help the town meet its goals of providing safe drinking water and sanitary sewer.
"The Town of Navassa ultimately made this decision with our citizens in mind but also, with the intent in rendering access to water and sewer service more affordable, for the greater Brunswick County region," he said.
No action is required by Navassa water or sewer in response to the merger. Customer accounts are being transferred to the Brunswick County Utility Billing Services department.
Navassa has 325 water customers and 321 sewer customers. The agreement means the county will make improvements needed to integrate the town's systems into the county water and sewer systems.
"We recognize the hard work our staff and partners at the Town of Navassa put in to bring this opportunity to fruition, and we thank them for their continuous service to their community," County Manager Randell Woodruff said. "This partnership not only supports the residents of Navassa, but also the purpose and vision of the commissioners' strategic goal to seek infrastructure development/expansion opportunities for the benefit of all our utility customers."
Discussions began in October 2019 when town officials requested a proposal outlining a potential merger.