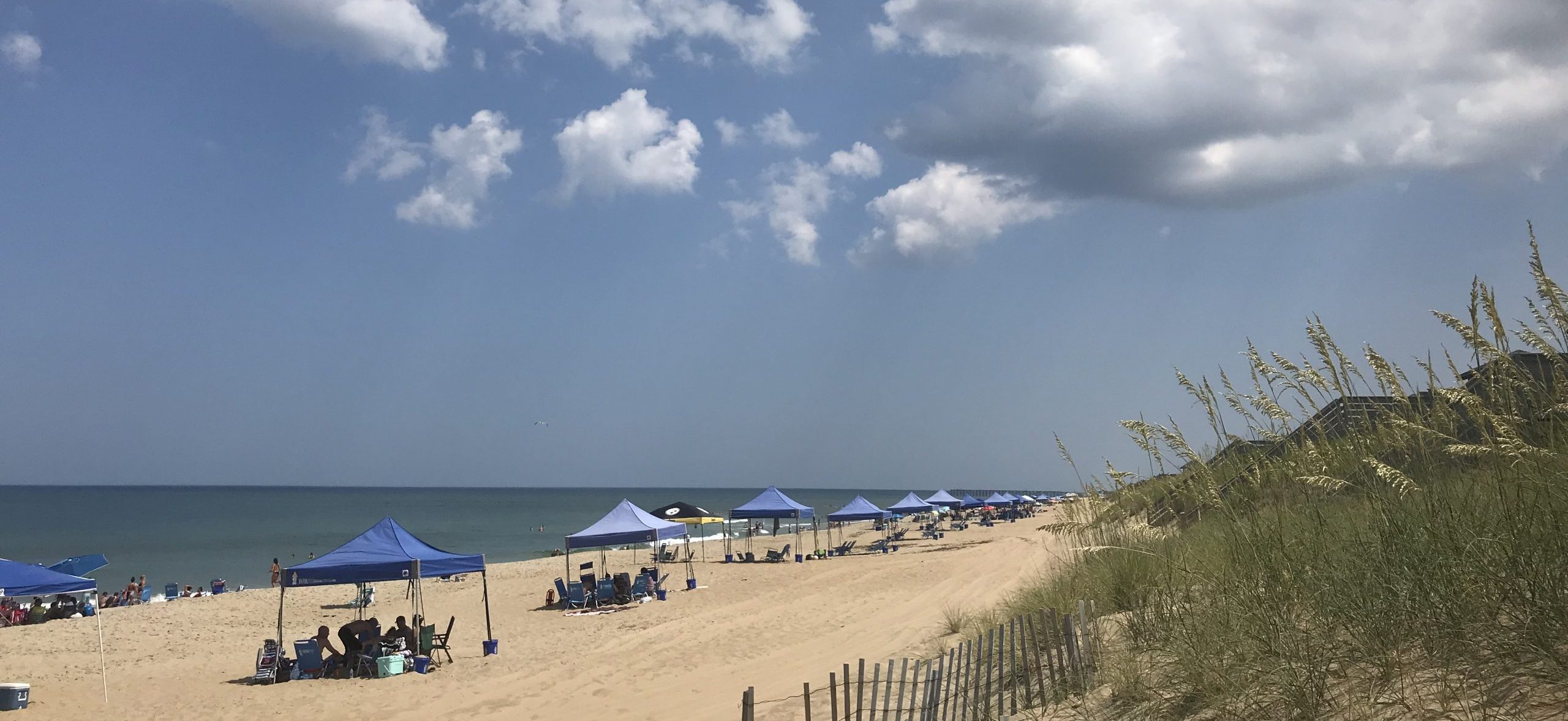 Summer on the Outer Banks is in full swing. Even in the midst of a worldwide pandemic, Netflix's hit show "Outer Banks" and Forbes' listing the OBX as number one in the "20 Top Places Americans Are Dreaming About Right Now" have put the barrier islands on the global radar.
Lee Nettles, executive director of the Outer Banks Visitors Bureau, said that according to the bureau's website traffic, the Outer Banks are drawing people from areas with higher rates of the virus. These numbers show that the Outer Banks may be perceived as a "safer vacation option," he said.
The Centers for Disease Control and Prevention's  COVID Data Tracker shows that there are higher rates of total coronavirus cases in places like New York, New Jersey, Florida and Georgia states from which the CDC's website shows Outer Banks visitors may be traveling.
This correlation "suggests people who live in those markets want to get out of those markets for vacation," Nettles said. Other visitors to the Outer Banks this summer come from Maryland, Pennsylvania and Virginia.
In response to the virus, the Outer Banks Visitors Bureau created the Outer Banks Tourism Pledge, which encourages everyone to "Be Safe. Be Smart. Have Fun." More than 100 businesses have promised to take specific steps that will best keep their employees and customers safe. Website users can click on the listings to see those steps.
The pledge also encourages visitors to do their part to keep the Outer Banks safe. "It takes everybody, not just locals," Nettles told Coastal Review Online.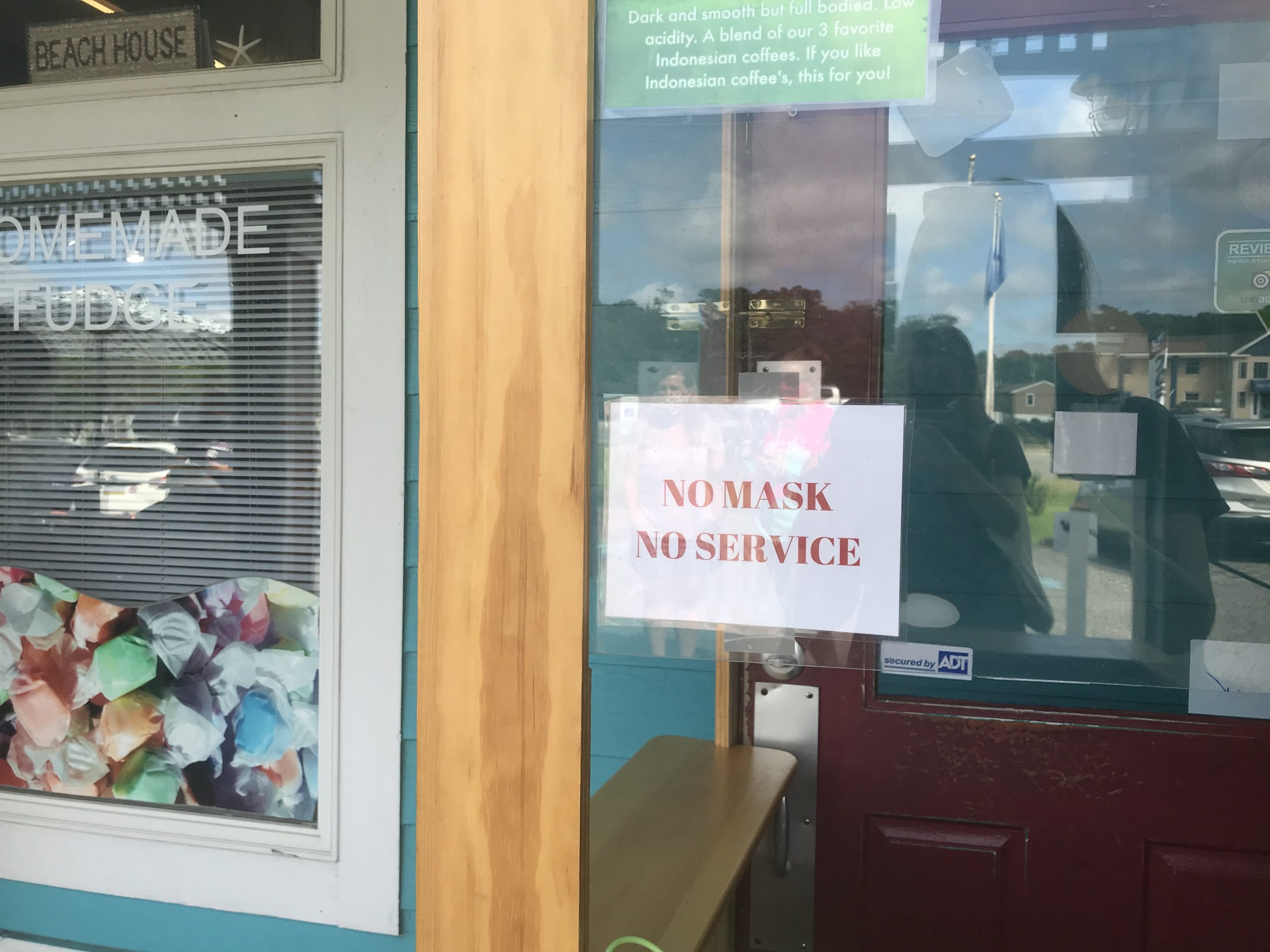 The way in which businesses have been handling the county's mask mandate varies. In Nags Head, Morning View Coffee House & Roastery is serving customers at the door, while SeaGreen Gallery still allows customers inside as long as they follow the guidelines.
Duck's Cottage Coffee & Books in Duck rerouted their foot traffic, as well as put markings on the floor to help customers know where they should go. They have stationed an employee at the door to make sure that there are only six customers inside at any given time.
"People have absolutely been responding positively to the changes," said Allen Lehew, owner of Duck's Cottage. They have encouraged larger families to send one person inside to order for everyone, so while their "transactions are down, (their) dollars are up."
Currituck County Travel and Tourism Director Tameron Kugler at the county visitor center in Moyock told Coastal Review Online that the county-operated Whalehead Club in Corolla is operating directly under Currituck County's mandates as well as the state's.
While the tourism bureau's administration buildings remained closed to the public, services such as county permits for four-wheel-drive beach parking are being sold outside with protection and social distancing measures in place. Officials ask that face masks be worn.
The Whalehead Club has protocols for disinfecting, once it's allowed to reopen, and while the tourism staff say they miss their interaction with visitors, Kugler said that they "need to make sure everyone is safe."
Visitors appear to be taking these new measures in stride. Laura Hobson from Mechanicsville, Virginia, is staying with a friend who lives in Colington.
"I'm kind of on the fence with (wearing a mask) but I understand it and it is for everybody's protection," she said. "If you want me to wear it, I'm going to wear it."
"I'm kind of on the fence with (wearing a mask) but I understand it and it is for everybody's protection."

— Laura Hobson, Outer Banks vacationer
Hobson said she has been limiting the times that she goes to the grocery store.
"We try and go during the least-busy times. (We use) lots of Clorox wipes, lots of hand sanitizer," she said. "It's pretty normal for us anyway to do a lot of hand washing."
Another visitor, Mary from Chesapeake, Virginia, said she has been coming to the Outer Banks every year since she was a child.
"(I'm using) tons of hand sanitizer and hand washing," she said. "I keep my wipes with me everywhere I go, so just a lot of practices of being clean, not touching my face with my hands, just the basic stuff that they recommend."
She said she had noticed the changes that businesses have made and the measures that they have taken.
"My coffee shop (is different) – you can't go inside. Masks or no masks, you've got to order outside," she said. "I went into Owen's (Restaurant) the other night and there was no wait. It was dead. I'm not used to that but it was nice to not have to wait, but sad for the businesses."
There is a personal reason that Mary wears her mask.
"I'm torn (about the mask mandates) but you know, if they say it's protecting someone else – my father's 89 – I would want to protect the elderly," she said. "If this is doing my part I'm fine with it."
Kelly Nettnin, communications specialist at the Dare County Department of Health & Human Services, told Coastal Review Online that although, based on observation, it seems more people are wearing masks per Gov. Roy Cooper's mandate announced June 24, the county office has been getting complaints about individuals not wearing masks.
"This is so important to stress as on social media there is a lot of finger-pointing to visitors not complying," Nettnin said.

Also, contact tracing is made more difficult when individuals do not give accurate information regarding other individuals with whom they have been in close contact.

"The COVID-19 pandemic's impact has been a significant one. It has been difficult and created hardships on many different levels for so many different people," she said. "There isn't a handbook on how to respond to COVID-19, and our response in Dare County can only be as good as the information we receive and the amount of individuals that are following the recommendations."

She said that it can be disheartening to hear of people who do not comply with the recommendations, or who refuse to cooperate with contact tracing.

"What I try to remember is there are a lot of unknowns and people are scared, and when people are scared, they may act out of character."

In some circumstances, Nettnin said, "police are giving citations if citizens are not complying with the mask mandate." It is important to note that citations are not given to individuals "who cannot comply due to age, disability or health issue."

She encourages people to follow the Three Ws and wear their masks, wash their hands, and wait 6 feet apart.

"The most important thing people can do to protect themselves and their loved ones is to follow the Three Ws and not attend mass gatherings of more than 10 individuals indoors and more than 25 outdoors."
Plans for the school year
Businesses are not alone in taking new measures against the virus. Schools in Dare and Currituck counties are also figuring out how to operate under the new guidelines, looking towards the fall.

On July 14, Gov. Cooper announced that schools will be operating under an updated Plan B that provides safety protocols for children who come to school in person. It also gives school districts the opportunity to provide remote learning for children who prefer it. Complete remote learning will be an option for any school district who chooses it.

Currituck County Assistant Superintendent Secondary Instruction Renee Dowdy said that school officials are "anxiously optimistic" and are cautiously moving forward. Both parents and teachers are concerned, but everyone's main focus is to provide that "hugely important education" while following Cooper's guidance.

Dare County Schools Digital Communications and Secondary School Director Keith Parker explained that Superintendent John Farrelly, the senior leadership team and school administrators have spent the past month working on procedures for this fall to fit all three plans that the governor's office developed.

Hybrids of the state Department of Public Instruction's Plan B were presented to the Dare County Board of Education during its special meeting Monday.

During the meeting, the board adopted a plan that calls for remote learning until the end of the first quarter of the school year, Oct 23, with a decision to be made at that time on whether to begin in-person instruction.

"These hybrid choices were created to best meet the needs of students, take into account feedback from (Dare County Schools) staff and parents/guardians, and feasibility within DCS, and state regulations," Parker said in an email Sunday.

School officials said during the meeting Monday that their concerns included maintaining staffing once schools reopen.

"We are concerned about a higher need for substitutes with less substitute availability," Farrelly told the school board Monday.

Two options have been added to incorporate Plan C, or remote learning only, based on the state guidelines should the district choose to go that route.

"Providing safe, healthy, and effective instructional program options that meet state requirements is our top priority," Parker said.

Coastal Review Online staff contributed to this report.

Those not wearing masks are both Outer Banks residents and visitors alike.