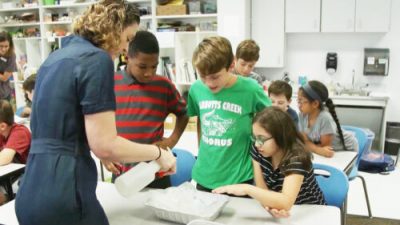 A free Watershed Wisdom online lesson plan through North Carolina Sea Grant introduces students to the value of water and of maintaining healthy watershed ecosystems.
The lesson plan, which includes guidance for elementary school teachers and a wide range of activities for students, features a wide range of interactive teaching tools such as videos, maps and interviewing activities.
There is a companion Learning from Home Guide that highlights activities in the lesson that teachers can assign online to accommodate the recent shift to remote learning across the state.
Christy Perrin, sustainable waters and communities coordinator for North Carolina Sea Grant and the North Carolina Water Resources Research Institute, or WRRI, said in a release from Sea Grant that she and her colleagues wanted to support North Carolina teachers by providing a free and easily accessible lesson plan that meets required N.C. Essential Standards.
"We wanted to creatively engage students in learning about their local watersheds and empower students to take action," Perrin said. "We created it to get students outdoors, teach them about their local watersheds, and prompt student-parent interaction with the concepts at home. Our UNC-TV Science partners helped us to achieve this and more."
Before the COVID-19 outbreak, the team filmed a demonstration of the lesson with a teacher and her fourth grade classes.
For the project, in addition to UNC-TV, North Carolina Sea Grant partnered with the North Carolina Watershed Stewardship Network's K-12 team, which includes NC Project Wet, WRRI, Hillsborough and Raleigh stormwater staff, and the Albemarle-Pamlico National Estuary Partnership. GSK also provided funding for the project.
"UNC-TV led development of Watershed Wisdom as a complete 5E lesson that can be taught over two weeks, with 14 activities, including a completely interactive online component called Ways of Watersheds," Perrin added. 5E is an instructional model that uses the phases Engage, Explore, Explain, Elaborate, and Evaluate. Teachers and informal educators can also select individual activities to teach.
Learn More