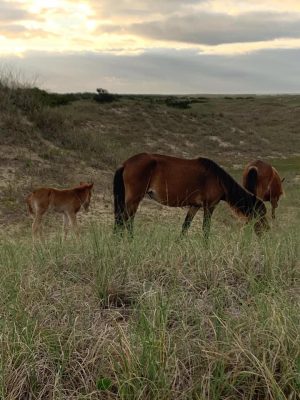 Cape Lookout National Seashore officials are looking for help identifying three visitors to Shackleford Banks near Wade Shore who chased a mare and her foal around 4:30 p.m. Friday, causing the two to separate.
The foal, which is under a month old and still nursing, and mare involved in the incident were spotted together on Sunday.
A visitor reported witnessing three young men attempting to capture the foal for photos and subsequently chasing the mare. The mare and foal became separated from one another, which puts the foal at risk of death, Foundation for Shackleford Horses wrote Friday in a Facebook post. The foundation is the nonprofit organization designated in federal legislation to co-manage the herd of wild horses on Shackleford Banks with the National Park Service.
"Grateful for the determined Park volunteer who found them together finally early this morning! Two days of work, worry, and wasted resources created by the irresponsibility of a few," the foundation said.
Visitors should stay at least 50 feet, about the the length of a school bus, away from the wild horses for the safety of both the horses and the visitors. Photos should be taken with a telephoto or zoom setting or lens.
If you see an incident of harassment of wild horses, call the park immediately at 252-728-2250, the foundation requests. Leave a message, describing what's happening and where you are. Or if you believe it's an emergency, call 911. Take pictures and collect identifying information like boat registration numbers, the foundation advised.