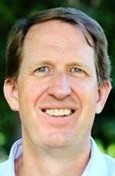 Daniel Hayden has been appointed the new president and CEO of Restore America's Estuaries, which focuses on the protection and restoration of bays and estuaries as essential resources for the nation.
Hayden is to take over for Jeff Benoit, who is set to retire May 31, after having served as president and CEO since August 2007.
"After a comprehensive and competitive search, the Board was most impressed by Daniel's commitment to coastal conservation, organizational strategy and leadership experience, and proven record of building successful partnerships," Board Chair Todd Miller wrote in an announcement. Miller is executive director of the North Carolina Coastal Federation, which published Coastal Review Online.
Hayden has more than 25 years of experience as a leader in both the private and public sectors.
His experience includes leading programs, building multi-million-dollar partnerships and overseeing quality and learning for a decade for Rare, an international nongovernment organization enabling organizations to use social marketing to drive pro-environmental behaviors.
Most recently, Hayden led business operations for Digital Impact Alliance (DIAL) at the UN Foundation, which grew from $3 million to $13 million in annual investments during his tenure.
In a previous role as senior campaign director at PCI Media, Hayden organized UNEP's Webby award winning "Wild for Life" Campaign generating over 3 million pledges, and assisted the UN Environment Program to design a global campaign to reduce marine plastics (CleanSeas) which pre-engaged 10 countries to make policy commitments.
Daniel earned a bachelor's in economics and history from Hamilton College and a master's degree from Northwestern University's Kellogg School of Management.