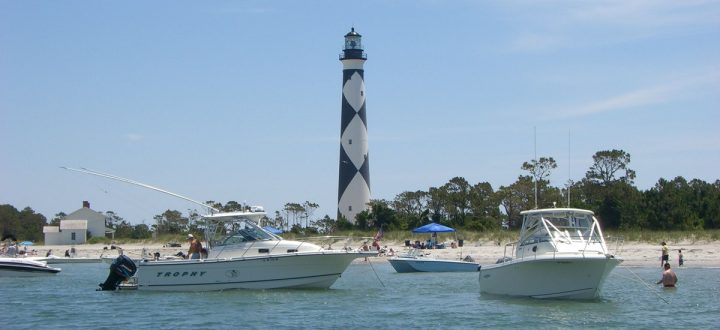 Cape Lookout National Seashore started Friday gradually increasing public recreation opportunities within the guidelines of the White House, Centers for Disease Control and Prevention and state and Carteret County public health authorities, park officials announced Friday.
To limit the spread of the Covid-19 virus, all visitor centers were closed March 19. North Core, South Core and Shackleford beaches have been open for use. A return to full operations will continue to be phased and services may be limited. The public should follow local area health orders, practice Leave No Trace principles, avoid crowding and avoid high-risk outdoor activities.
The park reopened restrooms Friday at Shackleford Banks Dock, the Light Station Visitor Center near the Lighthouse, the Lighthouse Pedestrian Beach, the Cape Point, the Great Island Bath House, the Longpoint Bath House, Portsmouth Salter House and the Harkers Island Shell Point.
Limited passenger ferry service provided by the park's authorized concessioner, Island Express Ferry Service LLC. also began Friday and can be reached at islandexpressferryservices.com or 252-728-7433.
The ferry service will meet Coast Guard recommendations, and CDC social distancing recommendations by limiting passenger capacity to 50% of actual vessel capacity, requiring crew and passengers to wear masks, and by cleaning of common touch areas after each trip. It is recognized that family groups may not maintain social distancing. Ticket booths and staging areas will be marked with social distancing signage and tapped with 6-foot spacing markers on the ground.
Great Island Cabin Camp will reopen Monday under specific cleaning protocols. Visit recreation.gov to make reservations.
Harkers Island Visitor Center and Bookstore, Beaufort Visitor Information Center, Light Station Visitor Center and Bookstore, the Keepers' Quarters Museum, Cape Lookout Lighthouse climbing and in-person interpretive programming will remain closed.
The CDC has offered guidance to help people recreating in parks and open spaces prevent the spread of infectious diseases. The National Park Service said it is working with federal, state and local public health authorities to closely monitor the COVID-19 pandemic and using a phased approach to increase access on a park-by-park basis.
Details and updates on park operations will continue to be posted on the park website and social media channels.