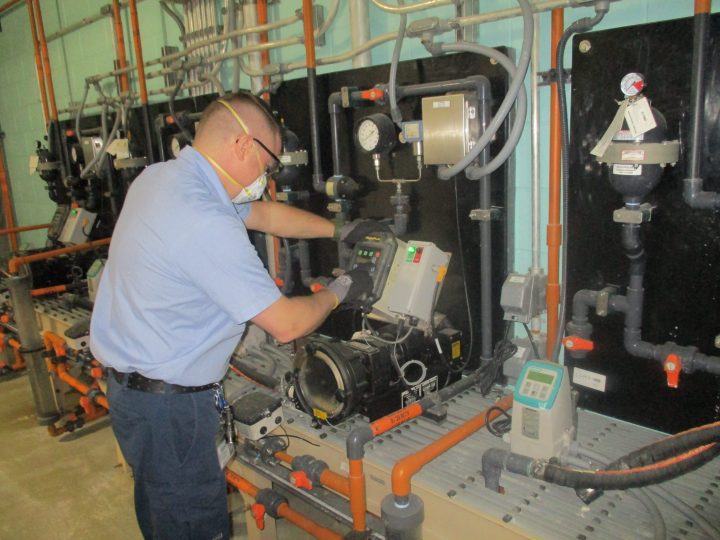 WILMINGTON – As the numbers of sick and dead from a rapidly spreading virus climbed and evidence mounted that our daily lives would be upended indefinitely, Cape Fear Public Utility Authority officials began hashing out how to maintain water treatment plant operations during a pandemic.
What happens if one or more of the onsite plant operators gets sick? What can be done to ensure the continuation of plant operations if operators have to be quarantined? What can be done to reduce operators' exposure to COVID-19?
CFPUA officials started out by staggering shifts to maintain social distancing and allowing employees to work remotely. The facilities were closed to the public March 18.
It was a start, officials agreed, but more would need to be done to cut plant operators' exposure to the virus.
"These operators – you can't just pick somebody off the street," to replace them, said Carel Vandermeyden, CFPUA's deputy executive director. "It takes years of education and experience. We don't want them to get sick. If somebody on the crew became ill then obviously there's a concern that another on the crew would be potentially exposed as well."
State rules dictate that water treatment plants may must be run by licensed operators.
Initially, authority officials discussed the possibility of bringing in backup operators, such as retirees with the knowledge and experience, but not an active license.
The backups would be onsite, working under the direction of certified operators in person or through remote communication.
CFPUA asked the North Carolina Department of Environmental Quality, or DEQ, for temporary guidance that would make this plan possible.
The authority has yet to receive a response.
"From there, we migrated more into what about what if we protect our operators more from exposure and house them at the treatment plant," Vandermeyden said. "What would that look like?"
They turned their attention north, specifically Des Moines Water Works and Greater Cincinnati Water Works – utilities that have set up a system that groups operators into teams to work multiday shifts and live in temporary housing at their facilities.
By the third week of March, CFPUA framed a plan that cuts down on the amount of travel, and therefore, exposure of their licensed operators.
Seven campers (one for each operator), rented from local businesses, have been added to the grounds of the authority's Sweeney Water Treatment Plant and Richardson Nanofiltration Plant.
Each camper has its own bathroom and kitchenette. They are equipped with WiFi and televisions.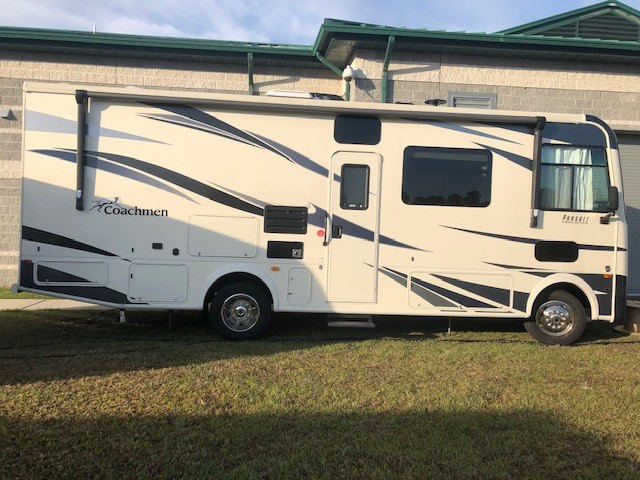 During hurricanes, staff who need to ride out a storm on the grounds of the facilities have been provided cots – sufficient for a couple of nights, but not through a pandemic.
"In order to do this right, we went the extra step and we rented these trailers," Vandermeyden said.
On April 6, the first of two, seven-person operational teams moved into the campers, kicking off a seven-day-on, seven-day-off, 12-hour shift rotation.
Four operators live and work on the grounds of the Sweeney plant. Two work the day shift and two the night shift. Three operators monitor the Richardson plant — two work the day shift and the night.
They are being supervised remotely. And, when the operators are at home, they continue to work, filling out paperwork and fulfilling other duties.
"They make their normal rounds at the plant. They monitor the plant's performance. They take samples throughout the treatment plant. They work with our CFPUA lab that is outside the plant to coordinate official samples that we need to acquire for state requirements," Vandermeyden said.
Food and cleaning supplies are provided at the campers. When operators wrap up their on-site work week, they clean and disinfect their campers. Before the next team of operators start their rotation, their temperatures are checked. Any potential symptoms of COVID-19 must be reported to management.
Social distancing and isolation are key.
A support team of other employees make food runs and replenish the necessary cleaning supplies.
Signs have been posted to prevent contractors from interfacing with the operators. In operations control rooms, the workers try to maintain social distancing.
"On one shift you may have two people working at the same time," Vandermeyden said. "We have marked areas in the plant where only they can work. The real goal is to keep those folks as isolated as much as possible."
When they're not working the seven-day shift, operators need to stay home as much as possible, he said.
"To that point what they do when they come off their seven-day work shift is we provide an order of essentials and food for the next seven days," Vandermeyden said.
The estimated cost is $160,000 a month.
CFPUA has a 90-day rental agreement for the campers.
Should the stay-at-home order issued by Gov. Roy Cooper and New Hanover County Commissioners be lifted by month's end, operators will not be sheltered at the plants, Vandermeyden said.
When that happens, the operators will continue to work in the same teams, he said.
"The overarching goal for us in this is providing a continuous supply of safe water to the community," he said. "That's critical."