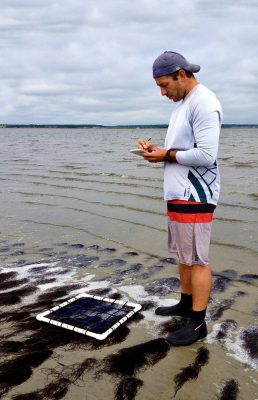 Aaron Ramus, 2020 Coastal Research Fellowship recipient, is studying nonnative seaweed in the North Carolina Coastal Reserve and National Estuarine Research Reserve.
North Carolina Sea Grant and the state Coastal Reserve and National Estuarine Research Reserve Program sponsor the fellowship, which supports work in the state's reserve system.
Ramus, a doctoral student in marine biology at the University of North Carolina Wilmington, is looking at how Gracilaria vermiculophylla, or simply gracilaria, influences predator-prey relationships, as well as the production of hard clams.
"I'm very excited about receiving this award," Ramus said in a statement.
His research will provide insights on gracilaria's potential effects on predation on the hard clam.
"Hard clams constitute the basis for a popular recreational and major commercial shellfishery in North Carolina," Ramus said. With his new work under the Coastal Research Fellowship, he says he hopes to better understand how gracilaria affects the food chain, including the hard clam fishery.
He also is gathering data about what's happening at the benthic level, or the lowest level in a body of water, including some of the layers of bottom sediment and studying the seaweed's abundance and variation.
He added that he plans to share his results through an open access journal, conferences and other avenues. He also will develop a web-based interactive map of gracilaria's distribution and abundance.
"Understanding the distribution and impacts of invasive and nonnative species on coastal ecosystems is a pressing management issue," Brandon Puckett, research coordinator at the N.C. Coastal Reserve, said a statement. "Aaron's previous research, as well as past Coastal Research Fellows', has suggested that these impacts are likely context dependent and not always negative."
Ramus received his master's in marine biology from UNCW and his bachelor's in biology from UNC Chapel Hill. His adviser at UNCW is Lawrence Cahoon.