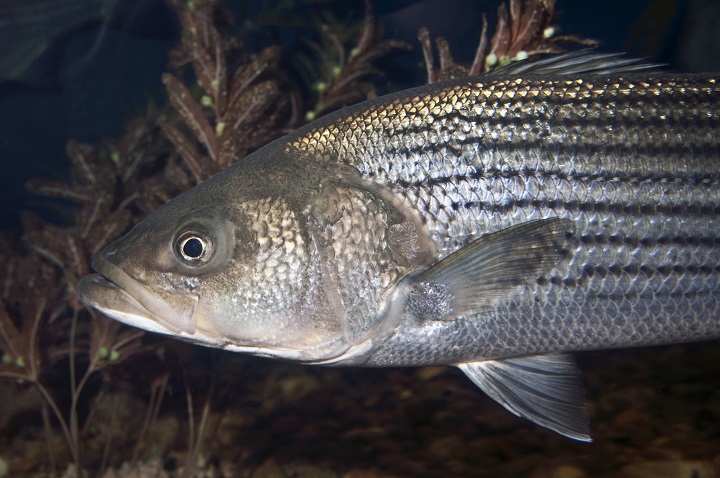 The first of two parts
Each year usually starting in April, large schools of striped bass make their way north along the coast. Most make a journey of 500 miles or more from Chesapeake Bay.
The Roanoke River has critically important breeding, and juvenile rearing habitat for striped bass. From late March to the beginning of April, striped bass begin to arrive at the lower Roanoke River to spawn.
The basin contains 9,580 square miles, and over 400 miles of that being river from the foothills of the Blue Ridge Mountains in Virginia to the Albemarle Sound in North Carolina, according to Stripers 247.
This river system is considered to have good water quality, all though urban and agricultural runoff are increasing problems to the drainage, according to Stripers 247.
The striped bass fishing season in the Roanoke River basin opened this year March 1 and ends April 30. The daily creel limit on the Roanoke is two fish per angler, with a minimum length limit of 18 inches. No striped bass between 22 and 27 inches can be possessed at anytime.
Fishermen are required to use a single barbless hook or a lure with a single barbless hook when fishing in the upper Roanoke River from April 1 through June 30.
The Cape Fear River is another story all together.
Bass in this drainage have been tested to include very high limits of Per- and Polyfluoroalkyl Substances, or PFAS. This material has been referred to as forever chemicals, and does not go away, or break down in the environment.
Blood from 38 striped bass taken from the Cape Fear River had more than 40 times the safe level of PFAS in their blood than those found at aquaculture facilities grown in North Carolina.
Levels in Cape Fear River Striped bass had total PFAS levels of 551 parts per billion, or ppb, while those grown in aquaculture were at a much lower, safe level of 13.6 pbb.
The striped bass study was collaboration between the North Carolina Center for Human Health and the Environment, the U.S. Environmental Protection Agency and the North Carolina Wildlife Resources Commission.
There has been a long-standing moratorium on striped bass fishing in this drainage, and the new study shows it is likely that largemouth bass, catfish and other species may also have high levels of PFAS, and therefore not safe to eat.
Female striped bass can be more than 3.5 feet in length and weigh 30 to 40 pounds. Striped bass never stop growing as they age. They can live up to 31 years in the wild and weigh up to 100 pounds. The largest striped bass on record was caught in North Carolina in 1891 and weighed 125 pounds.
In the mid-Atlantic and southern states, striped bass are called rockfish.
Fishermen along the northeast coast have eagerly sought striped bass since long before the advent of graphite rods and high-tech spinning reels.
Many Native American tribes in the northeast traveled to the coast to establish seasonal fishing villages. Striped bass were caught, along with other migrating fish, in wooden traps called weirs.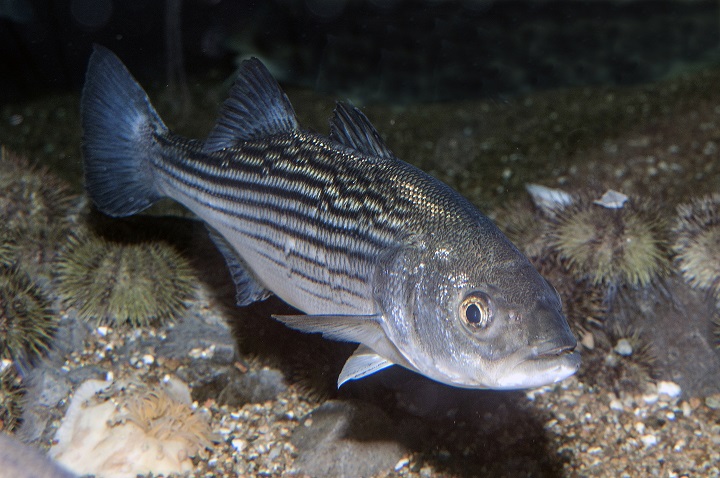 When European colonists arrived, they were poorly equipped to farm New England's thin rock soil. Striped bass, along with river herring and shad, became an important food source, as they were easily caught by the thousands in tidal creeks and estuaries.
Striped bass were considered so vital to the Massachusetts Bay colony that in 1639, their use as fertilizer was banned to force colonists to develop fishery commerce with Europe. The commercial value of striped bass became evident to New Englanders long before the American Revolution.
In 1670, the members of Plymouth Colony dedicated the proceeds from a striped bass sales tax to help fund the construction of the first public school in the new world. The school was not free, rather required a low tuition to support the teacher.
Today, the commercial and recreational fishing of striped bass is a multi-billion dollar industry. But it is an industry, which has come perilously close to collapse. As early as the mid-18th century, striped bass populations along the east coast had been know to crash suddenly and dramatically. Regulations and prohibitions against winter fishing or sale of striped bass went into effect in New York in 1758 and in Massachusetts in 1797.
By the mid-19th century, a pattern of decline was beginning to become evident in spots throughout New England, despite abundant stocks elsewhere.
By the late 19th century, numbers of rockfish all along the northeast coast had fallen dramatically. The turn of the 20th century saw the days of abundant striped bass become a distant memory. While no one can be certain as to the cause of this catastrophic decline, a number of factors stand out.
As the United States grew into an industrial giant during the course of the 19th century, the coastline from the mid-Atlantic states to Maine became increasingly developed. This lead to an inevitable loss of critical spawning and nursery habitat by the construction of dams.
Pollution, particularly raw sewerage dumped directly into rivers by the growing populations of eastern seaboard cities, was also very likely a factor.
But it was almost certainly overfishing, which did the greatest damage to striped bass stocks. From the earliest days, mortality from fishing outstripped their ability to reproduce. That it took over 200 years to nearly fish them out is testament to their previously enormous abundance.
Striped bass were originally found along the east coast from the St. John's River in Florida to the Gulf of St. Lawrence, and on the gulf coast, in the Apalachicola River.
South of the mid-Atlantic states, striped bass spend most of their time in rivers during summer when water temperatures are high in tidally influenced (salt water) sections of the river and move into tidally influenced sections when water temperatures drop.
The West Coast has an established population, having been introduced into California as an exotic species in the late 19th century. Landlocked populations have also been established in 31 states across the country.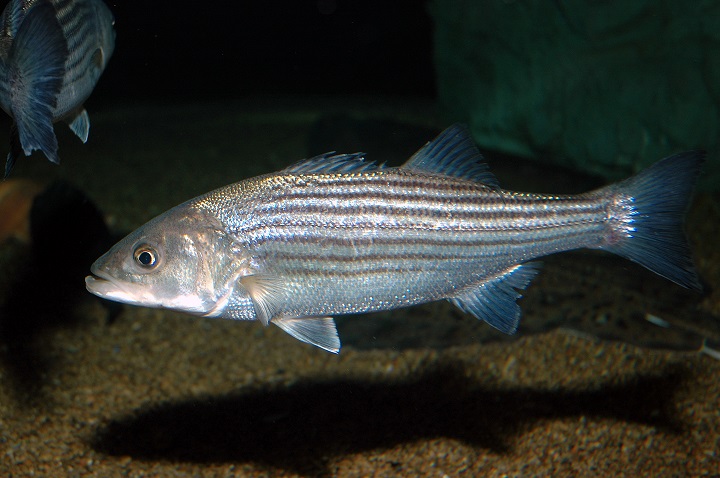 The largest concentrations of striped bass are found in the area from the mid-Atlantic states through southern New England, ranging from North Carolina to the southern Gulf of Maine.
Principal spawning areas include Chesapeake Bay, the Hudson River, the Delaware River and the Roanoke River/Albemarle sound area.
The Chesapeake Bay area is by far the single most important spawning ground for striped bass. The bay's many tidal estuaries and backwaters provides a vast amount of natal and nursery habitat. The broad, shallow bay itself is a fertile feeding ground for juvenile rockfish. Both historically and currently, the bay provides 70-80% of the east coast migratory population when abundance is high.
The Hudson River contributes an additional 10% and the Delaware Bay area around 20%.
Since striped bass rely so heavily on Chesapeake Bay during the critical early stages of their lives, protection of this vital habitat has been a key factor in establishing healthy population levels.
Next: The life cycle of striped bass