Coastal Review Online science correspondent Sarah Loftus is one of 28 young scientists selected as 2020 Mass Media Science & Engineering Fellows by the American Association for the Advancement of Science.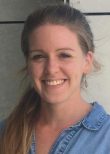 Loftus and the others will head to newsrooms around the country this summer for 10 weeks of hands-on science reporting. The program places undergraduate, graduate and post-graduate scientists, engineers and mathematicians at media organizations where they write stories for radio and television, newspapers and magazines.
"The current COVID-19 situation underscores the need for accurate science journalism, and we're glad we're able to continue to bring scientists to our host sites this year," said Kristin Lewis, director of the program. Given the current pandemic and various stay-at-home orders across the country, the program will need to be more flexible this year, and fellows may begin working for their host sites remotely.
Loftus, who began covering marine science stories for Coastal Review Online in 2019, is being hosted by The Miami Herald. Her sponsor is the California-based Heising-Simons Foundation, which works to advance sustainable solutions in climate and clean energy.
Loftus earned her doctorate in 2019 at Duke University Marine Lab, researching how to cheaply yet effectively grow algae for making biofuels.
"I began unearthing my love for writing by blogging for Duke's Nicholas School of the Environment in graduate school," she said in a statement. "I pursued science communication training through workshops and online groups to begin publishing articles in wider outlets. I'm interested in connecting scientific research to society through understandable and engaging writing and am especially interested in covering environmental science and energy topics. I'm excited to continue covering coastal science topics as a fellow with the Miami Herald."
Before starting at their host sites, fellows gather for a three-day orientation, providing resources and training for scientists who likely have never worked in a newsroom before.
"We'll be conducting our orientation virtually this year to reduce travel," said Lewis. "While I'll miss being able to meet all the fellows in-person at the start of the summer, we're still planning on gathering for a post-fellowship wrap-up at the end of the summer."
The program not only serves as a training ground for scientists wishing to dive into science journalism, but newsrooms benefit from the scientific expertise of the fellows as well.
Tanya Lewis of Scientific American, one of the host sites, stated that "The AAAS program is an excellent way to introduce scientists to the world of professional science journalism, and fellows are valuable contributors to our news operation. We treat fellows as fully fledged reporters, and their enthusiasm and expertise are an asset to our publication."
Over the summer, the fellows will contribute to their host sites' coverage of science news, hone their own writing, editing and interviewing skills and learn what it means to be a science journalist. After the program, many fellows continue in their scientific careers, while others move into a career in science communication. The program is in its 46th year and has supported more than 700 fellows. It is funded by sponsoring scientific societies, universities and private philanthropy.
Learn more