With the 50th anniversary of Earth Day Wednesday, environmental and educational groups are offering creative ways to celebrate while maintaining social distancing to prevent the spread of COVID-19.
The first Earth Day was held in 1970, marking the anniversary of the birth of the modern environmental movement, according to the Earth Day global organizer, the Earth Day Network, which has taken its event online with the first Digital Earth Day.
"At Earth Day Network, the health and safety of volunteers and participants in Earth Day events is our top concern. Amid the recent outbreak, we encourage people to rise up but to do so safely and responsibly — in many cases, that means using our voices to drive action online rather than in person," Kathleen Rogers, President of Earth Day Network, said in a statement.
Use hashtags #EarthDay2020 and #EARTHRISE to be part of the global conversation. To see the other digital events such as virtual protests, social media campaigns, online teach-ins and more during The 24-hour "Global digital mobilization," visit earthday.org or check in with the organization's social media, @earthdaynetwork.
On Wednesday, we're going LIVE —

Tune into Earth Day Live on April 22 as we flood the world with messages of hope, optimism, and above all, ACTION.

Join us for 50 years of #EarthDay:https://t.co/f7yqlqPoNP | #EarthDay2020 pic.twitter.com/x6wn9Wj0PA

— Earth Day Network (@EarthDayNetwork) April 20, 2020
Rachel Bisesi, coastal education coordinator with the North Carolina Coastal Federation's central office in Carteret County, worked with other agencies and organizations to create the Distance Learning Lab that launched online over the weekend, just in time to be incorporated into Earth Day activities at home.
The Distance Learning Lab is a compilation of resources organized by grade level to help educate about coastal science.
In addition to the Federation, partners and contributors include Hammocks Beach State Park, Jennette's Pier, Lady Swan Tours, North Carolina Coastal Reserve, Albemarle Pamlico National Estuaries Partnership, North Carolina Sea Grant, Duke University Marine Lab, University of North Carolina Wilmington MarineQuest, NOAA Marine Debris Program, Clean Water Education Partnership, University of Nebraska-Lincoln and North Central Texas Council of Governments.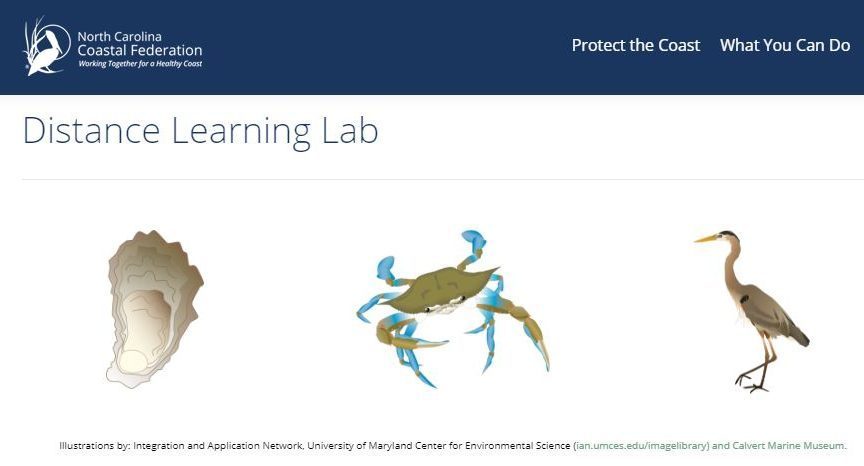 Bisesi said that the motivation behind the Distance Learning Lab was to have one site where people could go to learn more about the coast. The goal was to make the site easy for both teachers to share with their students and for families to follow along.
"It seemed like a lot of us were doing different things to educate others during this time of uncertainty, and it made sense to collect our efforts in one place. I'm very grateful for all of the contributing partners and everything they were willing to share on the page. It sends the message that we're all in this together and we support each other in an overarching goal of educating others about our coast," she said.
"There are lots of fun videos to watch and activities to do on the page. You can learn about water quality, oysters, marine debris, coastal wildlife and living shorelines. Some videos have crafts or experiments that can be recreated at home such as the UNCW MarineQuest QuaranSTEAM experiments, and the egg carton oyster craft," Bisesi added.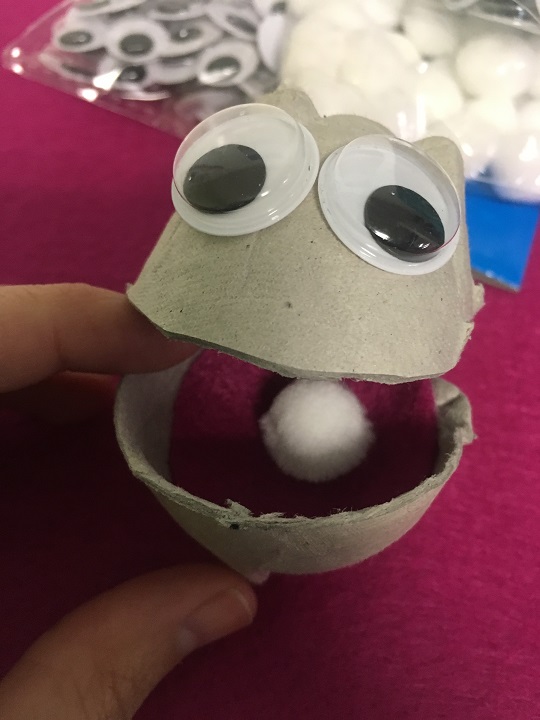 QuaranSTEAM experiments with the MarineQuest Team, "Water Explorers," is interactive video with hands-on science experiments to explore the properties of water using supplies easily found at home.
Harris Muhlstein, the University of North Carolina Wilmington MarineQuest school program coordinator, said in an email interview that Earth Day is an opportunity to celebrate the natural world around us, a world that is mostly blue at about 71% water.
"During the challenges of COVID-19 we wanted to reach out and offer families a way to stay engaged with science in the safety of their own homes. Water Explorers is a fun way for families to get hands-on as they uncover some of the amazing properties of water that make life possible on our blue planet," he said.
Water Explorers is one of the many resources available on the Distance Learning Lab
The participating organizations were all very accommodating and positive about the project. "They willingly shared their resources, which I'm so grateful for. The page wouldn't have nearly the impact that it does without their support. The coastal environmental education community is such a great network to be a part of," Bisesi continued.
Lori Davis, education coordinator for the North Carolina Division of Coastal Management's National Estuarine Reserve and Coastal Reserve Program, told Coastal Review Online she was thrilled when Bisesi asked if she could highlight the North Carolina Coastal Reserve's education resources including curricular activities and videos.
"During this pandemic, it's really hard for environmental educators to not be in our outdoor classrooms serving our audiences," Davis said. "I miss seeing the excitement in the faces of students who have never been on a boat before and then being able to see and hold hermit crabs maybe for the first time ever. While videos and pictures are nice, there is no replacing the magical smell of marsh mud or having the Spartina grass graze your ankles on a hike," she continued.
Davis said that with this being the 50th anniversary of Earth Day, she hopes everyone takes the time to enjoy the environment around them, even if it's in their own backyard.
"I hope they strive to use resources like this to learn some new things about the ecosystems around them. Earth Day, in my opinion, should be celebrated every day," she said. "The Earth and all of its wonders should be enjoyed using all the senses. To quote Rachel Carson, 'One way to open your eyes is to ask yourself, What if I had never seen this before? What if I knew I would never see it again?'"
If you want to spend Earth Day outside, you can safely go outside while social distancing, she said.
"I would encourage people to go for a walk in their yard or neighborhood and look for ways to celebrate nature there. Nature doesn't always have to be viewed at a park or along a trail like one may think," Bisesi said. "You can find nature by simply looking out the window and observing the clouds, or by exploring the plants in your yard or even along the cracks of a sidewalk. While outside, look for ways to be a good steward of the Earth. Bring along a bucket to collect any litter and download the Marine Debris Tracker App on your phone to record what you find."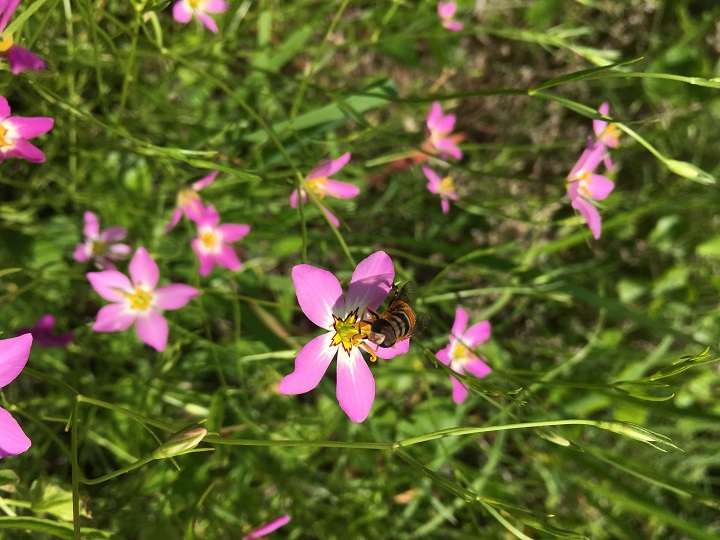 She said that birding is another great Earth Day activity that can be done from home.
"In coastal North Carolina, we have some amazing birds we can observe, and there are numerous resources online to help you identify different species," Bisesi said, adding to check out the Cornell Lab's allaboutbirds.org.
In the Northeast, Earth Fair OBX VIII has gone virtual. The Coastal Environmental Educators Network, which has organized and hosted an Outer Banks Earth Day event each year since 2012, is comprised of the Coastal Federation, Coastal Studies Institute, Jennette's Pier, North Carolina Aquarium on Roanoke Island, Jockey's Ridge State Park, Outer Banks Forever, and Nags Head Woods Preserve.
These organizations are working together to post Earth Day content across each of their social media platforms for 50 days to celebrate the 50 years since its establishment. A variety of topics will be featured for this virtual "event" including ethical angling, marine debris, reusables, recycling, green cleaning, water quality, living shorelines, coastal landscapes, prescribed burning, native species, and the benefits of enjoying nature.
The Earth Day posts began Monday and will conclude with World Oceans Day June 8. Each of the seven partners encourage others to follow along, share posts, and even participate by using the hashtags #EarthFairOBX and #NCEarthDay50.
Earth Fair OBX VII is going virtual!

April 20- June 8, BOLO for #EarthFairOBX + #NCEarthDay50 posts from @CoastalECU , @NCCoastalFed, @Jennettes_Pier, @OBXparksforever,Friends of Jockey's Ridge, Nags Head Woods Preserve (@NC_TNC), and @NCAquarium_RI.
https://t.co/xBBhR29DX8

— ECU Integrated Coastal Programs (@CoastalECU) April 18, 2020
"In a nutshell, we've joined together seven of the groups that would have participated in our Earth Fair OBX event and each are using their social media platforms over the next 50 days to share information in honor of celebrating the 50th anniversary of Earth Day," said Sara Hallas, coastal education coordinator.
"I've helped plan for and participate in an Earth Day event for so many years, and it's usually one of my favorite times of the year. I've always wanted to apply ways to make an impact beyond a one-day celebration, and I'm glad this year has challenged us to educate and inspire in new ways – that also happen to be environmentally friendly," she said.
The Wilmington Earth Day Alliance has taken its celebration online, too. Earth Day 2020: 50th Anniversary Virtual Celebration is set to begin at noon Saturday and will be on the organization's Facebook page.
Organizers have created a virtual scavenger hunt. Those 21 and older who submit a photo of their correct and completed entries will be entered to win a $50 gift certificate to Bill's Brewing Co. or Waterline Brewing Co. Additionally, the Rapping Red Oak from Mr. Mark's Music will perform for the kids and Jesse from The Pinkerton Raid will play a short set that will be streamed as well. Shirts, water bottles, tote bags, and other swag for this year's event are available online.
For #NCEarthDay50, our @NCDEQ Secretary @Michael_S_Regan spoke with 3 recently certified @NorthCarolinaEE Educators to raise awareness of the work of #NCEnviroEducators across the state. Here's Libbie Dobbs-Alexander, educator at @TheNCArboretum ?5⃣0⃣ https://t.co/kPVlFznXjW

— NorthCarolinaEE (@NorthCarolinaEE) April 20, 2020
The Department of Environmental Office of Environmental Education and Public Affairs is encouraging people to celebrate the 50th anniversary of Earth Day by enjoying the nature all around their homes.
"We may all be social distancing but we can go outside and share our backyard nature finds on social media. All month, we've seen educators, parents, caregivers, students and even local meteorologists posting photos of their backyard nature finds using the #NCBackYardNature hashtag," Lisa Tolley, program manager for the Office of Environmental Education.
"We are also spotlighting North Carolina's environmental educators throughout the month of April and on Earth Day, April 22, 2020, by highlighting to educators and encouraging others to give a 'shout out' on social media to their favorite educators the hashtags #NCEarthDay50 and #NCEnviroEducators," Tolley continued. "Following these hashtags on social media is also a great way for the public to learn more about the state and to get ideas on how to celebrate Earth Day in their own backyard."
Tolley said that the Office of Environmental Education has an online searchable database of professional development opportunities and other resources for educators to access from home that are provided by programs, agencies and nature and science centers throughout the state.
"We are also encouraging citizens to participate from their homes in citizen science programs such as the City Nature Challenge, an international effort to find and document plants and wildlife in cities across the globe from April 24 to April 27," she said.