MOREHEAD CITY — A researcher at the University of North Carolina Institute of Marine Science is urging coastal North Carolina residents to do their part to minimize the spread of COVID-19.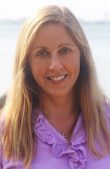 Rachel Noble, a professor of marine and environmental microbiology at the institute, says this week in a letter distributed to media outlets in Carteret County that coastal residents can take basic steps to slow the virus' transmission.
"We must begin to care for each other from a distance, but act as if every single individual encounter could be with someone who is a potential carrier of the virus," Noble writes.
Carteret County has reported five COVID-19 cases.
Noble's letter follows below.
Seizing our Moment in Carteret County
Dear Neighbors,
We are small communities and large rural areas that are inextricably linked as friends, families, classmates, and co-workers. Because of this we can do things big cities cannot. We know this every time a hurricane comes through. Who helps us in times of a crisis? We help each other. Our county is currently in crisis. It might not feel like it yet, but I assure you that we are. Today is when we must be different from the masses. Today is when we need to look after each other. Today is the time to act.
I am a public health microbiologist at the UNC Chapel Hill Institute of Marine Sciences. I have worked, lived, and raised a family in Carteret County for two decades.  Our country is facing a pandemic disaster due to coronavirus (COVID-19). We already have several confirmed cases in Carteret County that we know of, and one of those is a "community spread" with no known origin. However, testing in NC has been limited, sometimes with results taking a week or more to come back. Since it takes up to two weeks to show symptoms, we also know that there are people potentially among us at our stores, gas stations, and public spaces who are unknowingly infected with coronavirus and do not have symptoms yet.  Unfortunately, this virus is highly contagious, and can remain infective outside the body for over a week.  Anyone who is infected and goes out into the public is likely to infect others.
There are two key strategies for reducing the impact of pandemic spread of coronavirus.
First – widespread testing to identify all infected individuals and then isolate until the person is proven to be non-contagious (We are not doing this in the USA at this time).
Second – we can strongly modify our behavior to limit the spread of the virus until we can improve our testing capacity and return back to the concept of widespread testing.
We must take action now.  Here's what we can do.
Because we cannot test everyone in NC, the only course of action is to immediately and drastically change our behaviors. To slow the spread in our community we must exceed the current state and national recommendations. Now is the time to take care of each other in a way big cities can't.  Now is the time to make a difference so that our small, local hospital isn't overrun, so that we keep infection rates low, so that we protect the vulnerable.  Our local hospital has only a small number of beds for truly sick patients, and even fewer ventilators.
Unless you have been tested for coronavirus, not one person in this county (including myself) can know for sure if they currently have it.  We must begin to care for each other from a distance, but act as if every single individual encounter could be with someone who is a potential carrier of the virus. This is true for everyone in our community – children, teens, adults, and the elderly. No one is immune.
We have a secret weapon. We can all pull together and do our part to slow the spread in our community. We all need to start taking individual actions. Together these individual decisions can make a huge difference.  Here are some ways we can do this today:
Don't socialize with those outside your immediate family
Don't let your children or teens go out to hang out with their friends
Limit trips to grocery stores, and only send one member of the household
Stay home unless going to work, getting groceries, going to the doctor, or filling prescriptions
Limit the use of cash (you can disinfect a credit or debit card)
Wash your hands often & disinfect your home
If you are ill enough to seek a COVID-19 test, self-isolate until your results come back.
These sound like small steps, but the only way we can try to minimize the spread in Carteret County is if everyone does this, starting today. If people don't change their behaviors dramatically, we will be overrun like many other places around the world.  We are only at the starting point of the typical exponential rise of cases, so we have an opportunity to serve as a beacon for proactive response to the rest of the state. We have an opportunity to protect our vulnerable. Let's seize our opportunity. Let's do what we're best at in Carteret County – look after each other.
Rachel Noble, PhD
Beaufort, NC