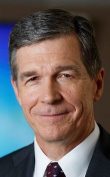 Gov. Roy Cooper is slated to be in Wilmington later this month for the Cape Fear Habitat For Humanity's annual Golden Hammer Breakfast.
The event is set for 7-9 a.m. March 20 at the Wilmington Convention Center, 10 Convention Center Drive. There is no cost to attend but donations will be requested to benefit the Christian housing ministry that assists families in the Cape Fear region with the purchase of Habitat homes.
The theme for the 19th event this year is "Recovery and Resiliency," terms relevant to the effects of climate change, such as increasingly frequent and severe hurricanes and coastal storms.
Learn more