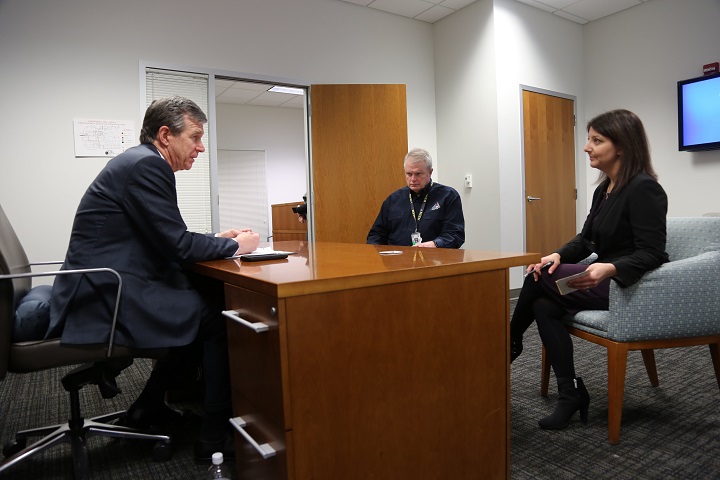 As the number of positive cases increases in the state, many coastal town and county governments are responding to Gov. Roy Cooper's stay-at-home order that went into effect at 5 p.m. Monday.
The state Department of Health and Human Services said Monday morning that the total number of cases in the state was 1,307. Six people have died in North Carolina.
As of Monday afternoon, Currituck, Perquimans, Washington and Pamlico counties had each reported one confirmed case; Pasquotank and Hertford each reported two cases; Beaufort County reported three cases; Bertie and Craven counties each reported five cases; Onslow County reported six cases; Carteret County reported 11 cases; Brunswick County reported 14 cases; and New Hanover County reported 27 cases.
During a press conference Monday afternoon DHHS Secretary Dr. Mandy Cohen emphasized that there is no vaccine or treatment for COVID-19 and the best course of action is to stay home.
"Social distancing is the only tool we have to slow the spread of COVID-19 so fewer people get sick at the same time and so we don't overwhelm our hospitals," she said. "I can't stress it enough. Your actions matter. Staying home matters. Staying home will save lives. And I know this is really, really hard. Most of us have never lived through a time where we've had to take this kind of collective action to change our entire way of life in a matter of days."
.@SecMandyCohen: We have many rural areas without as many hospital resources in this state. We have a population comprised of older folks at higher risk. We have to tailor our solutions to our state to make sure we are protecting North Carolinians in the best way possible.

— NCDHHS (@ncdhhs) March 30, 2020

She said that this virus is, in many ways, like a war right here at home, "and our enemy is this virus, it can hurt us. It can take our loved ones from us. And the only way we can win and save as many lives as possible, is if we all do our part, and stay at home."
Cohen added that the state is "imploring North Carolinians to please heed our advice to stay home." Her response was to a question about the expected impact of Cooper's order.
"We've seen (these measures) work in other parts of the world and even other parts of this country," she said regarding the effect of slowing the spread. "We know that the virus is here in North Carolina, we can't change that fact, what we can do is slow the spread, and we will continue to do the social distancing measures to protect people here in North Carolina."
The number of cases is going up in North Carolina, Cohen explained, because there is more testing and, as for a peak, Cohen said that's hard to pinpoint because they're still learning about the virus.
"So while we are testing more, we're going to find more, but what we are finding is a different kind of someone who is positive," she said. "Where prior, we were able to trace back each of those positive cases to someone who may have had contact with someone who was positive, what we're seeing now is that there is community spread of this virus." Community spread means that folks don't know where they picked it up from, "and that changes what we think about in terms of our level of response. It means we need to increase our social distancing, it means we need to make sure we're planning to have the medical capacity that is appropriate to respond to COVID-19."
To our doctors, nurses, and other hospital staff on the front lines: Your service is going to help us beat this virus, and I am deeply grateful to every one of you. – Gov. Cooper #NationalDoctorsDay pic.twitter.com/SjgkVM4LFI

— Governor Roy Cooper (@NC_Governor) March 30, 2020
Alignment with stay-at-home order
Cooper's stay-at-home order was difficult, he acknowledged Monday, but "we must do this to slow the disease's spread."
Coastal counties responded with new restrictions to align with the statewide order.
Hyde County announced Monday that as of 5 p.m. visitors to mainland Hyde County were prohibited until further notice. Residents of Beaufort, Dare, Tyrrell, and Washington counties can enter for activities as outlined by the order, such as emergency services or to purchase essentials like groceries.
Hyde County also restricted nonresident property owners' and workers' access to Ocracoke. Those working on critical repairs requiring a building permit will be issued temporary entry permits. Permit applications will be evaluated on a case-by-case basis and will be verified before an entry permit is issued. Temporary permits issued prior to the order that cannot be verified using the amended entry guidelines will be voided.
The order does not apply to permanent residents or anyone previously allowed entry without requiring a temporary permit. Vendors, delivery personnel and service providers of critical infrastructure are also permitted and do not need a temporary permit. The NCDOT Ferry Division said it will have access to a list of all permits issued and will deny entry to those who have not been verified. The Ferry Division also put in place new ferry schedules that go into effect Tuesday.
Dare County modified its  "Stay Home – Stay Healthy" declaration that went into effect at 5 p.m. Saturday to align with Cooper's order.
New Hanover County said it was working with Wilmington, Carolina Beach, Kure Beach and Wrightsville Beach to put into place additional countywide restrictions effective Monday. New Hanover County's additional restrictions are effective for at least 14 days, starting Monday, and include the following:
Playgrounds, team sport facilities and public gardens are closed.
Private and publicly owned amusement places such as children's play centers, recreation centers, country clubs and social clubs are closed.
Golf courses are restricted to allowing walking golfers or one golfer per cart to maintain social distance requirements.
Nonessential retail, including indoor or outdoor shopping malls, and retail facilities that do not provide goods essential for health, sustenance, shelter, mobility and hygiene are closed, but delivery and curbside service at all retail establishments may be continued.
Auto dealerships, boat dealerships and other motor vehicle sales points, not including repair or maintenance services, hotels, motels, and short-term lodging except as allowed by a governmental request to assist with the emergency response to Coronavirus, retail or "captain" stores situated at marinas are closed.
New Hanover County's restrictions do not apply to grocery stores, pharmacies, convenience stores, hardware and building supply stores, or gas stations may remain open. Delivery, drive-through and curbside food service are allowed but carry-out food services that require the customer to enter the interior of the merchant's facility are closed.
Carteret County in a declaration Friday discouraged entry into the county by those who are not residents or property owners, and further discouraged travel to the county. Late Monday afternoon, the county amended its State of Emergency to prohibit starting at 5 p.m. that day, the rental of a hotel room, motel room, rental housing unit, condominium, RV campsite, primitive campsite, or similar accommodation for less than 30 consecutive days through April 29, except to those contractors and employees performing essential services within Carteret County.
Emerald Isle placed mandatory restriction that began Friday on the same short-term rentals, Atlantic Beach put out the same restrictions on Saturday and similar restrictions for Pine Knoll Shores went into effect at 5 p.m. Monday.
All Pamlico County government offices closed to the public except by appointment effective Monday and will remain closed until April 30.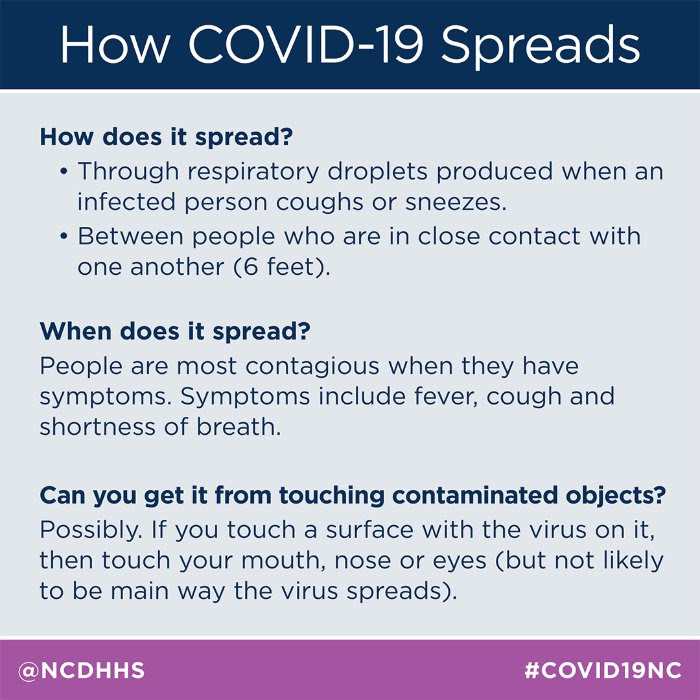 Regional trends
State Epidemiologist Dr. Zack Moore said Monday that no specific trends were clear regarding regions of the state, such as the mountains versus coast, on positive COVID-19 cases, but such information will be tracked.
Moore explained that what was clear was that COVID-19 is not limited to any particular part of the state. The confirmed cases have been in larger cities and in more rural areas.
While the focus has been on laboratory-confirmed cases, DHHS acknowledged limits in testing capability. Other methods and tools are necessary to track COVID-19, Moore said.
"Everyone knows this is a rapidly evolving situation. We have great experts here at the state level, very experienced workforce at the local level in public health in tracking communicable diseases of all kinds, and we have great tools that we plan to draw from, but it is rapidly evolving," Moore said.
Moore said that in early February, COVID-19 was recognized as a threat and the state health director issued an order to add COVID-19 to the list of conditions that physicians and laboratories are required to report to the state. "So that basically means that all the positive lab result must be reported to the state, and we're getting that data and tracking it and posting it daily on the ncdhhs.gov website," he said.
Information about patients' symptoms such as cough, fever or shortness of breath is going to become a more important tool, he said, rather than simply relying only on laboratory testing. Such information includes tracking those who present for medical care with symptoms but aren't tested for COVID-19.
Tracking emergency department visits for symptoms and hospital admissions for acute respiratory illness by week doesn't capture people who don't seek medical care people who have minimal symptoms or no symptoms at all, Moore said.
As far as the stay-at-home order goes, Moore said that the number of cases probably won't reflect the impact of the order for another two weeks from the time it goes into effect.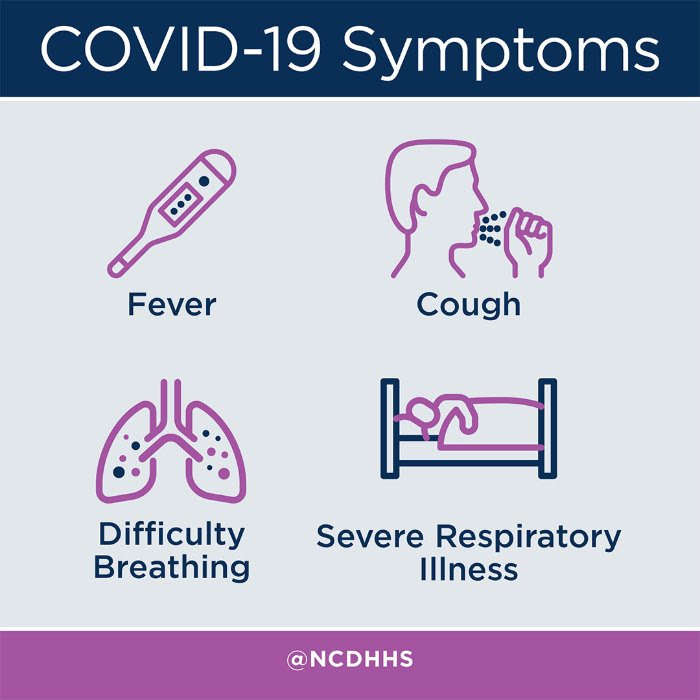 Personal protective equipment needs
Director of the state Emergency Management Mike Sprayberry said during the afternoon conference Monday that work continues to locate and acquire needed personal protective equipment for healthcare workers and first responders to include masks, gloves and gowns.
"(Monday) we're receiving our third shipment of personal protective equipment from the Strategic National Stockpile," he said. "We've received two other shipments from the national stockpile over the past two weeks."
He said the state has requested a half million each of N95 masks, procedure masks, gowns, gloves, face shields and coveralls. The first two shipments had fulfilled of that request 38% of the N95 masks, 91% of the procedure masks, 32% of the gloves, 14% of the gowns and 16% of the face shields.
Additionally, Sprayberry said that so far, the state had placed orders totaling about $92 million in the private market and some of these supplies were starting to arrive.