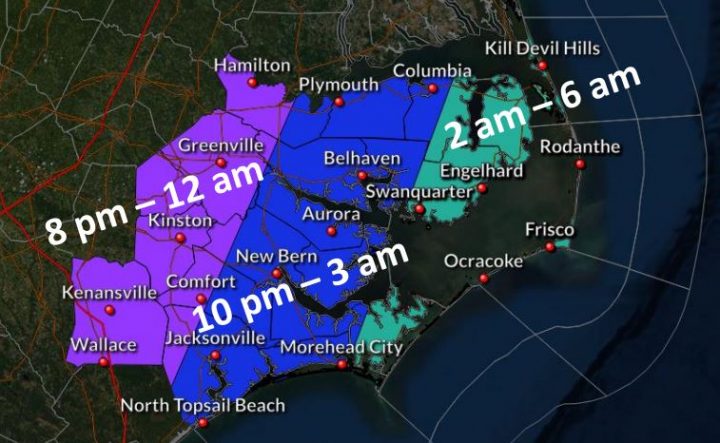 Update: A tornado watch is in effect for parts of North Carolina and South Carolina until 1 a.m. Thursday.
NEWPORT — Forecasters expect an elevated risk of severe weather for eastern North Carolina with coastal flooding, strong winds and significant marine effects as a strong cold front moves through the area Thursday night when many may be sleeping.

The National Weather Service's office in Newport said Thursday morning that all of eastern North Carolina is at risk of downed trees and power lines and isolated structural damage associated with the strongest storms, which could begin affecting the coast between 10 p.m. Thursday and 1 a.m. Friday. Strong winds ahead of the front will develop Thursday night and continue behind the front Friday.
Minor soundside flooding up to 2 feet above ground level is possible north of Hatteras Inlet with large surf, minor beach erosion and ocean overwash south of Oregon Inlet. Strong winds are expected along the coast with scattered power outages possible. Isolated outages may be possible farther inland Thursday night into Friday.
Flooding is possible in the Tar, Neuse and Northeast Cape Fear River basins this weekend into early next week.
Mariners can expect strong gale-force winds with dangerous seas in all coastal waters, sounds and tidal rivers Thursday afternoon into Friday evening.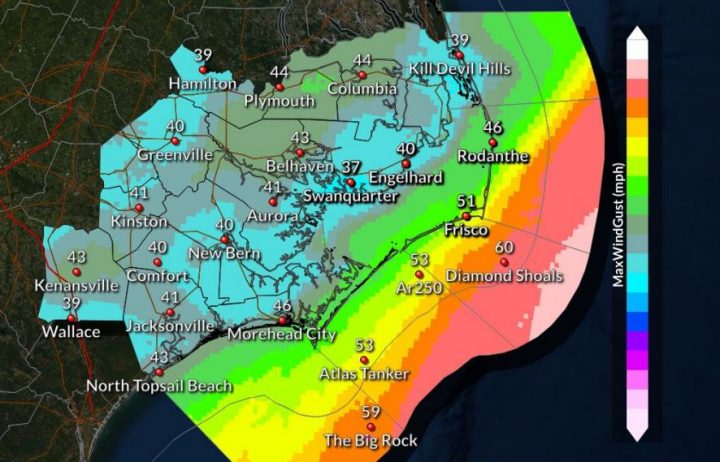 Severe thunderstorms with damaging winds and isolated tornadoes are possible, especially in areas south of Morehead City. Coastal areas could get as much as 2 inches of rainfall.
A wind advisory is in effect for folks on the barrier islands from Kill Devil Hills to Atlantic Beach with possible 50 mph gusts Thursday night through Friday.
Expect minor coastal flooding along the Outer Banks. High surf conditions are possible along the entire North Carolina coast with 7- to 10-foot breaking waves.
Coastal Review Online has partnered with the National Weather Service as part of its Weather Ready Nation Ambassadors initiative to provide information to our readers and strengthen resilience against extreme weather.