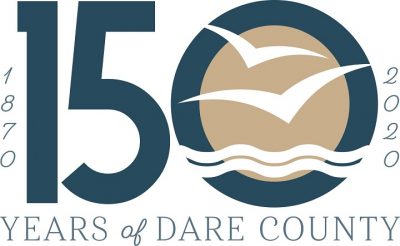 On this day in 1870, the North Carolina General Assembly joined parts of Currituck, Hyde, and Tyrrell counties to form Dare County to make government more accessible to the people.
The new county was named Dare in memory of Virginia Dare, the first English child born in America, on Roanoke Island. Manteo was named as the county seat because of its central location, where the county's administration building and justice center are still located.
To celebrate the county's sesquicentennial, or 150th anniversary, there will be celebrations of the history, people, nature, businesses, culture, and services throughout the year, the county announced Monday.
The county is hosting a free, family-friendly 150th anniversary celebration from 10 a.m. to 4 p.m. May 2 at Island Farm on Roanoke Island. The event celebrates the life and times of the area in the late 1800s. There will be food, games, and storytelling on the porch and interpreters will be dressed in period attire and will host activities for children. The rain date is May 9.
Visit Dare150.com to learn about the history of the county and more events to celebrate the sesquicentennial and follow Dare County on Twitter for the most current information.