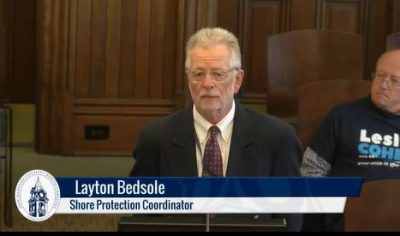 The New Hanover Board of Commissioners unanimously approved awarding the $6.6 million contract to Weeks Marine for the 2020 Mason Inlet maintenance dredging project.
The Mason Inlet Preservation Group, or MIPG, and New Hanover County have partnered together to manage Mason Inlet since 2002. The 2020 maintenance project will realign and remove sand that has shoaled within the template since the last project in 2016, according to the county. Project completion date is March 31, 2020.
Commissioners approved the motion in the county's historic courthouse during the regular meeting Monday to both enter into the $6,575,000 contract with the company and adopt budget amendment 20-021 to accept the Shallow Draft Inlet Grant contract with the state for up to $3.8 million and will reduce the amount needed from the county's room occupancy tax Fund for project expenditures. Of that grant from the state, $3,008,484 is being applied to the construction costs and the remaining balance will be applied to engineering costs.
The budget amendment accepts the Department of Environmental Quality grant in the amount of $3,810,948.20 for the Mason Inlet relocation project and requires a match of $1,905,188.30, available in the capital project expense budget. The grant will reduce the amount needed as a transfer from the Room Occupancy Tax Special Revenue Fund. The Room Occupancy Tax Special Revenue fund will have a fund balance of zero after the budget amendment.
In response to a question about how much of the room occupancy tax will not be reimbursed, Layton Bedsole, shoreline protection coordinator, said that the occupancy tax is being saved by the shallow draft inlet grant.
According to the county, the following outlines construction cost breakdowns based on 375,000 cubic yards dredged:
Figure Eight Island: $2,062,500
MIPG North Wrightsville Beach: $1,504,016
Division of Water Resources Shallow Draft Inlet Grant: $3,008,484
Bedsole told the board that before the last dredging project in 2016, "We were relocating the inlet about every two years. We've made some tweaks in terms of how we dredge and in permit stipulations that are allowing us to spread that time frame out a bit."
The goal is to put four to five years between each dredging project. "It's good for the property owners and good for the resources."
For any shore protection related questions or concerns, contact Layton Bedsole by email at lbedsole@nhcgov.com, or by phone at 910-798-7104.