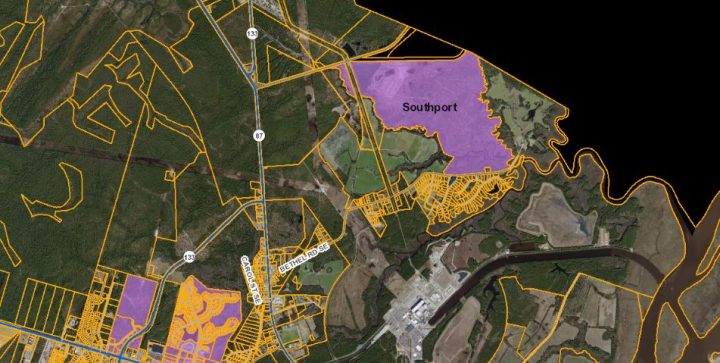 Southport may drop plans to build its own sewage treatment plant after residents railed against the proposal.
City Manager Bruce Oakley said Monday that city officials were instead considering going back to their original plan to pay to expand Brunswick County's wastewater treatment plant in order to continue to receive county sewer service.
"We're exploring it," he said. "We're doing some research. We have stopped all design work on the land we have."
Earlier this year, Southport's board of aldermen voted to terminate the city's sewer service agreement with the county, opting instead to build its own sewage treatment plant on a portion of 400 acres of city-owned land adjacent to Military Ocean Terminal Sunny Point, or MOTSU.
"We have stopped all design work on the land we have."

— Bruce Oakley, Southport city manager
The proposal included building the million-gallon-per-day plant on a roughly 10-acre tract on Bethel Church Road, a plan that drew immediate opposition from residents who live nearby and have raised concerns about detrimental effects to their property values, health and the environment.
More than 100 residents expressed their concerns about the proposed plant at an Oct. 3 meeting of the city board, according to various media reports.
About a week later, the board unanimously voted to adopt a resolution instructing the engineering company hired for the plant project to look for land in the northwestern portion of the land "or in another area which would not affect the homeowners living along or near Bethel Church Road."
Ken Morris, a resident and member of the Winding Creek Community Service Association, said in an email response to questions that while locating a plant farther from his neighborhood is preferable, he does not support a city-owned wastewater treatment facility.
"The site is surrounded on three sides by a tidal creek and marshes," Morris said. "A spill into this critical seafood nursery area is inevitable and would be disastrous."
The Winding Creek Community Service Association sent a series of letters detailing its environmental concerns to environmental organizations.
"We are confident that this proposed plant is unnecessary and is an ecological disaster," association Vice President Todd Meinecke wrote in a letter addressed to the North Carolina Coastal Federation. "It is not 'if' a major spill occurs, but 'when and how much.' Leaching of nitrogen into surrounding creeks is a given."
The city had initially agreed to borrow $26 million to expand the county's wastewater treatment plant to provide the city with 750,000 gallons per day for the next 20 years.
"We are confident that this proposed plant is unnecessary and is an ecological disaster."

— Todd Meinecke, Winding Creek Community Service Association
City officials later changed their minds, saying it would cost roughly the same to build a city-owned and -operated sewage treatment plant.
"I do not think that the city of Southport should be in the sewer processing business at all," Morris said. "They should follow the lead of Caswell Beach and Boiling Spring Lakes and turn over all sewer infrastructure to Brunswick County. The county enjoys economy of scale that Southport never will."
Oakley said that the pushback from residents opposed to a city-owned plant prompted officials to reexamine the initial agreement the city had with the county.
"There was some confusion on the offer from the deal from the county," he said.
The Southport Board of Aldermen, which will include four newly elected officials set to be sworn in next month, can be expected to receive an updated proposal at its meeting Dec. 12, Oakley said.
"We'll have some kind of report or recommendation for the next board meeting," he said.