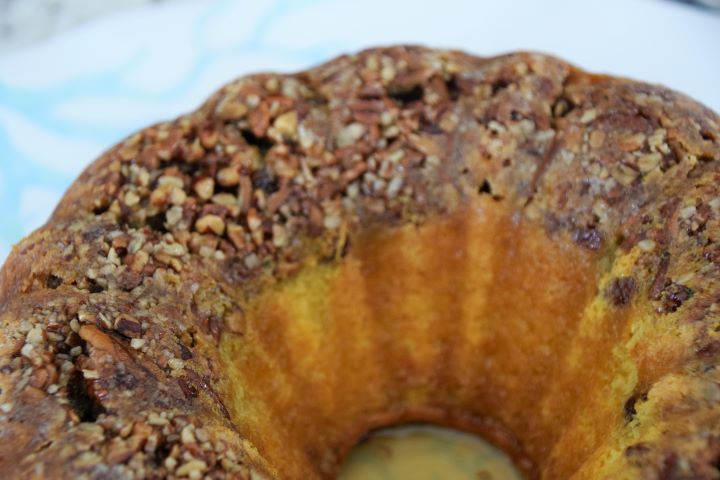 Jane Bell was a vivacious redhead who lived in a tiny house in Greenville back when tiny houses were places where most people didn't want to live. The kitchen was one of her three immaculately clean rooms, all set in a row and each festooned in rainbow bric-a-brac, much of it collected on flea market runs with her boyfriend, my father.
All in all, the house could not have been more than 500 square feet, maybe less, most of it dedicated to a floral-heavy living room, vanilla pink boudoir and cramp bathroom surprisingly equipped with a clawfoot tub … or maybe not so surprisingly. Jane believed in reincarnation, and one fuzzy image of a past life put her as a young lady at a grand ball, circa 1800s. She recalled wearing a bright yellow gown decorated in brown ruffles and bows. Surely, her pre-occasion primping those many decades ago began in a similar tub.
Jane thought anything was possible. She was a sparkly eyed optimist whose nose crinkled like a sprite when she smiled. Therefore, we never doubted that from the wee stove in her little kitchen Jane could pull the best damn rum cake you ever tasted. That's pretty much how Jane put it when she told us the dessert was among her specialties.
Dad was an admirable baker himself, and one who believed any cake was better moistened with brandy. I was a student at East Carolina University, which continually made national lists of America's best party schools. My brother was not long out of N.C. State, where he constructed an elaborate dorm-room bar. Anything soaked with rum was fine with us three.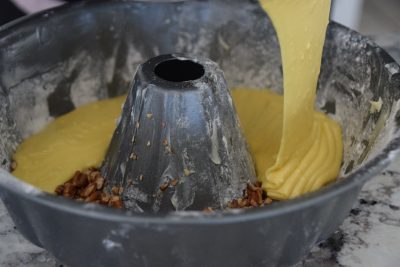 The Duncan Hines yellow cake Jane baked was extra moist, basically pound-cake-like, thanks to the addition of Jell-O instant pudding mix. It was covered in caramelly chopped pecans baked upside-down-style into the cake. The masterpiece glistened with rum glaze Jane carefully brushed all over the cake until every drop was absorbed.
The confection looked as innocent as Jane must have in her past-life ball gown, which meant my family and I were not prepared for the straight shots of rum that were our first bites of Jane's cake. As my Dad remarked, "Woo!"
Jane planned to bring just such a cake to a holiday potluck at the boat plant where she worked. The fact that a couple slices might render machine operators too drunk to continue their shifts didn't matter to her.
When it comes to rum cake, no setting seems off-limits down South. Since my first rum cake experience, I've heard stories of rum cakes at coastal North Carolina family gatherings where spirits were otherwise taboo. Sassy bakers, women or men, were usually behind the cakes.
Somehow, teetotalers tolerate this sinful addition to dessert sideboards. Maybe it's because of the science that says alcohol added to the cake batter burns off during baking. Perhaps, some cooks use rum extract, which, as American food company McCormick says, has all "the complex yet sweet rum flavoring minus all the alcohol." It could be those are just the things relatives and friends tell themselves as they reach for another slice. After all, what's a family get-together without secret giggles?
In its timeline of "The Most Popular Cakes in Southern History," Southern Living magazine gives the year 1977 to rum cake. Bacardi gets credit for making Jane's version popular across America. In the 1970s, the company published the recipe in its "Bacardi Party Book." The formula continued to show up for years in magazine ads, sometimes under the headline "How to make the famous Bacardi rum cake."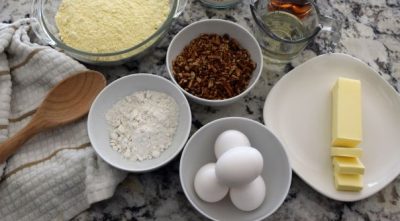 In a 1976 St. Cloud Times (Minnesota) article about the cake, the reporter wrote, "If you're looking for a dessert that combines all of the best new ideas in cake baking and easy preparation, with fool-proof results, try a Bacardi Rum Cake." The "real star," the writer said, was the half-cup of dark rum that went into the batter.
Of course, it was noted that the rum cooked away, but then another half-cup was stirred into glaze brushed on the finished cake.
I doubt Jane used only a half cup.
Rum cake often shows up on coastal North Carolina Christmas tables, which makes sense considering it's a distant cousin of steamed Christmas puddings that date to at least 17th century England. Old pudding recipes called for 13 ingredients, representing Jesus and his 12 apostles. Typical components included suet, molasses, lots of spices and plenty of raisins and currants. Moistened with brandy, rum or other spirits, the puddings had such high alcohol content they could be aged for months, important in times before refrigeration.
British colonists carried pudding recipes to the New World. In the Caribbean, the formulas were tweaked to create "black cake," a heavy molasses spice cake full of rum-soaked fruit.
Rum's profitability was more important than its preservation qualities. The drink was the colonies' most valuable industry and favorite beverage. Everyone drank rum, even kids. So did pirates who frequented North Carolina's shores. Domestic, imported or smuggled, rum was considered potent enough to nix toxins and, thus, healthier than water.
Over time, rum consumption dropped and more delicate, although still strong, rum cakes emerged. They may have been inspired by European yeast rum babas sometimes filled with pastry cream. Italian-Americans like to celebrate birthdays with Italian rum cake. Liquor-soaked vanilla layers sit between chocolate and vanilla pastry cream, the whole thing frosted in sweetened whipped cream.
An unusual Kentucky recipe can be found in Southern Living magazine's 1983 "The Southern Heritage Cakes Cookbook." Rum butter cream fills the angel food layer cake and more rum spikes the meringue frosting.
Despite the documented history, Jane will always be the source of my devotion to rum cake. I envision her ball gown being rum-cake yellow and trimmed in pecan-brown ruffles and bows. Surrounded by suitors near a Christmas tree, she demurely sips rum punch with a gleam in her eye that one fellow mistakes for a wink in his direction. She's really coveting the pound cake behind him, a treat to dip into her cup. His confusion is fortunate for Jane, as the man, who resembles my father, is there to catch her just as she is overtaken by a lightheaded feeling of déjà vu.
Bacardi Rum Cake
Cake:
1 cup chopped pecans or walnuts
1 18½-ounce box yellow cake mix
1 3¾-ounce package vanilla pudding mix
4 eggs
½ cup cold water
½ cup Wesson oil
½ cup Bacardi dark rum (80 proof)
Glaze:
¼ pound butter
¼ cup water
1 cup granulated sugar
½ cup Bacardi dark rum (80 proof)
Preheat oven to 325 degrees. Grease and flour a 10-inch tube or 12-cup Bundt pan.
Sprinkle nuts over bottom of pan. Mix all cake ingredients together. Pour batter over nuts.
Bake 1 hour.
Cool. Invert on serving plate.
Prepare glaze: Melt butter in saucepan. Stir in water and sugar. Boil 5 minutes, stirring constantly. Remove from heat. Stir in rum.
Prick top of cake.  Spoon and brush glaze evenly over top and sides. Allow cake to absorb glaze. Repeat until glaze is used up.
Source: Bacardi