The Outer Banks Chamber of Commerce was recognized with a statewide award for excellence in clean energy economic development leadership last week during the fifth annual North Carolina Clean Energy Champions Luncheon at the Proximity Hotel in Greensboro.
Karen Brown, Outer Banks Chamber of Commerce president and CEO and Pat Broom, board of directors immediate past chair, were on hand to receive the award during the event Nov. 12.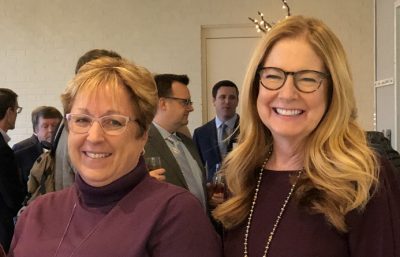 Having designated clean energy as a top priority goal and valuing the economic development opportunities clean energy brings to eastern North Carolina, the Outer Banks Chamber was honored for their active support of clean energy in the communities they serve and at the North Carolina General Assembly this session, according to the chamber.
"The Chamber appreciates this important recognition. We believe that the support of clean energy development is critical for Outer Banks business community and its economic prosperity," said Brown.
More than 75 business and political leaders from the state and the Southeast attended the luncheon hosted by Chambers for Innovation and Clean Energy and North Carolina Conservatives for Clean Energy.
"As major influencers in their communities, North Carolina chambers of commerce are exhibiting bold leadership in their support of clean energy economic development opportunities. And North Carolina legislators are listening," Susan Munroe, Director of Economic Development, Chambers for Innovation and Clean Energy said in a statement. "Today, we recognize the Outer Banks Chamber of Commerce for its bold leadership in clean energy support at the local and state level as well."
Other organizations presented with Clean Energy Champion Awards include Edenton-Chowan Chamber of Commerce, Mad Mole Brewing, Fifth Third Bank, Ingersoll Rand, Sen. Rick Horner, R-Johnston, and Rep. Larry Strickland, R-Harnett.