MOREHEAD CITY – After being closed due to hazards related to Hurricane Dorian, the Bald Head Woods Reserve on Bald Head Island in Brunswick County reopened to visitors Monday.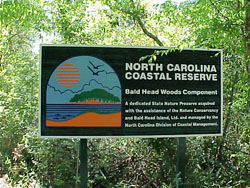 All 10 North Carolina Coastal Reserve and National Estuarine Research Reserve sites are now open after the storm.
"The Division appreciates the assistance of the North Carolina Forest Service, North Carolina Wildlife Resources Commission, The Nature Conservancy, Village of Bald Head Island and volunteers in removing storm-related hazards from the sites," said Braxton Davis, director of the Division of Coastal Management, in a statement. "We are pleased to announce that all Reserve sites are fully open for public use."
As with any visit to a natural area, visitors should exercise caution when visiting the Reserve sites and be aware of the risk of potentially hazardous conditions, according to DCM. Visitors should refrain from disturbing the grounded vessels that have been documented on several Reserve sites to protect personal safety and respect vessel owners' personal property while removal efforts are underway.
The North Carolina Coastal Reserve and National Estuarine Research Reserve protects natural areas for education, research and compatible recreation. Since its creation in 1989, the program has preserved more than 44,000 acres of unique coastal environments at 10 sites along the coast.