The North Carolina Coastal Federation has been awarded a two-year, $249,657 grant from the National Oceanic and Atmospheric Administration's  Marine Debris Program's Community-Based Marine Debris Removal Grant Program to tackle debris along the state's southeast coast, the federation announced.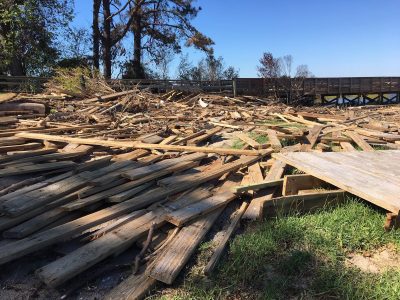 Though a recent cleanup effort resulted in the removal of more than 75 tons of marine debris from the region, but large-scale trash, wood and abandoned boats are still scattered throughout the coastal marshes and shorelines.
In partnership with the North Carolina Division of Coastal Management, North Carolina Division of Marine Fisheries, North Carolina Wildlife Resources Commission, local governments, community fisherman and volunteers, the federation will oversee the removal of more than 35 additional tons of marine debris left in the wake of Hurricane Florence in Pender, New Hanover and Brunswick counties.
The marine debris consists of pieces of docks, piers and Styrofoam as well as abandoned boats were deposited throughout area marshes and shorelines. Much of the debris is in upper reaches of the marsh and in maritime shrubs and trees along the coast.
The federation also announced that it will work with NOAA to develop best management practices for protecting important natural resources and work with local municipalities to create model building codes and construction specifications to ensure docks and piers are built stronger to better withstand the forces of future hurricanes.
"We are so grateful for this support from and partnership with NOAA's marine debris program, which allows us to remove marine debris that is harming the health of our local estuaries," said Tracy Skrabal, southeast regional manager for the federation in a statement. "Without this support, much of the small and large-scale debris would remain along our coast. This includes toxic chemically-treated wood that makes up a large portion of the debris, and Styrofoam, which can persist in the environment and estuarine food chain for a very long time."
The NOAA Marine Debris Program is the U.S. federal government's lead for addressing marine debris. First authorized by Congress in 2006 through the Marine Debris Act and reauthorized in 2018 through the Save our Seas Act of 2018, the program promotes action to assess, prevent and reduce marine debris in our ocean, supports response actions needed as a result of severe marine debris events, such as hurricanes or tsunamis and leads federal agency coordination on marine debris issues through the Interagency Marine Debris Coordinating Committee.
More information about the NOAA Marine Debris Program can be found at marinedebris.noaa.gov For more information on this new federation effort, please contact Tracy Skrabal at tracys@nccoast.org or 910-509-2838.