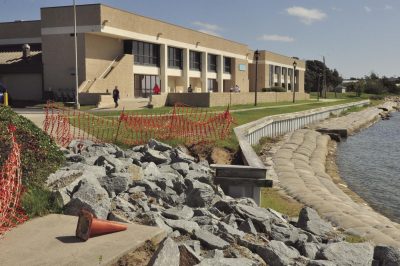 Reprinted with Permission from Carteret County News-Times
MOREHEAD CITY — Carteret Community College has received a $395,749 Golden Leaf Foundation Hurricane Florence recovery grant for shoreline repair and mitigation.
The college's finance officer Steve Davis shared the news with trustees Tuesday during a meeting in the McGee Building boardroom.
"During Hurricane Florence (in September 2018) we suffered shoreline damages close to buildings, and we want to make sure that doesn't happen again," Davis said.
The college sustained more than $1 million in damage during Florence. With four of the college's buildings located directly on the north bank of Bogue Sound, shoreline damage is one of the biggest concerns.
"We are still feeling the impact of Hurricane Florence one year later," CCC President John Hauser said in a press release about the award. "Our location along Bogue Sound is a huge part of the college's identity, and protecting our shoreline is crucial. We are very thankful for the Golden Leaf grant and look forward to repairing and improving our shoreline."
Engineering estimates put the cost of repairing the shoreline at $908,000. Davis said in addition to Golden Leaf funds, the college will use $300,000 in state Hurricane Florence recovery funds, $208,000 in Federal Emergency Management Agency funds and $4,400 in institutional funds.
The college is working with Arendell Engineers to develop a plan to protect the shoreline and college facilities. Improvements will include removing any remaining rip-rap, rocks or other debris, grading and installation of an interlocking vinyl-sheet pile bulkhead. It will be capped with concrete barriers and filter fabric and layered with stone. Eroding dirt will be replaced.
Additionally, the college is working with the North Carolina Coastal Federation to secure a North Carolina Wildlife Marine Fisheries grant for a living shoreline. That project will include installation of granite sills about 30 feet offshore to help with wave activity.
Final plans are expected to be submitted for review by the State Construction Office in November, with approval expected 30 days later. The college plans to advertise and evaluate bids, with construction beginning in March or April.
"It will take about six months to complete the work, so we're probably looking at a September time frame for completion," Director of Plant Operations Steve Sparks said.
Of particular concern is a 273-foot section that contains a bulkhead and seawall in front of the Bryant Student Center and Crystal Coast Civic Center. That section was damaged by 3 feet of storm surge, which caused a concrete sidewalk to collapse and rip-rap to be destroyed.
While that section is of major concern, about 1,400 feet of shoreline from the Howard Building to where the college's property ends at the North Carolina Division of Marine Fisheries building also sustained damage.
This story is provided courtesy of the Carteret County News-Times, a tri-weekly newspaper published in Morehead City. Coastal Review Online partners with the News-Times to provide our readers with news of the North Carolina coast.