NAGS HEAD – Todd Krafft, the town's water quality coordinator and environmental planner, died Monday in Kill Devil Hills. He was 46.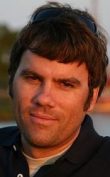 Krafft, a native of Parkersburg, West Virginia, and an Air Force veteran, worked for the town for more than 20 years and was dedicated to water quality issues and understood the importance of maintaining clean surface water and groundwater in a coastal environment, according to his obituary. His professional duties included managing the town's Septic Health Initiative, a voluntary program launched in 2000 that offers free services and financial assistance to property owners for having systems pumped out, repaired or replaced.
"We wish to honor the tireless work, dedication, and memory of Todd Krafft, Environmental Planner, for his efforts in establishing and sustaining the Septic Health Initiative, and 20 years of service to the Town of Nags Head," the town published on its website.
Krafft was recognized for his service by the Nags Head Board of Commissioners as the Earl Murray Jr. Employee of the Year in 2016. He worked on projects with North Carolina Sea Grant, North Carolina State University and the University of North Carolina Coastal Studies Institute to educate the public on water quality issues and to advance the science in his field of study.
In addition to a service in his home town Oct. 5, an Outer Banks service was being planned and to be announced by Twiford Funeral Homes.