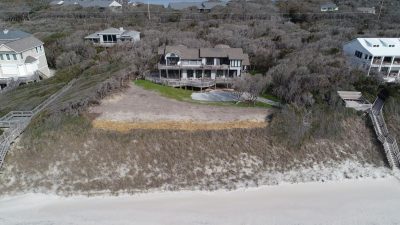 Reprinted with permission from the Carteret County News-Times
PINE KNOLL SHORES — Town officials fined two homeowners $10,000 for an environmental protection ordinance violation.
Town commissioners held a special meeting Wednesday  to hear Chet and Rhonda Osterhoudt appeal a notice of violation. The homeowners were fined $10,000, the maximum amount allowed by state law, April 23 for removing vegetation from the frontal dune on their adjacent oceanfront lots and performing other land-disturbance activities without a permit.
After hearing testimony from the Osterhoudts, other residents, a drone photography business owner and town officials, the board deliberated and unanimously affirmed Town Manager Brian Kramer's decision to fine the Osterhoudts.
After the meeting, Chet Osterhoudt said he and wife were ganged up on. "It's been one thing after another since we moved here. Ten thousand dollars is excessive (for a fine)."
Osterhoudt asked the board to hold Stella Construction Co., the landscaper they'd hired, accountable for failing to get the necessary permit and said they intend to keep disputing the fine.
Neil Whitford, the town attorney, said that any appeal would have to be argued in civil court.
Whitford said during the meeting that the violation that resulted in the $10,000 fine is related to an earlier ordinance violation. In April 2018, town officials learned the Osterhoudts had without permits removed a dozen trees from the oceanfront area of the property, including the dune oceanward of their house. The Osterhoudts were fined $1,200 for the initial violation.
Then, in February, officials learned of additional land disturbance, finding stumps of the previously removed trees had been removed in addition to more vegetation from the frontal dune. There had also been grading and a gravel driveway laid on the ocean side of the house.
Whitford called residents Trish and Jessie Randall as witnesses. The couple reported to the town manager in February that they saw Chet Osterhoudt on a tractor performing what seemed to be grading to the dune on his property.
Trish Randall said she spoke to Chet Osterhoudt, whom she alleged told her he was preparing to put in a pool.
The Randalls also contacted Crystal Coast Aerials owner Harold O'Brian, who confirmed at the meeting he'd taken photos of the lot after that contact.
Kramer said the fine was appropriate for "the most significant degradation of an oceanfront dune" he'd seen in 12 years as manager and because this was the Osterhoudts' second violation of a town environmental protection ordinance.
The Osterhoudts stressed they hadn't intentionally violated the ordinance either time. Their primary residence is in Rocky Mount, which they said doesn't have similar rules.
"We don't think to get permits. We paid our penalty last year and agreed to plant 12 trees to replace the ones cut. We cleared the stumps and things so we could have a lawn; the driveway was also messed up, so I hired a local contractor. I thought if there were any permits needed, he'd get them," said Chet Osterhoudt.
Osterhoudt said that when he was first fined, he was told he couldn't cut trees without a permit, but nothing was said about other kinds of landscaping.