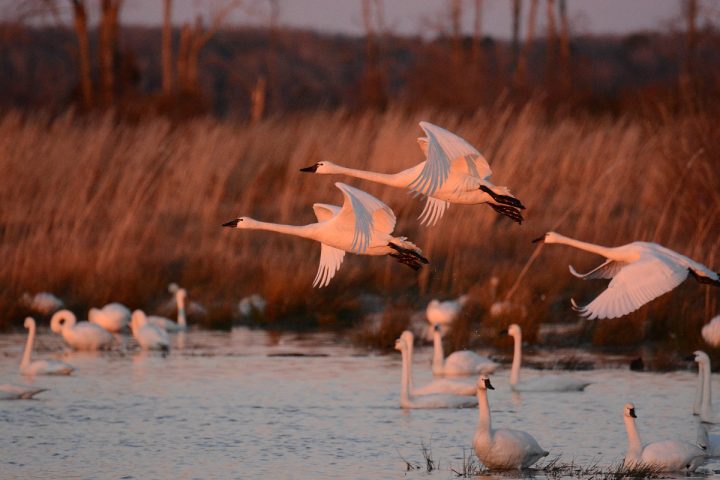 MOREHEAD CITY – Celebrate the coast and those who protect it Saturday during the 2019 Pelican Awards & Taste of the Coast at the Crystal Coast Civic Center.
Started in 2003 by the North Carolina Coastal Federation, this year a total of 10 awards will be given to individuals, businesses and government agencies in recognition of their commitment to coastal stewardship.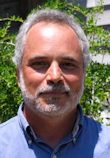 "The work that these award recipients have done on behalf of all of us who live, work, visit and play along our coast is inspirational," Todd Miller, federation executive director, said.
"The North Carolina Coastal Federation is about people of all walks of life coming together to provide good stewardship of our beautiful and productive coast, and these winners illustrate just how powerful and constructive such efforts can be," he continued. "Our wonderful coast is the envy of the nation, and thanks to their efforts and the work of thousands of other people, we can keep it that way. The Pelican Awards help us express our appreciation to people who are our role models for coastal protection and restoration."
The awards presentation will begin at 5:30 p.m. followed by Taste of the Coast, which will feature live music, a silent auction including a handmade 15-foot rowboat and a fishing trip as well as seafood from Beaufort Grocery Co., special guest chef Jamie DeMent and oysters from at least seven growers along the coast.
Tickets, $50 for federation members and $60 for nonmembers, can be purchased by calling 252-393-8185. While there will be plenty of disposable cups, guests are encouraged to bring a reusable cup to the celebration to reduce waste.
Meet some of the winners, which include volunteers, government agencies and area businesses.
North Carolina Division of Coastal Management for "Dedicated Leadership Supporting Living Shorelines Along Our Coast."
The federation is recognizing the efforts of Policy Analyst and Federal Consistency Coordinator Daniel Govoni, Director Braxton Davis and the North Carolina Division of Coastal Management for streamlining the estuarine shorelines permitting process.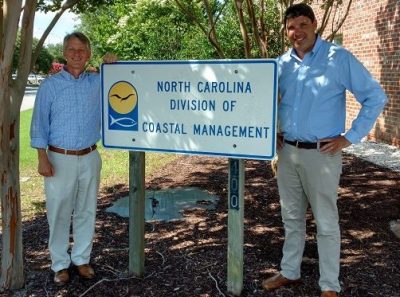 Before the effort to revise and streamline the permit process for marsh sills, securing a living shorelines permit was a lengthy process. Because permitting for bulkheads and seawalls was a quicker and easier, more landowners opted for the hardening of miles of estuarine shoreline, leading to the loss of salt marsh and oyster habitat.
The division launched an effort to revise and streamline the Coastal Area Management Act's General Permit for marsh sills and after almost three years of meetings and coordination with the Army Corps of Engineers, the Coastal Resources Commission on April 1 adopted a revised general permit for marsh sills.
Patricia Smith, communications director for the Division of Coastal Management, said that the division is honored to be a part of the elite group of those who have received Pelican Awards.
"Research shows that marsh sills promote good water quality, ecosystem services and habitat values while protecting private property from erosion. The Division of Coastal Management, for some time now, has had a goal of streamlining the Marsh Sill General Permit so that it can be issued in a few days, like other general permits," she said. "The idea is to promote the use of living shorelines as a preferred method for estuarine shoreline stabilization where appropriate."
Hyde County, U.S. Fish and Wildlife Service and North Carolina Wildlife Resources Commission were recognized for "Fostering Successful Partnerships that Protect and Restore the Coast."
The 40,000-acre Lake Mattamuskeet, the largest naturally formed lake in North Carolina and the centerpiece of the Mattamuskeet National Wildlife Refuge, is a temporary home during the winter for more than 300,000 migratory waterfowl and attracts 60,000 visitors annually.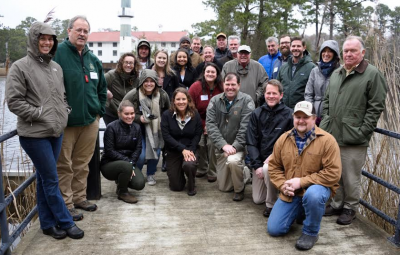 In recent years, the lake and refuge, a part of the National Wildlife Refuge System within the U.S. Fish and Wildlife Service, have been the focus of a watershed restoration plan to address the declining water quality and elevated water levels, with the goal to repair the lake.
Pete Campbell, refuge manager for Mattamuskeet, said about receiving the award, "We thought it was a nice tribute to the partnership that we developed in Hyde County."
The Lake Mattamuskeet Watershed Restoration Plan planning process took close to two years, with meetings over the course of 18 months of the principle stakeholders, Hyde County, Wildlife Resources Commission and Fish and Wildlife Service, which jointly funded the planning process. The North Carolina Coastal Federation served as facilitator and presented the final draft of the plan in December 2018.
Campbell said the intention with the plan is to develop strategies to improve water quality in Lake Mattamuskeet.
"The reason we need to improve water quality is to restore vegetation in the lake," he said. Nutrients and sediment result in phytoplankton growing rapidly, preventing the sun from penetrating the lake to the lake bed, causing a loss of vegetation, which is critical for wintering waterfowl.
"We cannot accomplish our goal just focusing on the boundary of the lake," Campbell added, which is why partners from the community were brought in to help address issues such as flooding.
"Right now, we are waiting for the state to approve the plan," Campbell said, explaining that Michael Flynn with the federation made some amendments after the state's first review and resubmitted it last week.
The primary thing is that both the refuge and the lake are a huge recreation attraction for fishing, waterfowl hunting and birding, he continued. When the public is at the refuge, they're also spending money in the county, another reason why stakeholders were convened and the public was encouraged to engage in the process.
Daniel Brinn, water and flood control coordinator for Hyde County, said he was selected to serve in the core stakeholder group to develop the restoration plan because of previous work.
"When I saw that we were going to be recognize with the Pelican Award, I was very honored to be involved in the project," Brinn said. "The group worked so well together to take on the monumental task, it was really an honor."
Big Rock Sports, LLC received a Pelican Award for "Outstanding Community Leadership and Collaboration."
Big Rocks Sports of Morehead City employees have volunteered since 2016 with the federation, most recently helping build a 500-foot-long living shoreline at the Trinity Center in Pine Knoll Shores, as well as volunteer for shoreline cleanups and marsh grass plantings.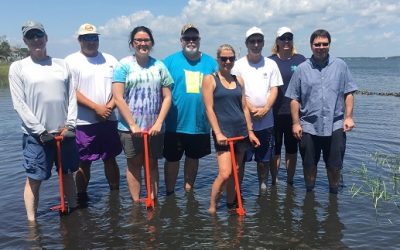 Shannon Adams, vice president of Information Technology for Big Rock Sports, said they are certainly humbled and honored to receive the award.
In 2016, the company developed "5 Core Values," Adams said, which he explained they coined as the "5 Cs: Character, Conservation, Collaboration, Creativity and Commitment" and part of the discussion included giving back to the community.
"Since protecting the environment is important to me personally as well as integral to our businesses and the quality of our lives, our partnership with the Coastal Federation made perfect sense," Adams said.
Over the past four years, Big Rock Sports employees have been encouraged to give back to the community by volunteering and do so through a day of service with the federation.
"We send a group of approximately eight employees every few weeks during the warmer months to help build living shorelines," he said, adding that the company has volunteered more than 400 hours since partnering with the federation.
"After their day of service, our employees are even more passionate about protecting our coast – today and for future generations," Adams added. "They are thankful to be able to live and work in such a gorgeous area as well. We plan to continue the partnership for many years to come."
Veronica Carter was selected "For Inspiring Leadership and Commitment to the North Carolina Coast."
Carter, a federation board member, represents the federation on the North Carolina Environmental Justice Network, and has served on the state Coastal Resources Commission, is on the board of directors for Brunswick County Habitat for Humanity and is past president of Cape Fear Citizens for a Safe Environment. She also is on the state Department of Environmental Quality Secretary's Environmental Justice and Equity Advisory Board.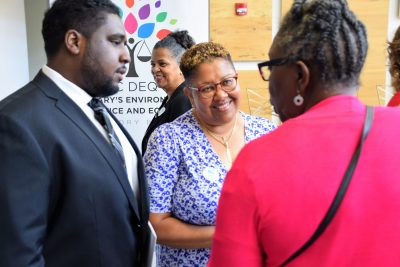 She told Coastal Review Online that she is "humbled for my peers to consider my dedication award worthy."
Carter explained that what drives her dedication stems from when she was a young Army officer. She explained that "a very wise, older noncommissioned officer," told her that to be a good officer, she should never walk past a mistake.
"And unfortunately there's a lot of mistakes right now with our environment," she said. "I also take the part of the Pledge of Allegiance seriously when they say 'and for justice for all,' and that includes, for me, environmental justice."
Ed Phillips was selected for "Exceptional Volunteer Contributions to Our Coast."
Phillips, a volunteer for the past three years with the central region office located between Swansboro and Morehead City, has contributed close to 100 hours of service building living shorelines, educating the community at area festivals and participating in numerous shoreline cleanups. He also serves as the steward for Hoop Pole Creek and Patsy Pond nature trails and coordinates with area Boy Scouts to complete service hours with the federation.
Town of Cedar Point was selected for "Voting to Preserve Critical Waterfront Open Space for Public Use."
The Cedar Point town board voted unanimously in 2018 to hold a voter referendum on a tax increase to purchase the 56-acre Masonic property on the White Oak River for public access and to protect and preserve green space. Residents voted to approve the $2.5 million, which has helped gain additional state and federal funding to purchase the waterfront site that will be turned into a public park. The town closed on the purchase in April.
Bill Cary is being recognized for "Leadership and Commitment to Advancing Effective Coastal Policy."
Cary's initial involvement with the federation began when he wrote a report on reducing impediments to living shorelines. In 2016, he assisted with planning and executing the South Atlantic Living Shorelines Summit in Florida and in 2018, he served in the Shellfish Mariculture Advisory Committee that developed the state's first Strategic Shellfish Mariculture Plan.
Port City Daily was selected for "Diligent, Vigilant Reporting on Coastal Environmental Issues."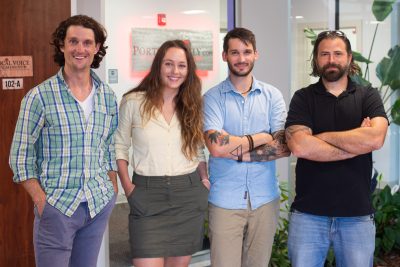 The online-only newspaper serves the Cape Fear region and through its reporting on industrial polluters, development, marine debris, offshore oil and gas development, conservation and water quality issues, Port City Daily has demonstrated a commitment to environmental journalism and to its readers.
Bill Trimyer for "Outstanding Volunteer Contributions to Our Coast."
Trimyer is based in the northeast and is an active volunteer with the federation's new, volunteer-based Restaurant to Reef shell recycling program. He helps by collecting shell from area restaurants to be used for restoration projects and encourages others to participate.
Plastic Ocean Project Inc. for "Advocacy, Engagement and Outreach to Keep Our Coast Clean of Debris."
Bonnie Monteleone, executive director and co-founder of Plastic Ocean Project, began her effort to remove plastics from the ocean in 2009 during her time as a graduate student at University of North Carolina Wilmington, when she sailed the 3,400 nautical miles across the North Pacific "Garbage Patch." In 2012, she collected samples from the South Pacific as part of the film project, "A Plastic Ocean" and Plastic Ocean Project was founded. She is also active in stewardship programs, including Ocean Friendly Establishments, Renewlogy and the UNCW Plastic Ocean Project.