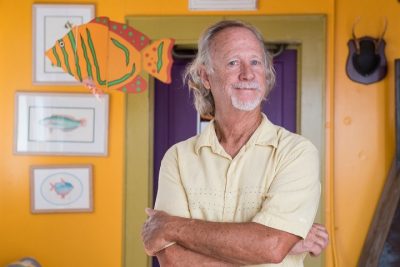 BEAUFORT — Artist Craig Gurganus, The Fish Bouffant, known for using recycled surfboards to create fish sculptures, died Monday at the age of 66.
Gurganus started The Fish Bouffant in Southern California, where he was born, before relocating to Beaufort in 1990.
He learned in November 2018 that he had liver cancer. Doctors in Chapel Hill treated him with experimental drugs with little to no success, according to an online fundraiser created to help Gurganus with the mounting bills from healthcare after his studio was flooded during Hurricane Florence in September 2018.
Gurganus was a longtime friend and supporter of the North Carolina Coastal Federation, publisher of Coastal Review Online.
Arrangements will be announced by Noe Funeral Service Inc. of Beaufort, where electronic condolences and life tributes may be sent to the family.