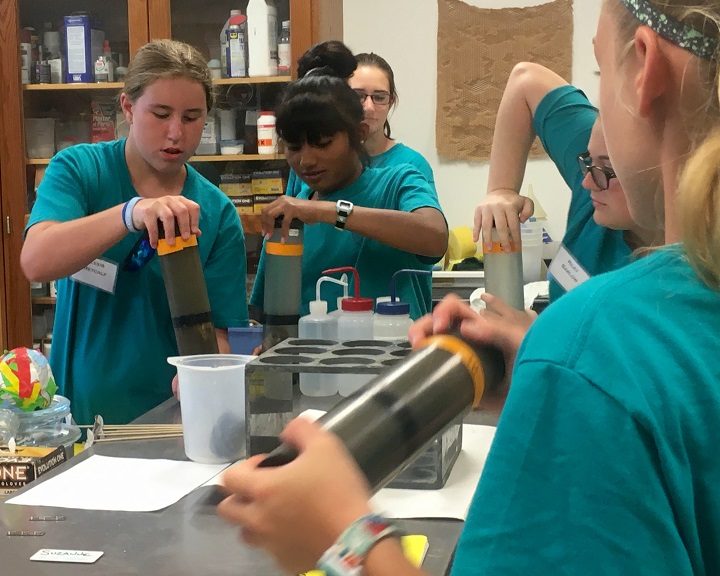 CARTERET COUNTY — School may be out but 42 young teens from Carteret and Craven counties spent last week dissecting, probing, examining and measuring at many of the marine science institutions in eastern North Carolina.
Area researchers and educators hosted immersive programs for rising seventh through ninth graders during the weeklong Brad Sneeden Marine Science Academy, now in its 12th year.
Although students live close to the ocean and to marine science institutes, many don't have opportunities to visit or learn about career paths available in marine science.
"It's a fun way to expose them to options in this county," said Beaufort Middle School teacher Todd Williamson, who participates in the program every year.
Middle and high school science teachers from Carteret County supervised the camp, taking students to destinations such as North Carolina State University's Center for Marine Science and Technology in Morehead City, the North Carolina Coastal Federation in Newport and Cape Lookout National Seashore.
Students witnessed a dolphin necropsy, participated in geocaching and water sampling, and received a behind-the-scenes tour of the North Carolina Aquarium at Pine Knoll Shores. They visited the University of North Carolina Institute of Marine Sciences, or UNC-IMS, in Morehead City June 27 where scientists led hands-on activities related to current research topics, such as how oysters can clean water.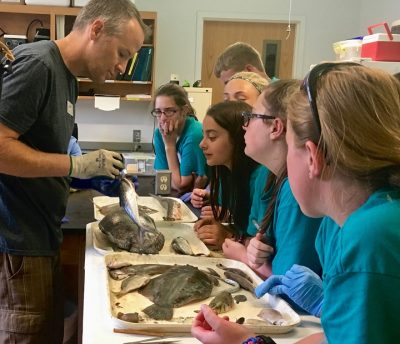 At an activity led by UNC-IMS postdoctoral research associate Jim Morley, students inquisitively prodded the slimy exteriors of fish on display: "Why is its mouth so big?" "What kind of fish is this?" "How big is this one's brain?" "How does a puffer fish inflate?"
After explaining the adaptations and sensory systems that allow fish to live in the ocean, Morley cut a fish open to show the internal organs.
"Kids like guts," Morley chuckled, reflecting on his previous experience leading dissections for the Sneeden camp.
The activity also demonstrated how researchers insert miniature tracking devices called acoustic tags into live fish. Morley emphasized that counting fish isn't easy and had students brainstorm how to estimate fish population sizes based on data collected from the tags.
Aiming to cover a coastal science concept not in the school curriculum, UNC-IMS graduate students Carson Miller and Molly Bost designed an activity to demonstrate Walther's Law. Miller's research on marsh migration in eastern North Carolina makes use of this geologic law, which describes how layers of sediment currently on top of one another were once next to each other.
Miller and Bost created landscapes made of colored cakes, with each layer representing a different environment such as sand or marsh. Students evaluated historical land movement in the edible landscapes by boring through the layers with straws, just like researchers collect sediment cores.
Bost encouraged students to think about how landscapes will look in the future, especially with ongoing sea level rise. Rising seventh grader Elaina Sherline favored this exercise in geological methods.
"We got to learn how they take samples but at a small scale, and we got to graph it. I love graphing," she expressed. "And we got to eat cake, which was delicious."
Moving to a topic receiving much public attention, students learned about common sharks of North Carolina from UNC-IMS doctoral students Jeff Plumlee and Martín Benavides, and research technician Grace Roskar. While large sharks often get the most publicity, the most common sharks in North Carolina waters are only about 3 feet long, such as the Atlantic sharpnose. Roskar anticipated the activity would help students "get up close and personal with a shark to realize they're not scary.
"I hope the students get to see what fascinating creatures they are," she said.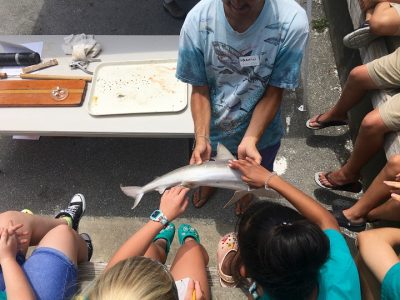 By touching and dissecting a deceased Atlantic sharpnose, students learned about the external and internal adaptations sharks have to survive in the ocean. Seventh grader Rosemary Johnston learned something new about a shark's exterior.
"Sharks have modified teeth on the outside of their skin," she recalled, "so it felt really smooth if you rubbed it from head to tail, but like sandpaper if you rubbed it from tail to head."
Benavides explained that the skin allows sharks to swim faster through the water.
As the researchers described functions of different internal organs, they also collected samples like muscle and vertebrae to learn more about the shark's life history.
The late Brad Sneeden, a former Carteret County School superintendent, envisioned "a marine science academy that utilized all the marine science institutes and natural resources in our county, to get middle schoolers thinking about career options," said Carolyn Sneeden, his wife.
She previously set up a memorial fund and applied for a community grant to continue providing opportunities for middle schoolers via the Marine Science Academy.
Any student who participates in the academy is also eligible to apply for a college scholarship from the Brad Sneeden Memorial Fund. In addition to this fund, the academy is sponsored by the Carteret Craven Electric Foundation, The North Carolina Seafood Festival, Beaufort Ole Towne Rotary Club, the North Carolina Biotechnology Center and the Carteret County Public School Foundation.