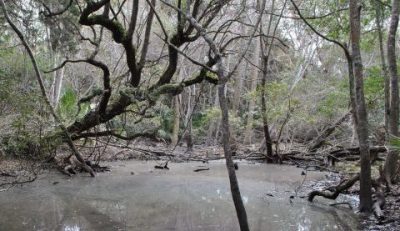 NORTH CAROLINA COAST — Two destinations for nature lovers destroyed by Hurricane Florence recently reopened to the public and an Outer Banks pier has undergone repairs caused by wear.
The North Carolina Coastal Reserve and National Estuarine Research Reserve announced Tuesday that visitors can now visit Bald Head Woods Reserve on Bald Head Island, just east of the Cape Fear River in Brunswick County.
The reserve site was closed for nearly 10 months because of Hurricane Florence damage. The North Carolina Forest Service cleared the large trees and storm debris to enable the hiking trails be opened for public use.
The North Carolina Coastal Reserve and National Estuarine Research Reserve program, which protects natural areas for education, research and compatible recreation, has preserved since 1989 more than 44,000 acres of unique coastal environments at 10 sites along the coast, all now open following Hurricane Florence. Officials recommend using caution when visiting any of these reserve sites and be aware of potentially hazardous conditions associated with storm damage.
At Cape Lookout National Seashore, the dock and adjacent restrooms on Shackleford Banks reopened to ferry traffic for the first time since the September storm.
The National Park Service Tuesday in a release explained that the dock, rebuilt with concrete panels to sustain storms, prevent future damage and reduce annual maintenance costs, is complete but still waiting for ladders.
Additionally, the dock was raised 10 inches from its original height to accommodate a rise in the mean high tide that has taken place since the dock was first built. For any additional information, contact the park at 252-728-2250 ext. 8950.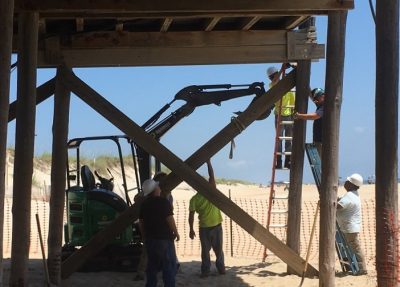 Cape Hatteras National Seashore's Avon Fishing Pier has recently undergone structural improvements, as well, which were not prompted by Hurricane Florence but determined through routine inspections the repairs were needed.
As part of the $59,865 project, The Charleston, South Carolina, Seres Engineering & Services LLC contractors installed eight new cross brace members between existing pilings to improve the structural integrity of the pier house.
The contractors also evaluated the depth that the pier house pilings are in the ground.
While all on-site work has been completed, the contractor is compiling all of the survey information collected to help inform ways to further improve the fishing pier.