MOREHEAD CITY — Rick Luettich, director the University of North Carolina Institute of Marine Sciences, is one of seven UNC faculty members selected this year to receive distinguished professorships, UNC's Executive Vice Chancellor and Provost Bob Blouin announced this week.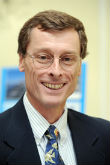 The institute is an off-campus research laboratory and teaching facility of UNC-Chapel Hill.
Luettich, a professor of marine sciences, environmental sciences and engineering, was selected for the university's Alumni Distinguished Professorships, which were established alumni gifts in 1961 to supplement the salaries of professors whose outstanding teaching and research activities elevate the university's stature. He is also director of the Coastal Resilience Center of Excellence, which performs research and develops education programs to enhance the nation's ability to safeguard populations, properties and economies from coastal hazards.
Luettich's research focuses on modeling and observational studies of physical processes in coastal systems, namely sounds, estuaries and tidal inlets. He is best known for his contributions to the development of efforts to transition to end users the coastal circulation and storm surge model ADCIRC, which is now in wide use in the academic, governmental and private sectors for coastal risk assessment studies, coastal protection and design studies and more recently to provide real-time predictions of storm surge.
The following professors were also recognized:
Gillian Russell, Department of Philosophy – Alumni Professorship.
Ralph Baric, Department of Epidemiology, Department of Microbiology and Immunology – W.R. Kenan, Jr. Professorship.
Samarjit Chakraborty, Department of Computer Science – W.R. Kenan, Jr. Professorship.
Paul Dayton, associate chair, UNC/N.C. State University Joint Department of Biomedical Engineering – W.R. Kenan, Jr. Professorship.
Elizabeth Frankenberg, Department of Sociology and director of the Carolina Population Center – Cary C. Boshamer Distinguished Professorship.
Michael Gerhardt, School of Law – Burton Craige Distinguished Professorship.
Learn More