RALEIGH — The state Department of Environmental Quality's Division of Energy, Mineral and Land Resources, or DEMLR, and the Sedimentation Control Commission have scheduled a public hearing for Thursday to receive public comments and review proposed rules covering sedimentation and erosion related to construction or development.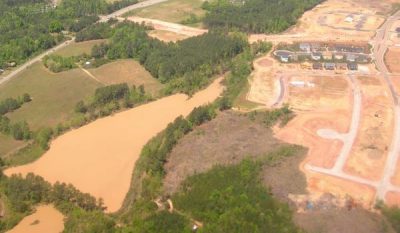 The hearing on proposed revisions to sedimentation control rules is set for 3 p.m. Aug. 1 at the Archdale Building, 512 N. Salisbury St. The public comment period ends Sept.13.
A law passed during the 2013-14 session requires a periodic review of all rules used by state agencies. State regulatory officials said most of the proposed rule changes are administrative in nature and add clarity to the rules.
In addition to the proposed changes, the Sedimentation Control Commission is requesting comments on the following:
Rule 04A .0105(29) regarding "bank full flows."
Rule 04B .0107 regarding permanent ground cover considerations for restraining erosion.
Rule 04B .0124 regarding potential for future measurement for meeting design standards for turbidity.
Comments may be submitted by phone or email to: Boyd DeVane at 919-707-9212 or boyd.devane@ncdenr.gov. Written comments may be mailed to: Boyd DeVane, N.C. Division of Energy, Mineral and Land Resources, 1612 Mail Service Center, Raleigh, NC 27699-1612.