HARKERS ISLAND  — Active and veteran U.S. Coast Guardsmen will be honored Aug. 2 with a special dinner and program.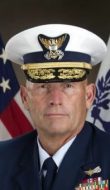 The second annual U.S. Coast Guard Reunion: Celebrating 229 years of Coast Guard History begins at 6 p.m. at the Bridge Down East, 1344 Island Road.
The keynote speaker will be retired Vice Adm. Dean Lee, U.S. Coast Guard, who served as commander of Coast Guard Group Fort Macon from 2000 to 2003.
There will also be a birthday celebration for retired Coast Guard Chief Ira Lewis who turns 101 Aug. 2.
A "Special Tribute to Bobby Hill, Carteret County's Beloved Coastie and Community Leader," will also be held at the special program. Hill, who died December 2018, who received the Coast Guard Medal, retired as a master chief after serving 20 years in the  Coast Guard. He was both the football and baseball coach at East Carteret High School for 32 years, a member of Franklin Masonic Lodge No. 109 in Beaufort and an active member of the Crystal Coast Chief's Mess.
Tickets for Coast Guard veterans, friends and family are $25 for the catered seafood and chicken dinner. All active Coast Guard and guests will receive complimentary tickets. Call to reserve a seat.
Tickets can be purchased by calling event sponsor Core Sound Waterfowl Museum and Heritage Center at 252-728-1500 or by visiting its gift store at 806 Arendell St., Morehead City.