RALEIGH — The producer of documentary footage and images of the salvage and recovery of the 1718 Queen Anne's Revenge shipwreck in Beaufort Inlet is looking to overturn a ruling that the state could not be sued for using his copyrighted material.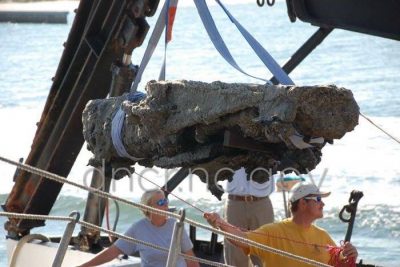 The case contesting how state officials used the video footage of the wreckage is going before the U.S. Supreme Court, WRAL reported.
Arguments in the case have not been scheduled for the upcoming term that begins in October.
When the wreckage was discovered in 1996 by private salvaging firm Intersal Inc., the Florida-based corporation hired Nautilus Productions to work with the state Department of Natural and Cultural Resources to document the artifact recovery project in exchange for footage copyright.
Nautilus Productions owner Rick Allen, a former WRAL News photographer, filed in 2015 a federal lawsuit against the state Department of Natural and Cultural Resources, alleging that the state agency violated the copyright by publishing footage and images online without permission.
In a reversal of a lower court decision, the Fourth Circuit in July of 2018 argued that the state was protected from liability by sovereign immunity, WRAL continued. Allen's lawyers argue that a state agency can be held responsible for copyright infringement the same as a private entity.
Intersal Inc. found the shipwreck under a state permit that gave the company media, touring and replica rights in exchange for giving up any claim to the artifacts on the ship. The Florida-based company has taken the state to court over an alleged breach of contract over its permit rights, which the state Supreme Court heard in May.