HARKERS ISLAND — To learn the basics of maritime navigation using the night sky without the use of modern aids to navigation, make your way to Cape Lookout National Seashore Saturday for Astronomy Night.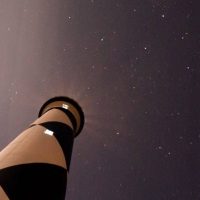 Held from 8 to 11 p.m. at the Harkers Island Visitor Center, the free program will feature NASA Solar System Ambassador Lisa Pelletier-Harman, who will give a 45-minute presentation, "Celestial Navigation Along the Graveyard of the Atlantic."
Following the presentation, visitors can join park staff and astronomers from the Crystal Coast Stargazers, a NASA Night Sky Network astronomy club, for a star party in front of the visitor center, depending on the weather.
Participants can view the moon and other celestial objects through a telescope. Children's activities are also planned.
Organizers recommend coming prepared by checking weather and dressing accordingly as well as bringing water, snacks, bug repellent and a flashlight with a red filter that helps in maintaining participants' night vision.
Participants are welcome to bring their own telescopes, but members of the Stargazers club will assist with provided telescopes.
Another Astronomy Night is set for July 20.
Learn More