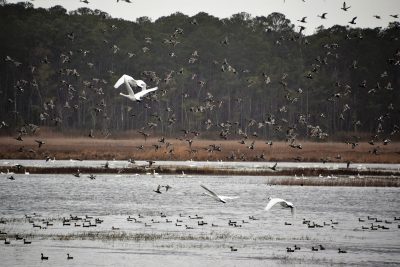 "Lake Mattamuskeet needs our help," Sen. Thom Tillis, R-N.C., begins in a commentary that ran Wednesday in the Ocracoke Observer.
The largest, naturally formed lake in the state covers around 40,000 acres in Hyde County and is a national wildlife refuge that is a stop on the Atlantic Flyway for migratory bird populations, he explains, adding that the lake size has been managed for some time by drainage canals to protect surrounding farmland and homes from floods.
"Unfortunately, this North Carolina treasure is now in jeopardy. Residents know that times are changing in Hyde County, just like many other low elevation areas along our coast. Our tides keep getting higher and fertile farmland and woods are wetter. Traditional ways of managing drainage along our coast don't work as well as they once did," he writes. Adding that the county's $160 million  agricultural industry has taken a hit as a result.
He also addresses concerns about the loss of vegetation in and around the lake and how the elimination of food and shelter for waterfowl will affect tourism at Lake Mattamuskeet National Wildlife Refuge.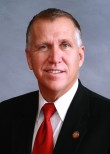 He writes that his office is coordinating and monitoring the efforts of a team comprised of Hyde County officials, the North Carolina Wildlife Resources Commission, the U.S. Fish and Wildlife Service and organizations like the North Carolina Coastal Federation. The group released a recovery plan in December for the lake calling for proactive steps to manage the water levels, restore water quality and clarity and addresses drainage issues.
Recovery won't happen overnight and will be costly and take time to do correctly.
"It will be an especially daunting task if we continue to experience higher sea levels and more devastating natural disasters," he writes.
Read the full commentary on Ocracoke Observer.