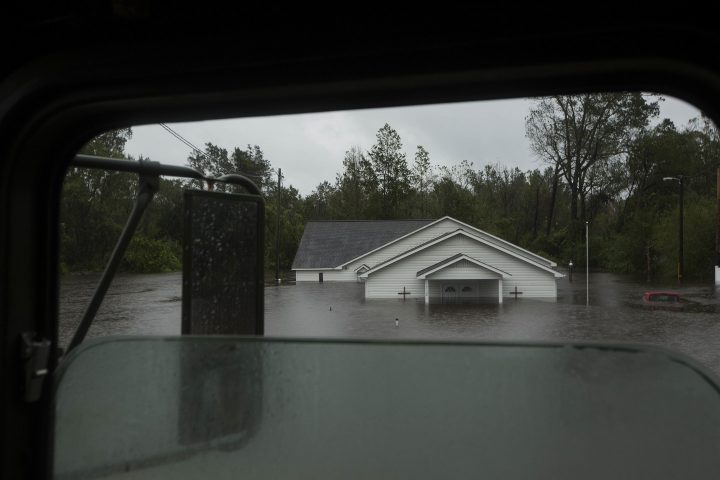 RALEIGH — The House passed its version of the state budget last week, including in it another substantial round of spending on disaster relief and recovery.
The disaster recovery program was one of the last sections to be added to the House budget. It now heads to the Senate, which is working on its own version of the two-year spending plan.
While there are differences between each chamber's budgets, House Speaker Tim Moore said last week there'd been ongoing cooperation on budget targets.
The disaster recovery section of the bill draws $84.7 million from the Hurricane Florence Disaster Recovery Reserve, which was set up in the wake of last year's devastating storm. The largest pool of money in the recovery plan is $26.5 million, to be disbursed through the Golden LEAF Foundation as grants to local governments and to water and sewer authorities for water, wastewater and stormwater repairs and upgrades. The bill also authorizes Golden LEAF funds to be used for hazard mitigation programs.
Among other appropriations are a range of resiliency programs, most of which are set up under the Department of Public Safety's new Office of Resiliency and Recovery. The office was set up last year to coordinate and consolidate ongoing disaster recovery programs from 2016's Hurricane Matthew and last year's storms, Florence and Michael.
The resiliency plans focus on several buyout and mitigation programs, including $13 million for the new State Acquisition and Relocation Fund to expedite 214 home acquisitions in areas that repeatedly flood and provide gap funding to help residents who accept a buyout to purchase new homes. Another $10 million would go for relocation and buyout assistance for local governments and $10 million more would go for the repair, reconstruction or purchase of 100 residences deemed ineligible under Federal Emergency Management Agency and Community Development Block Grant disaster recovery grants.
Local governments would also be eligible for an additional $13 million in grants to improve disaster recovery capabilities and cash-flow loans for communities awaiting federal reimbursements.
Also in the budget is $2 million a year for two years for a flood insurance pilot program that would provide subsidies for about 1,667 residential properties in high-risk areas.
Volunteer programs helping homeowners with repairs would receive $2 million under the plan.
Bridget Munger, a spokesperson for the Office of Recovery and Resiliency, said many of the properties under consideration for buyouts and repairs had already been identified, but others were awaiting a final set of guidelines from federal agencies that would determine the areas where federal appropriations would be targeted.
In addition to the DPS funding, the Department of Environmental Quality would receive $13 million for infrastructure and environmental cleanup needs and $100,000 for the Lost Fishing Gear Recovery Project, a project led by the North Carolina Coastal Federation to remove lost crab pots that create hazards to navigation and marine life in the state's sounds.
The Division of Marine Fisheries would receive an additional $1.5 million for resiliency projects and $1 million would go to the Wildlife Resources Commission for derelict vessel removal.
Conservation Partnership
The House's plan also sets aside $3.3 million for land acquisition as part of the Bogue Sound Project. The project involves 74 acres that include 20 acres of undeveloped waterfront on Bogue Sound, land the Marine Corps had sought for more than 10 years to prevent residential development near its auxiliary airfield.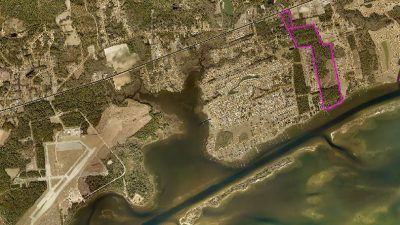 The Coastal Federation is partnering with Carteret County and Marine Corps Air Station Cherry Point on the planned purchase with part of the property to be used for a public boat ramp and nature park area.
Cherry Point is applying for half of the total $7.47 million purchase price, or about $3.74 million, through a Defense Department program, Readiness and Environmental Protection Integration. REPI funds cooperative agreements with landowners to keep land uses compatible with nearby military operations.
Once purchased, ownership of most of the property would transfer to the county under an agreement with the federation allowing its environmental education programming on the preserved areas of the land and involvement in the boat ramp's design to incorporate features to protect the designated outstanding resource and open shellfishing waters from polluted stormwater runoff. The federation plans to purchase 5 or more acres as a future site for its headquarters and a coastal nature center.
About 60 acres, including nearly the entire shoreline and 18 acres of wetlands, is to be set aside permanently for conservation. The Marine Corps plans to place an easement over the entire property preventing residential construction in the encroachment zone for Bogue Field.
The partnership also involves the Onslow Bight Conservation Forum, which in addition to Cherry Point includes representatives from the U.S. Fish and Wildlife Service, U.S. Forest Service, Marine Corps Base Camp Lejeune, North Carolina Department of Cultural and Natural Resources and the Natural Resources Conservation Service. The group has conserved more than 71,000 acres since 2001.
DEQ Lab, Emerging Contaminants
One area where House and Senate plans have differed widely in the past several budget cycles is in spending for DEQ.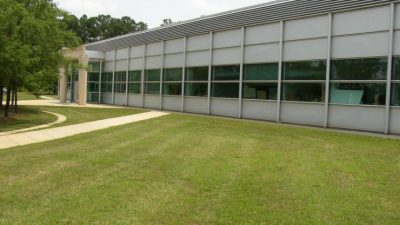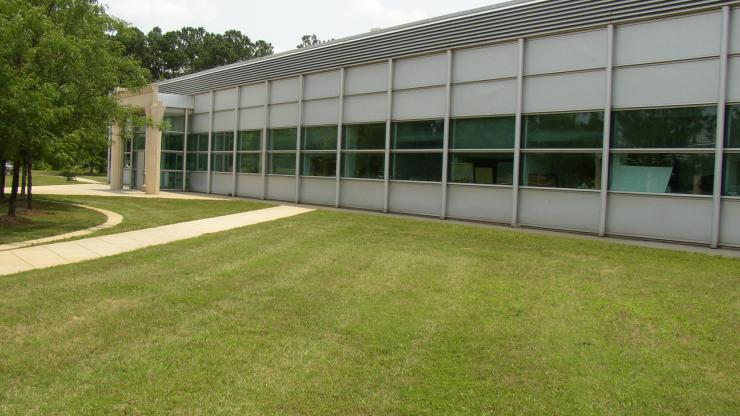 The House budget proposes increases for the department this year for work on emerging contaminants and an extensive $30 million renovation and upgrade to the department's water and air quality laboratories at its Reedy Creek facility in Raleigh.
DEQ's lab request was fully funded, but an additional $6 million and 37 positions requested to handle the growing volume of work on GenX and other emerging contaminants was trimmed to $600,000 and seven new positions.
DEQ spokesperson Megan Thorpe said this week that the funding provided for emerging contaminants was a disappointment.
"While other states made multi-million-dollar commitments to water quality monitoring equipment and staff when facing similar threats to the water supply, the House budget instead neglects DEQ's resource gaps and sets aside gluttonous earmarks for pet projects."
The House also didn't provide an additional $1.5 million requested by the University of North Carolina Chapel Hill-based North Carolina Policy Collaboratory to continue its statewide work on emerging contaminant testing, but did agree to extend its work another year with a special provision extending the Collaboratory's work testing waters around all public water intakes and wells used for public water systems for another year.
That funding is likely to be included in the budget developed by the Senate, which pushed for the creation of the Collaboratory in 2016 and has included funding for it in each budget since.
Other coastal items in the budget include the following:
Carteret Community College Aquaculture Program – $125,000 each year for a Shellfish Aquaculture Demonstration Center, to be set up through a collaboration between North Carolina Sea Grant and Carteret Community College.
Fort Fisher Historical Site Visitor Center – Provides $8 million for another round of funding for a $20.9 million upgrade to the visitor center.
Water Resources Development Projects – Provides $11 million for the nonfederal share of navigation, water management, flood mitigation and beach renourishment projects.
Passenger Ferry Lease – Authorizes up to $1 million for the state Ferry Division to fund leasing a passenger ferry for the Ocracoke passenger service while the state ferry under construction is completed.
Ferry Maintenance – Provides an additional $8.5 million over two years for increased projected operations and maintenance expenditures.
Cape Fear Utility Lines – Provides $11 million to the State Ports Authority over two years to elevate by 41 feet the power lines across the Cape Fear River near the Wilmington port to allow an overall clearance of 212 feet to accommodate larger ships.
Wind Study – Authorizes $300,000 for the ports authority to conduct a study of state ports and transportation infrastructure for potential to support the supply chain for offshore wind industries.