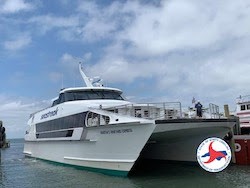 HATTERAS – The long-planned passenger ferry serving travelers between Hatteras and Ocracoke Village is set to launch Monday, the state Department of Transportation's Ferry Division announced Friday.
The passenger ferry, meant to ease congestion by decreasing number of vehicles  between Hatteras and Ocracoke Village, is being offered in addition to the car ferries that already travel the route.
"We are thrilled to be able to provide this service between Hatteras and Ocracoke villages," said the state's Ferry Division Director Harold Thomas in a statement. "It will give summer travelers a quicker, wait-free, stress-free transportation option between the two islands, and provide a big boost to the local tourist economy."
The ferry service will be free as a preview to passengers on Monday and Tuesday and the initial cost of $1 each way will begin Wednesday. There will be no extra charge for bicycles. The passenger ferry service will run seven days a week from May 22 through Sept. 5, according to the press release.
This week, the vessel successfully completed test runs of the route in the Pamlico Sound between the two Outer Banks islands.
The ferry will make three round trips daily through the summer, departing from the Hatteras terminal at 9 a.m., 1 p.m., and 5 p.m., and departing the Ocracoke Silver Lake Terminal at 11 a.m., 3 p.m. and 7 p.m. A one-way trip takes about 70 minutes.
The division is leasing the ferry, the M/V Martha's Vineyard Express, from the New Jersey-based ferry company Seastreak Marine. The 102-day rental of the propeller-driven, two-deck catamaran-style aluminum boat built in 2005 that will seat 147-seat will cost $867,000, not including fuel, according to a previous report.
Before the North Carolina Department of Transportation moved to lease the passenger ferry, the division was having a new vessel built by Armstrong Marine Inc. in Swansboro, which is now U.S. Workboats. The company was awarded in 2017 a $4.15 million contract to build an aluminum, catamaran-style ferry but there were several construction delays, including a full stop in February prompted mainly by concerns over its aluminum welds. The company resumed building March 25 but could not perform welds without the presence of the quality assurance specialist.
Passengers who would like to walk on to the passenger ferry should proceed to the Hatteras Terminal at least 20 minutes before departure time. When reservations become available at a later date, they can be made online at www.ncferry.org or by calling 1-800-BY-FERRY (1-800-293-3779).