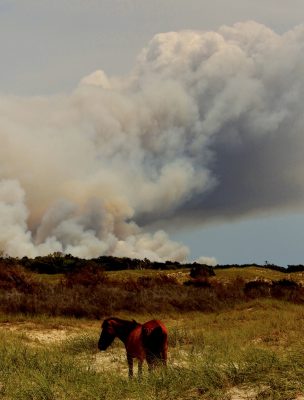 CARTERET COUNTY — The large wildfire consuming Browns Island Thursday morning was transitioned to a controlled burn to expedite the burning process, North Carolina Forest Service District Ranger Donald Meadows said Friday morning.
"We anticipate over the next day or so for there to be residual burning of the large logs and stumps, but the smoke impacts should be minimal," he said.
The wildfire on the undeveloped island near Beaufort has a population of wild horses and cattle, which were accounted for by the Forest Service before the controlled burn began Thursday afternoon.
How the fire started is undetermined but is under investigation, Meadows added.
Meadows told Coastal Review Online that the big concern Thursday was the natural progression of the fire on the island, "So we utilized aerial resources to complete a burnout to limit the amount of burn time."
By doing so, the fuels were consumed in a shorter time period, allowing for the heavy smoke to lift. If the fire had burned on its own terms, the fire would have continued into the evening and would have still been smoking tremendously.
Meadows said he talked to a resource on the scene about the status of the wild animals. Prior to the controlled burn operation, the horses and cattle had already moved to a shaded area along the sand and the marsh, which wouldn't burn. The North Carolina Wildlife Resources Commission owns the majority of the island and he expects there will be some research to determine any impacts on the wildlife.
Controlled burns are usually held on the mainland and do have benefits for wildlife but are typically not executed on the uninhabited islands.
Forests are drier than they have been in months, and the fire comes right as the area is reaching record-breaking forest fuel conditions, Meadows said.
We're encouraging folks to be extremely careful this weekend with campfires, cooking out, debris burning, or anything that could cause a fire," he said. "For the foreseeable future, there's not any rain in the forecast, and we're at a point where we reaching some pretty drastic opportunities for large wildfires."
Meadows said in District 4, which serves Beaufort, Lenoir, Carteret, Onslow, Craven, Pamlico, Jones and Pitt counties, the average has been about an inch in the past 30 days. "An indicator that it's getting dry."
As more details about the fire are learned, the information will be released.