NORTH CAROLINA COAST – Volunteer coordinators Sabrina Hylton, director of guest services at Emerald Isle Realty, Sue Stone of Emerald Isle and Valerie Johnson of Cedar Point were wrapping up last week final plans for Emerald Isle's Hands Across the Sand to take place at Bogue Inlet Pier starting at noon Saturday.
"For 15 minutes, we're going to stand in silence holding hands and want to make the longest chain of humans along the water's edge to show how many people stand against dirty beaches and dirty fuel," Hylton said.
"In nonpartisan solidarity," Johnson added.
A global event, Hands Across the Sand is "an opportunity to join hands and draw a line in the sand against expanding offshore oil drilling, hydraulic fracturing, tar sands mining, mountaintop clearing and championing clean energy for a sustainable planet," according to the website.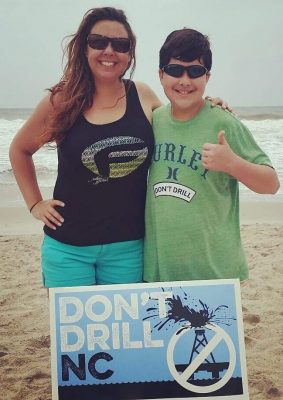 In addition to Emerald Isle, Hands Across the Sand events in North Carolina will be held at Oak Island, Sunset Beach, Ocracoke, Kure Beach, Wrightsville Beach, Nags Head, Ocean Isle Beach and Fort Macon State Park in Atlantic Beach, all at noon Saturday. Hands Across the Sand events will also be held in most states, as well as Canada, Australia, New Zealand and Belize.
"This year's Hands is most likely the most important event in its history. Specifically here in the Atlantic and especially off the North Carolina coast. We have never been this close to seismic blasting and offshore oil and gas drilling," Vicki Sturgill, Hands Across the Sand state organizer for North Carolina, told Coastal Review Online.
"In times past, there has always been good turnout. Seems to be more interest as the day approaches, as off the North Carolina coast is ground zero to drill in the Atlantic," she said.
Hands Across the Sand Founder Dave Rauschkolb said in a statement that he founded Hands Across the Sand in October 2009 in response to a bill passed in the Florida House of Representatives that would lift a ban on nearshore drilling.
"With the support of sponsor organizations, we rallied more than 10,000 Floridians to join hands on Feb. 13, 2010, to show a united opposition to nearshore drilling. The event covered the state's coastlines, from the Atlantic to the Gulf. As a result of these efforts, the bill was tabled the next month," he said. "Two months later the BP Deepwater Horizon exploded in the Gulf of Mexico. We then organized a global Hands Across the Sand to urge President Barack Obama to abandon his bid to open the continental United States waters to offshore oil drilling."
Rauschkolb added that Hands Across the Sand is "held annually to bring awareness about the dangers inherent in securing and burning dirty fuels and to champion a new era of Clean Energy for a sustainable planet for our children and theirs."
Stone said during the planning meeting that she and Johnson began helping coordinate the Emerald Isle Hands Across the Sand about four years ago, after having been involved in other environmental issues locally and Hands Across the Sand was just one more piece to it.
"We were very active, Val and I and many others with the initial Don't Drill NC (coalition). We got our town to pass resolutions against seismic and they were very supportive of it. The county commissioners, however, will not even put us on the agenda, and we have appeared there for numerous meetings, public comment, and they ignore us," Stone said. Johnson added that they filled the Carteret County courthouse to capacity, all wearing blue shirts and carrying signs.
The all-Republican Carteret County Board of Commissioners in November 2015 adopted a resolution in support of offshore drilling under the leadership of then-Gov. Pat McCrory, and "They won't even change it or reconsider it," Stone added.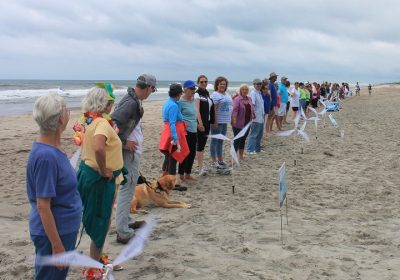 But across the county, Republicans and Democrats and towns including Atlantic Beach, Beaufort, Emerald Isle and Pine Knoll Shores have approved resolutions opposed to offshore drilling.
Johnson explained that the gathering will hopefully increase visibility, educate the public about issues that affect marine life and our beaches and "keeping fossil fuels in the ground."
Hylton said that the owner of Emerald Isle Realty encouraged her to get involved in Hands Across the Sand this year. She coordinated with Stone, Johnson and the rest of the volunteer committee to plan the gathering endorsed by North Carolina Coastal Federation, SurfRider Foundation Bogue Banks Chapter, Croatan Sierra Club, Crystal Coast Waterkeepers, Crystal Coast Tourism Development Authority, Crystal Coast Hospitality Association, Business Alliance Protecting the Atlantic Coast, Citizens Protecting the Atlantic Coast, Oceana, Interfaith Power & Light and Carteret County Crossroads.
To participate in the Emerald Isle Hands Across the Sand, park at Bogue Inlet Fishing Pier and meet on the beach by 11:30 a.m. Saturday. Participants are to join hands at noon. There will also be a beach cleanup. Contact Joel Dunn at joel@jdunns.com.
On the other end of Bogue Banks in Atlantic Beach, Hands Across the Sand 2019 Fort Macon will begin with a meet and greet at 11:30 a.m. Saturday on the beach. Beaufort Mayor Rett Newton is to speak before holding hands at noon.
This Hands Across the Sand is cosponsored by SurfRiders, Croatan Sierra Club, Crystal Coast Waterkeepers, Green Sanctuary Committee of Unitarian Coastal Fellowship, North Carolina Interfaith Power and Light, Citizens Protecting the Atlantic Coast, CAPE and Carteret County Crossroads. The contact is Lauren Donnachie at lsdonnachie@twc.com.
Brunswick County
Hands Across the Sand Oak Island participants are to meet at the 46th Street Cabana at 11:45 a.m. Saturday. Organizer Kristen Colleran told Coastal Review Online in an email that participants will form a line, "symbolically drawing a line in the sand against offshore oil/gas drilling and seismic blasting, and join hands at noon for 15 minutes."
She said there are no vendors or exhibits planned for the event, it is "simply a time for residents and various local environmental groups, such as turtle rescue groups, to gather in solidarity for our coast. We ask that everyone bring family and friends."
Colleran said that this is her third year as an organizer for the event.
"We believe in acting as stewards of our environment, and this has never been more critical. The Atlantic seaboard is currently targeted with the threat of seismic blasting which, as science and experience show, is exceedingly harmful to our fragile marine environment," Colleran added. "The federal government may grant permits at any time allowing blasting and incidental harm to marine mammals. The federal government's plan to open most of the nation's coastline for offshore oil drilling was just temporarily delayed. The Department of Interior could resume the plan at any time, possibly after the 2020 elections."
Brunswick County has grown in population by almost 50% since 2010, she said, and the county relies on clean beaches and the marine environment for the economy.
"From tourism to fisheries, to retirement communities, our coastal industries contribute the second highest income to our state's economy," she said. "It is up to us to stand up and voice our concerns to those would pilfer our coast for profits derived from what is believed to be a small and short term supply of oil."
She said that Brunswick County's board of commissioners have refused to vote to oppose seismic blasting and offshore drilling, despite the fact that 13 of the 19 county towns have passed resolutions in opposition.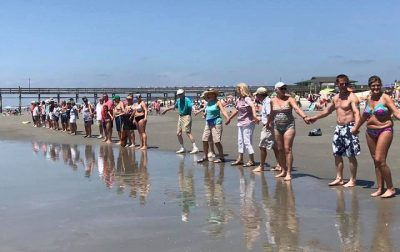 "Each month, concerned citizens address the commissioners regarding this issue, and still the commissioners ignore the facts on the documented risk and certain damage of offshore drilling.  Congressman Rouzer and Sens. Burr and Tillis accept financial contributions from the oil industry and refuse to safeguard our coastal economy," Colleran said. "A few of us in Oak Island have worked together to advertise the event and provide honest sources and contact information for our state and congressional representatives. It is critically important for citizens to contact and challenge their elected officials to educate themselves on this issue and respond to their constituents' best interest, not the fossil fuel industry."
Contact Colleran at kritter225@icloud.com.
Hands Across the Sand Sunset Beach participants should meet on the sand by the Sunset Beach fishing pier by noon to join hands for 15 minutes. Participants are encouraged to carpool since parking is limited and can bring homemade signs or wear T-shirts with a message of support.
"The message of the 15-minute gathering is simple: 'We are joining hands to end our dependence on oil and coal. We are embracing a clean energy future for a sustainable planet,'" said organizer Susanna Bott. "We do not want offshore drilling or seismic testing off our coastline. We want to protect our beaches, our oceans, and marine life."
She explained that she and her husband Thomas moved to Sunset Beach a little more than four months ago.
"Although we always knew we wanted to live on the coast, we just discovered Sunset Beach last September. Sunset is like no other beach on the Carolina coast and we fell in love with it," she said. "I knew I wanted to get involved with preserving the beauty and quality of life once we made this our home. I saw a Facebook post about Hands Across the Sand and there was a need for a contact person for each event. I registered the Sunset Beach event and created a Facebook group for interested persons to sign up. I've had a great response to date, so we are hoping for blue skies and an awesome turnout."
Contact Bott at sasconsult@yahoo.com.
Hands Across the Sand Ocean Isle Beach participants are encouraged to meet at the Ocean Isle Beach Community Center at 11:30 a.m. Saturday. Organizers ask that participants do not bring single-use plastics such as cups, straws or bottles to the event. An optional beach cleanup will take place before the event. Contact Laura Ward at lauraward1717@gmail.com for more information.
Hands Across the Sand Holden Beach participants should meet by 11:45 a.m. Saturday at Jordan Blvd Beach Access at 101 Ocean Blvd W. Holden Beach. Contact Dwight and Becky Willis at dwightwillis1952@gmail.com.
New Hanover County
Hands Across the Sand Wrightsville Beach, hosted by Oceana and Save Our Sea, will take place at the Blockade Runner on Wrightsville Beach. Meet at 11:45 a.m. Saturday.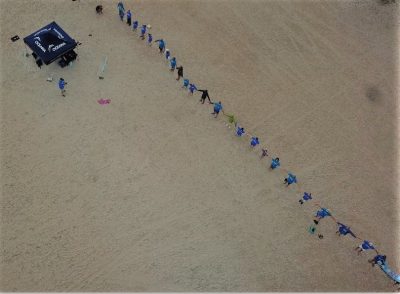 Oceana Senior Campaign Organizer Randy Sturgill told Coastal Review Online, "While President Trump may have delayed plans to radically expand offshore drilling to new areas, coastal communities, business owners and elected officials remain vigilant in their calls to protect our coast until the decision is final. Permitting continues to move forward for dangerous and extremely loud seismic airgun blasting off the East Coast used to search for oil and gas deep below the ocean's surface. Oceana and its partners are suing the federal government to prevent seismic airgun blasting in the Atlantic Ocean due to its harmful impacts on marine wildlife."
He said the folks participating in the Wrightsville Beach gathering are encouraged to wear their Oceana T-shirts, or other environmental group shirts and bring homemade signs. They should also bring water if it's hot.  Reach Sturgill at rsturgill@oceana.org.
Hands Across the Sand Kure Beach participants meet on beach on the north side of Kure Beach Pier at 11:30 a.m. to form a line along the shoreline. Organized by the Surfrider Foundation Cape Fear Chapter, contact Kevin Piacenza at chair@capefear.surfrider.org.
Piacenza said that their Hands Across the Sand event is being held this year in Kure Beach, which is where the North Carolina offshore drilling opposition movement really started.
He said they will not be hosting a cleanup or any other type of activity, "but will simply focus on symbolically demonstrating opposition by joining hands in line along the shoreline."
They will have signs and volunteers will be available to answer questions about the latest developments with BOEM's five-year plan and the letting of contracts for seismic blasting.
Outer Banks
For folks participating in Hands Across the Sand Outer Banks, arrive just before noon at Jennette's Pier.  Nags Head Mayor Ben Cahoon and other representatives will speak before joining hands on the beach for 15 minutes and a photo. Event should conclude by 12:45 p.m.
Contact organizer Ivy Ingram at ivyraying@gmail.com or check the Facebook event.
Hand Across the Sand Ocracoke Island participants are to meet at Lifeguard Beach on Ocracoke Island at noon.
"Our Hands Across the Sand leaves only footprints. People come with signs and love for Mother Ocean and respectively stand for 15 minutes in solidarity for others doing the same along the coast," said Mickey Baker, representing LegaSea. "It's a surprise to many of the tourist who are settled on the beach for the day and are not aware of the event. Some choose to join us while others sit and watch. It is always an inspiring event."
Contact Baker at Ocracokemickey@gmail.com.
Learn More