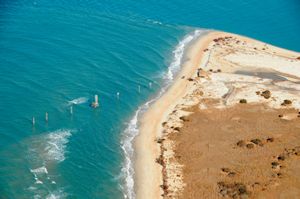 CARTERET COUNTY — Shackleford Banks, like many frequently visited destinations in eastern North Carolina, is still recovering from Hurricane Florence that hit the coast in September 2018.
Cape Lookout National Seashore, the Foundation for Shackleford Horses, Carteret Big Sweep and Island Express Ferry Service are partnering to clean the interior portions of western Shackleford Banks on Saturday, April 13, and encourage the public to join in the effort to make the the beaches safe to visit as well as protect the wild inhabitants and scenic landscape of the natural barrier island.
Island Express Ferry Service, the national seashore's authorized ferry concessionaire, will provide free passage as well as coffee and donuts to volunteers who commit to the half day of cleaning up marine debris on the barrier island.
Volunteers will need to meet at 7:30 a.m. at Grayden Paul Park on Front Street in Beaufort at 7:30 a.m.  to board the 8 a.m. ferry. Participants will return by 1 p.m.  Participants should bringing a reusable water bottle and wear closed-toe shoes with a standard sole that can get wet while protecting the feet in shrubbery.  Park staff also recommends volunteers bring sunscreen, insect repellent, gloves, snacks, and a grabber, if available, and the park will provide buckets, trash bags and work gloves and water to refill volunteers' water bottles.
Sign up in advance by emailing sue_stuska@nps.gov or call Cape Lookout National Seashore Headquarters at 252-728-2250.  There are a limited number of spaces available, so a waiting list will begin after the initial seats are taken.