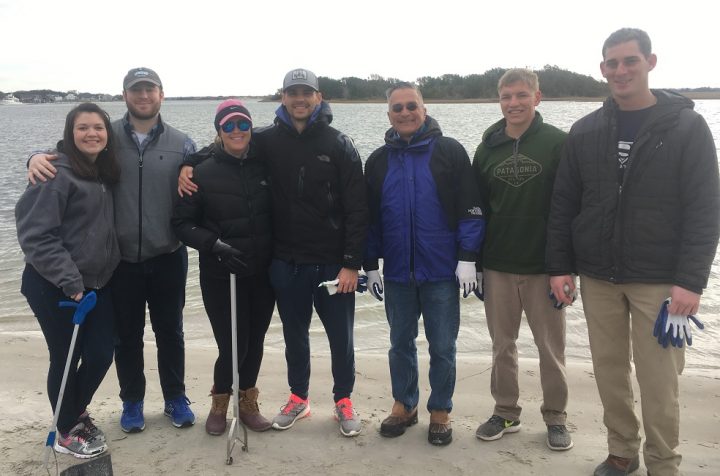 MOREHEAD CITY – A small group of volunteers met the morning of Feb. 9 at the Cedar Point Recreation Area boat ramp to collect marine debris from a few nearby dredge spoils.
Rachel Bisesi, coastal education coordinator with the North Carolina Coastal Federation, which publishes Coastal Review Online, said the group collected about 380 pounds of marine debris.
"We went to a little island right in front of the Cedar Point Wildlife Ramp," Bisesi explained. There they found large pockets of litter washed up from Hurricane Florence that hit in September 2018. "Lots of plastic bottles, cans, foam pieces, I think we found 25 cigarette lighters."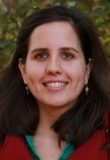 Four of the volunteers who made it out to the cleanup are part of this year's Leadership Carteret program, and a small group from the program had already helped the federation bag oyster shell and will most likely help this month in building an oyster reef, Bisesi said.
Leadership Carteret is a 10-week program of the Carteret County Chamber of Commerce that takes place in January and February and brings together 35 participants to learn more about the county's residents and organizations.
The class is broken up into smaller groups to work with five different nonprofits in the county through the duration of the program. This year's nonprofits are the Coastal Federation, Hope Mission in Morehead City, The Carteret County Humane Society, Outer Banks Wildlife Shelter, or OWLS, and The Bridge Downeast, which offers after-school and summertime programs for youth. The program wrapped up Wednesday with presentations about the work of each small group with each nonprofit.
The entire Leadership Carteret group met at the federation's Ocean office Jan. 30 to learn more about its work focused on protecting and preserving the coast. Bisesi explained during a presentation that the federation's goals are to encourage effective coastal management, promote the use of living shorelines, improve water quality, restore oyster habitats and work toward a marine debris-free coast.
She then led the group through an activity that illustrated how land use affects water quality.
As a part of our Leadership Carteret course, class members are split into teams that then pick an area service project. Check out this website made by a group to highlight the work they did with the @NCCoastalFed! https://t.co/pkvKG03RCi.

— NC Coast Chamber (@NCCoastChamber) March 15, 2019

"It's been great," said Anne Holloway, a property manager for Bluewater Real Estate in Atlantic Beach, after the presentation. "We're learning a lot about our community and the different programs that our community has access to."
She was particularly impressed with the federation's work and chose the organization for her service project.
"The Coastal Federation was amazing. The first day we came in, they were organized, really well put together. Their message is clear, the things they need help with is very clear. From a volunteer standpoint, you're not wasting any time, you're actually making an impact."
The chamber has each year since 1988 assembled 35 volunteer members for Leadership Carteret.
Anna Smith is manager of chamber programming and oversees Leadership Carteret. She told Coastal Review Online that the program is organized by a team of facilitators, who "volunteer their time to coordinate the various days and help make sure it is the best class ever. Each year of Leadership Carteret is an improvement from the years before."
She said this year's program included professionals from all over the county representing a range of professions, including a youth pastor, real estate agents, municipal and county government employees, Carteret Community College, hospitality and food workers and the State Ports Authority.
Leadership Carteret, Smith said, "helps develop the potential of each class member that their employer sees in them, it showcases various ways they can be a leader in this area, and it introduces them to a wide variety of people and places in Carteret County that they may not have been aware of before. Just by introducing them to these places, they can then go tell others about all the wonderful things that collectively make Carteret County such a wonderful place to live and work."
Chamber President Tom Kies told Coastal Review Online that the class members "Are the new leadership folks for tomorrow, and a lot of them, we find, go on to various boards of nonprofits in Carteret County."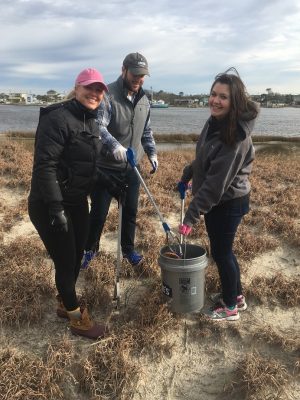 He said that during the Leadership Carteret program, participants get to go behind the scenes, meet politicians, work on leadership service projects and learn about the school system, "You're learning about how everything works in Carteret County and getting a broad overview."
Local storyteller Rodney Kemp plays a key role in the program. "We have Rodney talk to the class, generally on the first day, and then Rodney acts as tour guide on our Down East day," Kies said. On that day, participants visit Down East Carteret County aboard a chartered bus, "and throughout the entire day, Rodney is doing a running narrative of stories about Down East. It's one of the favorite things that they do."
Kemp said that Leadership Carteret is one of his favorite venues.
"They are the brightest and the best. Many of them are new to the community and would be from 'off,' this means they want to learn about the history and the meaning behind who we are in Carteret County," he said, adding one of his favorite topics to share "is why we speak the way we do around here. They are fascinated by the reference to Elizabethan English and this naturally leads to the Lost Colony story and its part in this area's history."
A big part of Leadership Carteret is working with the five selected nonprofit organizations on leadership service projects.
"We ask them to give our class a task and we break the 35 students into groups of seven and on their own time, they work with those nonprofits to complete that task," Kies said.
Holloway said during the Jan. 30 class that she chose to work with the federation because, as a lifelong resident, "I really love our coast and our area, and I work in tourism … it's how I make our money on top of how I enjoy my life, so keeping our coastlines healthy is important."
The federation reciprocated by recognizing the chamber in July 2018 with a Pelican Award for its partnership.
"We're thrilled to be the recipient of the Pelican Award," Kies said in an subsequent email. "The Chamber of Commerce is more accustomed to giving awards.  It's rare that we actually receive one. And especially happy that it's from the North Carolina Coastal Federation. We love it when our Leadership Carteret class learns about the important work you do and when they volunteer their time to the NC Coastal Federation."
Lexia Weaver, a coastal scientist with the federation, said during the Pelican Awards ceremony that through the program, "the federation has had the opportunity to show these professionals how we are working together to make the coast a beautiful and healthy place to live, play and work. We have shared our work on low-impact development, living shorelines, oyster restoration, large-scale wetland restoration and environmental education and advocacy with them. In turn, the group has spread the word throughout the coastal community on ways to become better environmental stewards. "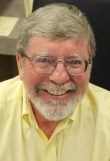 Kies said many participants would continue volunteering for the nonprofits after Leadership Carteret is finished this month because they enjoy working with the organizations, but the group that works with the federation tends to become the most invested, "Because it's such a good story and you can see the results."
Bisesi said that for the past few years, the federation has been fortunate to have one of the working groups help with its oyster habitat restoration projects. "They've created bags of recycled oyster shells and built living shorelines using the shell bags," Bisesi said.
She said about a third of the participants learn about the federation through Leadership Carteret, and if they are familiar with the organization before they participate in Leadership Carteret, they don't realize the variety of work that the federation does.
"We definitely get volunteers from the program each year, and I'm grateful for the volunteer connections we've been able to make. I always love seeing some of our Leadership Carteret folks at volunteer events even after the class has finished," she said. Adding, "I think the connections we make with business professionals around the county is the most valuable part of this partnership. We can learn from each other, and work together for a healthy coast."
Krystal Bequette, wedding and events director for A Seaside Wedding & Events, is one of those previous Leadership Carteret participants who volunteers every chance she gets.
She said leadership Carteret was a game changer and eye-opener for her.
"I grew up in Emerald Isle. I also work in Carteret County and had no idea of some of the businesses and opportunities there were here," she said. "In 10 short weeks, you not only have 35 new best friends that you can call and count on for all things professional and personal, but you are able to learn so much about the history, the businesses and the nonprofits that are from Cedar Point to Cedar Island."
Bequette said on the first day of the Leadership Carteret, she decided that she wanted to volunteer with the federation.
"I have a love for our waterway systems and the project sounded like something that would help our county for years to come," she said.
"We were only required to spend a few hours bagging oyster shells that would later be installed at a living shoreline site. Our team bagged and bagged and bagged. We ended up with over 400 bags in just a few hours," she said. "We wanted to see the project from start to finish, so we volunteered to install our bags at the Trinity Center living shoreline and then went out one last time to plant marsh grass, which is the toughest job of all."